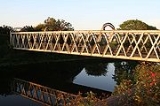 Skibbereen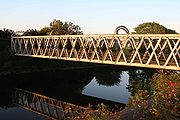 Skibbereen
is a town in
County Cork
County Cork
County Cork is a county in Ireland. It is located in the South-West Region and is also part of the province of Munster. It is named after the city of Cork . Cork County Council is the local authority for the county...
,
Ireland
Republic of Ireland
Ireland , described as the Republic of Ireland , is a sovereign state in Europe occupying approximately five-sixths of the island of the same name. Its capital is Dublin. Ireland, which had a population of 4.58 million in 2011, is a constitutional republic governed as a parliamentary democracy,...
. It is the most southerly town in Ireland. It is located on the
N71
N71 road (Ireland)
-Road standard:The road is mostly relatively poor single carriageway, with better sections towards the Cork end of the route. There are wide sections with climbing/passing lanes, including a very rare configuration with a passing lane on both sides, and a dual carriageway section approaching...
national secondary road
National secondary road
A national secondary road is a category of road in Ireland. These roads form an important part of the national route network, but are secondary to the main arterial routes which are classified as national primary roads. National secondary roads are designated with route numbers higher than those...
.
The name "Skibbereen" (often shortened to "Skibb") means "little boat harbour." The
River Ilen
River Ilen
The River Ilen is a river in West Cork, Ireland. It rises at Mullaghmesha mountain and flows southwards for 34 kilometres into the Celtic Sea....
which runs through the town reaches the sea at
Baltimore
Baltimore, County Cork
Baltimore is located in western County Cork, Ireland. Baltimore is the principal village of the parish of Rath and the Islands, the southernmost parish in Ireland...
.
History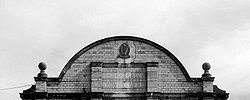 Prior to 1600 most of the land belonged to the native
McCarthy
McCarthy
McCarthy may refer to:* McCarthy * McCarthy, Alaska* McCarthy , an indie pop band* MacCarthy , a Bordeaux wine* McCarthy Tétrault, a Canadian law firm...
tribe - today McCarthy remains the town's most common surname. The town charter dates back to 1657 and a copy can be seen in the town council Chambers.
Famine
It is probable that some 8,000-10,000 Famine victims are buried in the Famine Burial Pits of Abbeystrewery Cemetery.
Skibbereen
is also the name of a song about the Famine, and the impact it and the British Government had on the people of Ireland. The song, known as
Dear Old Skibbereen
Skibbereen (song)
Skibbereen, also known as Dear Old Skibbereen, is an Irish folk song, in the form of a dialogue wherein a father tells his son about the Irish famine, being evicted from their home, and the need to flee as a result of the Young Ireland rebellion of 1848.-History:The first known publication of the...
, takes the form of a conversation between a father and a son, in which the son asks his father why he fled the land he loved so well. The father relates to his son how the famine ruined his farm in Skibbereen, and killed his wife. As the man was unable to pay taxes,
...the landlord and the bailiff came to drive us all away.
They set the roof on fire with their cursed English spleen,
And that's another reason why I left old Skibbereen.
In the final verse the son swears he will return to Skibbereen to take vengeance on the government that he holds accountable. A version can be found on the soundtrack to the PBS mini-series, "The Long Journey Home," performed by Sinead O'Connor. In the film
Michael Collins
Michael Collins (film)
Michael Collins is a 1996 historical biopic written and directed by Neil Jordan and starring Liam Neeson as General Michael Collins, the Irish patriot and revolutionary who died in the Irish Civil War. It won the Golden Lion at the Venice Film Festival....
the Collins character, played by
Liam Neeson
Liam Neeson
Liam John Neeson, OBE is an Irish actor who has been nominated for an Oscar, a BAFTA and three Golden Globe Awards.He has starred in a number of notable roles including Oskar Schindler in Schindler's List, Michael Collins in Michael Collins, Peyton Westlake in Darkman, Jean Valjean in Les...
, sings the song. There is also a version by The Dubliners.
Skibbereen has not forgotten the victims of the Great Famine. A permanent exhibition at the
Skibbereen Heritage Centre
commemorates that tragic period in Irish history. Skibbereen was the focal point of Ireland's first National Famine Memorial Day on 17 May 2009. The town was selected as it was in one of the areas worst affected by the Great Famine, with a mass grave at Abbeystrewery containing the remains of between 8,000 and 10,000 people.
The National Famine Commemoration Committee has agreed that the centerpiece of the new memorial day should rotate between the
Four Provinces
Provinces of Ireland
Ireland has historically been divided into four provinces: Leinster, Ulster, Munster and Connacht. The Irish word for this territorial division, cúige, literally meaning "fifth part", indicates that there were once five; the fifth province, Meath, was incorporated into Leinster, with parts going to...
on an annual basis.
Media
The
Skibbereen Eagle
, a
newspaper
Newspaper
A newspaper is a scheduled publication containing news of current events, informative articles, diverse features and advertising. It usually is printed on relatively inexpensive, low-grade paper such as newsprint. By 2007, there were 6580 daily newspapers in the world selling 395 million copies a...
founded in 1857, became famous by declaring it was "keeping an eye on the Czar of Russia" over his expansionist designs on China. This newspaper was superseded by the
Southern Star
The Southern Star (County Cork)
The Southern Star is a weekly regional newspaper based in Skibbereen, County Cork in Ireland.Established in 1889 as the Cork County Southern Star, it incorporated The Skibbereen Eagle, a newspaper founded in 1857, which became famous by declaring it was "keeping an eye on the Czar of Russia" over...
http://www.unison.ie/southern_star
, founded in 1889, its first editor D.D. Sheehan, and included amongst its shareholders one
Michael Collins
Michael Collins (Irish leader)
Michael "Mick" Collins was an Irish revolutionary leader, Minister for Finance and Teachta Dála for Cork South in the First Dáil of 1919, Director of Intelligence for the IRA, and member of the Irish delegation during the Anglo-Irish Treaty negotiations. Subsequently, he was both Chairman of the...
.
Industry
One of the largest employers in Skibbereen is the travel company
myguideTravel
MyguideTravel
myguideTravel was parent company to a number of travel companies around the world, namely myguideIreland, myguideBritain, myguideScotland and myguideNewEngland.The company was led by CEO Cormac O'Neill and President Jim Kelly....
who specialise in inbound tourism to
Ireland
Ireland
Ireland is an island to the northwest of continental Europe. It is the third-largest island in Europe and the twentieth-largest island on Earth...
,
Britain
United Kingdom
The United Kingdom of Great Britain and Northern IrelandIn the United Kingdom and Dependencies, other languages have been officially recognised as legitimate autochthonous languages under the European Charter for Regional or Minority Languages...
, and
New England
New England
New England is a region in the northeastern corner of the United States consisting of the six states of Maine, New Hampshire, Vermont, Massachusetts, Rhode Island, and Connecticut...
. The company moved to the town in September 2007 from
Castlehaven
Castlehaven
Castlehaven is a civil parish in County Cork, Ireland. It is located some 75 km south west of Cork City on the coast and is made up of two key towns: Union Hall and Castletownshend....
where they had been founded 9 years previously by Conor Buckley.
Transport & communications
Bus Éireann

Bus Éireann

Bus Éireann provides bus services in Ireland with the exception of those operated entirely within the Dublin Region, which are provided by Dublin Bus. Bus Éireann, established as a separate company in 1987, is a subsidiary of Córas Iompair Éireann. The logo of Bus Éireann incorporates a red Irish...


operates bus services to and from Skibbereen.
The nearest airport is Cork Airport.
Skibbereen was formerly served by two railways - the Cork, Bandon and South Coast Railway

Cork, Bandon and South Coast Railway

Cork, Bandon and South Coast Railway , was an Irish gauge railway in Ireland. It opened in 1851 as the Cork and Bandon Railway, changed its name to Cork Bandon and South Coast Railway in 1888 and became part of the Great Southern Railway in 1924....


and the narrow gauge Schull and Skibbereen Railway

Schull and Skibbereen Railway

The Schull and Skibbereen Railway was a minor narrow gauge railway in County Cork, Ireland. It opened in 1886 and closed in 1947. The track gauge was 3 feet . The formal name of the company was The West Carberry Tramways and Light Railways Company Ltd.-Route:The S&S' main line was 15½ miles long...


.
Sport
O'Donovan Rossa (Skibbereen)

O'Donovan Rossa (Skibbereen)

O'Donovan Rossa is a Gaelic football and hurling club based in Skibbereen, County Cork, Ireland. It participates in Cork GAA competitions. Traditionally, the club has been much more successful in Gaelic football. It won its only Cork Senior Football Championship in 1992 and subsequently won the...


is the local Gaelic Athletic Association

Gaelic Athletic Association

The Gaelic Athletic Association is an amateur Irish and international cultural and sporting organisation focused primarily on promoting Gaelic games, which include the traditional Irish sports of hurling, camogie, Gaelic football, handball and rounders...


club.
Skibbereen Golf Club
Skibbereen Rugby Club
Skibbereen Rowing Club
A.F.C.Skibbereen is the local Football Association Club
Skibbereen Athletics Club
The local college St. Fachtna's was a finalist in 1982 and a winner in 1991 of the
Hogan Cup
Hogan Cup
The Hogan Cup 1946-48 & 1957-) is the cup presented to the winners of the colleges All-Ireland "A" senior football championship, the top level Gaelic football championship for secondary schools in Ireland. The competition itself is regularly referred to by reference to the trophy's name.St...
(
Gaelic football
Gaelic football
Gaelic football , commonly referred to as "football" or "Gaelic", or "Gah" is a form of football played mainly in Ireland...
).
People
Birthplace of Agnes Mary Clerke

Agnes Mary Clerke

Agnes Mary Clerke was an astronomer and writer, mainly in the field of astronomy. She was born in Skibbereen, County Cork, Ireland, and died in London.- Life and work :...


(1842

1842 in Ireland

-Events:*15 October - The Nation newspaper is founded in Dublin.*The Ulster Canal is completed.-Births:*6 February - Jeremiah O'Sullivan, Roman Catholic Bishop of Mobile .*10 February - Agnes Mary Clerke, astronomer and writer ....


- 1907

1907 in Ireland

-Events:*2 January - A new system of rail cars running from Amien Street in Dublin to Howth is introduced.*5 January - The first motor show, under the auspices of the Irish Automobile Club, opens in the RDS Dublin....


), astronomer and writer.
Jasper Travers Wolfe TD and Solicitor
Jeremiah O'Donovan Rossa

Jeremiah O'Donovan Rossa

Jeremiah O'Donovan Rossa , was an Irish Fenian leader and prominent member of the Irish Republican Brotherhood. His life as an Irish Fenian is well documented but he is perhaps known best in death for the graveside oration given at his funeral by Pádraig Pearse.-Life in Ireland:He was born at...



Birthplace of Percy Ludgate

Percy Ludgate

Percy Edwin Ludgate was an accountant in Dublin and designer of an Analytical Engine.Working alone, Ludgate designed an Analytical Engine while unaware of Charles Babbage's designs, although he later went on to write about Babbage's machine...


designer of an Analytical Engine
Tony Davis

Tony Davis (Gaelic footballer)

Anthony 'Tony' Davis is a former Irish sportsperson. He played senior football with Cork in the 1980s and 1990s..-Early & private life:...


former gaelic footballer, now a gaelic football analyst for RTE

RTE

RTÉ is the abbreviation for Raidió Teilifís Éireann, the public broadcasting service of the Republic of Ireland.RTE may also refer to:* Recep Tayyip Erdoğan, 25th Prime Minister of Turkey...


's The Sunday Game

The Sunday Game

The Sunday Game is Raidió Teilifís Éireann's main Gaelic games television programme. It is shown on RTÉ Two every Sunday during the Football Championship and Hurling Championship seasons. It is one of RTÉ Two's longest-running shows, having been on air since 1979, one year after the channel first...



Don Wycherley

Don Wycherley

Don Wycherley is an Irish actor who is well known for the portrayal of Father Cyril McDuff in the comedy Father Ted. Don is the brother of Gordon Wycherley. Other roles include Raymond in Bachelors Walk and Fr...


actor
Kieron Moore

Kieron Moore

Kieron Moore was an Irish film and television actor whose career was at its peak in the 1950s and 1960s...


actor
William Joseph Donovan

William Joseph Donovan

William Joseph Donovan was a United States soldier, lawyer and intelligence officer, best remembered as the wartime head of the Office of Strategic Services...


- grandfather came from Skibbereen
Music, Local Entertainment, and Outdoor Adventure
The town has strong musical traditions with many different music events held each year. A few bars in town also host various musical acts throughout the week. Baby Hannah's is a popular place for locals to see bands from as far as Poland come play on occasion.
Skibbereen is home to the annual
Cork X Southwest Music & Arts Festival
. In 2011,
Cork X SW
Cork X SW
Cork X Southwest Music & Arts Festival is an annual festival in Skibbereen, West Cork, Ireland. 2011 saw the festival in its fourth year. The festival took place on Liss Ard Estate in Skibbereen, West Cork on Saturday June 4th & Sunday June 5th.-2011:...
was held at Liss Ard Estate and featured
Patti Smith
Patti Smith
Patricia Lee "Patti" Smith is an American singer-songwriter, poet and visual artist, who became a highly influential component of the New York City punk rock movement with her 1975 debut album Horses....
,
Echo & the Bunnymen
Echo & the Bunnymen
Echo & the Bunnymen are an English post-punk band, formed in Liverpool in 1978. The original line-up consisted of vocalist Ian McCulloch, guitarist Will Sergeant and bass player Les Pattinson, supplemented by a drum machine. By 1980, Pete de Freitas had joined as the band's drummer, and their debut...
,
Balkan Beat Box
Balkan Beat Box
Balkan Beat Box is an Israeli musical group founded by Tamir Muskat, Ori Kaplan of Firewater and Big Lazy, and Tomer Yosef . As a musical project they often cooperate with a host of other musicians both in the studio as well as live...
,
Fred
Fred (band)
Fred are a five-piece Irish alternative band from Cork. They have released four albums, the latest of which, Leaving My Empire, was released in Ireland in 2011.- Career :...
and
Yuck
Yuck (band)
Yuck are an indie rock band that originated in London, England. The band features members Daniel Blumberg and Max Bloom, both of whom formerly played in the band Cajun Dance Party. The band's self-titled debut album was released through Fat Possum on 21 February 2011 in the United Kingdom...
among it's 2 day lineup. The festival had a camp ground where attendees were able to either pitch a tent or park a camper for both Saturday and Sunday night. Beyond food and merchandise vendors, there was also a section of the festival called Vibrations where there were drum circles and free expression platforms. Besides being home to the festival, the Liss Ard Estate offers several options for walking, swimming, exploring, and discovering the magic of the sky garden crater.
Also in Skibbereen is the
Russagh Mill Hostel and Adventure Center
which offers a wide range of activities such as sea kayaking in the local
Lough Hyne
Lough Hyne
Lough Hyne is a marine lake in West Cork, Ireland, about 5 km southwest of Skibbereen. It was designated as Ireland's first Marine Nature Reserve in 1981....
marine lake, abseiling, archery, orienteering, rock climbing, hill walking, and team building. A number of local schools go to Russagh Mill on field trips and it is a popular stop for cyclists and backpackers. The hostel is owned by Michael Murphy, a highly accomplished outdoor enthusiast, a member of the first and subsequent successful expeditions to Mt. Everest, as well as being one of the top Irish canoe coaches. Murphy has grown up in the area and now lives on his family farm. Also, the hostel invites volunteers from all over the world to work in exchange for room and board, as well as occasional participation in some of the outdoor activities offered at the Mill. Skibbereen's location near the coast of Ireland makes it a perfect place to pursue sea fishing, scuba diving, sailing, and kayaking.
Also, just outside of town is the
Tragumna
Tragumna
Tragumna is a small hamlet located about 5 km from the town of Skibbereen in County Cork, Ireland.There is a small safe beach at Tragumna with a tiny island located about 100 metres offshore...
Beach where many people go to swim during the warmer months.
Sewerage Scheme
Cork County Council are currently delivering a sewerage scheme to Skibbereen at a cost of
€13,100,000.
See also
List of towns and villages in Ireland
External links