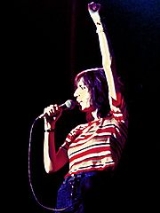 Patti Smith
Patricia Lee
"
Patti
"
Smith
(born December 30, 1946) is an American
singer-songwriter
Singer-songwriter
Singer-songwriters are musicians who write, compose and sing their own musical material including lyrics and melodies. As opposed to contemporary popular music singers who write their own songs, the term singer-songwriter describes a distinct form of artistry, closely associated with the...
, poet and
visual artist
Visual arts
The visual arts are art forms that create works which are primarily visual in nature, such as ceramics, drawing, painting, sculpture, printmaking, design, crafts, and often modern visual arts and architecture...
, who became a highly influential component of the New York City
punk rock
Punk rock
Punk rock is a rock music genre that developed between 1974 and 1976 in the United States, the United Kingdom, and Australia. Rooted in garage rock and other forms of what is now known as protopunk music, punk rock bands eschewed perceived excesses of mainstream 1970s rock...
movement with her 1975 debut album
Horses
Horses (album)
"Horses" is often cited as one of the greatest albums in music history. In 2003, the album was ranked number 44 on Rolling Stone magazine's list of the 500 greatest albums of all time. NME named the album number 1 in its list "20 Near-as-Damn-It Perfect Initial Efforts"...
.
Called the "Godmother of Punk", her work was a fusion of rock and poetry. Smith's most widely known song is "
Because the Night
Because the Night
"Because the Night" is a song by the Patti Smith Group, written by Bruce Springsteen and Patti Smith which was released as a single in 1978, taken from Smith's album Easter. The song was a hit, rising to #13 on the Billboard Hot 100 chart, and helping propel sales of Easter to mainstream success –...
", which was co-written with
Bruce Springsteen
Bruce Springsteen
Bruce Frederick Joseph Springsteen , nicknamed "The Boss," is an American singer-songwriter who records and tours with the E Street Band...
and reached number 13 on the
Billboard Hot 100
Billboard Hot 100
The Billboard Hot 100 is the United States music industry standard singles popularity chart issued weekly by Billboard magazine. Chart rankings are based on radio play and sales; the tracking-week for sales begins on Monday and ends on Sunday, while the radio play tracking-week runs from Wednesday...
chart in 1978.
Jesus diedFor somebody's sinsBut not mine.

Gloria (Them song)|Gloria: In Excelsis Deo, from Horses (album)|Horses (1975)
Look around you, all around youRiding on a copper waveDo you like the world around you?Are you ready to behave?

Rock N Roll Nigger|Rock N Roll Nigger, from Easter (album)|Easter (1978)
He spared the child and spoiled the rodI have not sold myself to God!

Babelogue, from Easter (album)|Easter (1978)
People have the powerTo redeem the work of foolsUpon the meek the graces showerIt's decreed the people rule.

People Have the Power|People Have the Power, from Dream of Life|Dream of Life (1988)
Life is filled with holesJohnny's laying there in his sperm coffinThe angel looks down at him and says "Oh, pretty boyCan't you show me nothing but surrender?

Land