 Simonas Daukantas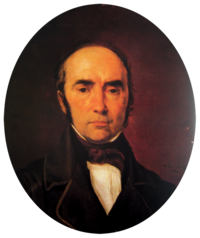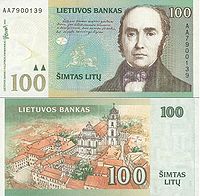 Simonas Daukantas
or
Szymon Dowkont
(28 October 1793 – 6 December 1864) was a Lithuanian writer, ethnographer and historian. One of the pioneers of the
Lithuanian national revival
Lithuanian National Revival
Lithuanian National Revival, alternatively Lithuanian National Awakening , was a period of the history of Lithuania in the 19th century at the time when a major part of Lithuanian inhabited areas belonged to the Russian Empire...
, he is credited as an author of the first book on the
history of Lithuania
History of Lithuania
The history of Lithuania dates back to at least 1009, the first recorded written use of the term. Lithuanians, a branch of the Baltic peoples, later conquered neighboring lands, establishing the Grand Duchy of Lithuania and in the 13th century the short-lived Kingdom of Lithuania. The Grand Duchy...
written in the Lithuanian language. He also published several books on Lithuanian and Samogitian folklore, and wrote a Polish-Lithuanian dictionary.
As an author he published under a variety of pen-names, including, Jakyb Łaukys, K.V.Mylė, Jokūbas Laukys (Jokyb's Łaukys)
http://antologija.lt/scan_img/16.jpg
, Motiejus Šauklys, J.Devynakis, Jonas Girdenis, Jonas Raganius, Antanas Žeimys, Jonas Purvys and Antanas Vaineikis, some of them mentioned also in Polonised form.
Biography
Daukantas, was born on October 26, 1793 in Kalviai, near
Skuodas
Skuodas
Skuodas is a city located in Klaipeda County, in northwestern Lithuania, on the border with Latvia. The Bartuva river flows through the town....
. In 1814 he went to Vilnius and entered a local
gymnasium
Gymnasium (school)
A gymnasium is a type of school providing secondary education in some parts of Europe, comparable to English grammar schools or sixth form colleges and U.S. college preparatory high schools. The word γυμνάσιον was used in Ancient Greece, meaning a locality for both physical and intellectual...
. After graduating in 1816, he began studies at
Vilnius University
Vilnius University
Vilnius University is the oldest university in the Baltic states and one of the oldest in Eastern Europe. It is also the largest university in Lithuania....
, then known as The Imperial University of Vilna. In 1819 Daukantas received his first degree in the field of law, and in 1822, a Masters Degree also in law. Daukantas did not receive his diploma immediately due the suppression of the Filomat and Filaret student movements at Vilnius University; he received the diploma only in 1825. He then relocated to Dorpat (modern
Tartu
Tartu
Tartu is the second largest city of Estonia. In contrast to Estonia's political and financial capital Tallinn, Tartu is often considered the intellectual and cultural hub, especially since it is home to Estonia's oldest and most renowned university. Situated 186 km southeast of Tallinn, the...
), where he continued his studies until moving to
Riga
Riga
Riga is the capital and largest city of Latvia. With 702,891 inhabitants Riga is the largest city of the Baltic states, one of the largest cities in Northern Europe and home to more than one third of Latvia's population. The city is an important seaport and a major industrial, commercial,...
. From there he went to St. Petersburg, and obtained employment at the
Lithuanian Metrica
Lithuanian Metrica
The Lithuanian Metrica or the Metrica of the Grand Duchy of Lithuania is a collection of the 14–18th century legal documents of the Chancellery of the Grand Duchy of Lithuania...
Office, and assisted
Franciszek Malewski
Franciszek Malewski
Franciszek Hieronim Malewski of Jastrzębiec coat of arms was a Lithuanian -Polish lawyer, archivist and journalist. In 1815 he graduated from the Vilna-based gimnazjum wileńskie and started legal studies at the local university. Founding member of the Filomatic Society and friend to Adam...
and Franciszek Czarnocki.
He also collaborated with
Teodor Narbutt
Teodor Narbutt
Teodor Narbutt was a Polish–Lithuanian writer, Romantic historian and military engineer...
, a historian, and gave him almost eight hundred original documents dealing with Lithuanian history as well as that of the
Polish-Lithuanian Commonwealth
Polish-Lithuanian Commonwealth
The Polish–Lithuanian Commonwealth was a dualistic state of Poland and Lithuania ruled by a common monarch. It was the largest and one of the most populous countries of 16th- and 17th‑century Europe with some and a multi-ethnic population of 11 million at its peak in the early 17th century...
. He also published several history books and novels in Lithuanian, notably the
Pałangos petris
, a "
Robinson Crusoe
Robinson Crusoe
Robinson Crusoe is a novel by Daniel Defoe that was first published in 1719. Epistolary, confessional, and didactic in form, the book is a fictional autobiography of the title character—a castaway who spends 28 years on a remote tropical island near Trinidad, encountering cannibals, captives, and...
-like novel".
In 1846 fables by Phaedrus, were translated by Daukantas under the pen-name Motiejus Šauklys into the Lithuanian language and were published in St. Petersburg. Among his manuscripts were a Polish-Lithuanian dictionary and a book on the history of
Samogitia
Samogitia
Samogitia is one of the five ethnographic regions of Lithuania. It is located in northwestern Lithuania. Its largest city is Šiauliai/Šiaulē. The region has a long and distinct cultural history, reflected in the existence of the Samogitian dialect...
and Lithuania. Both were published posthumously.
Finally in 1850 he returned to Lithuania, where he died on December 6, 1864. He was buried on the summit of the
Papilė
Papile
- History :The settlement was first mentioned in 1339, after the area was raided by the Livonian Order. Two hill-forts have been preserved since this time....
hill fort
Hill fort
A hill fort is a type of earthworks used as a fortified refuge or defended settlement, located to exploit a rise in elevation for defensive advantage. They are typically European and of the Bronze and Iron Ages. Some were used in the post-Roman period...
. A monument designed by
Vincas Grybas
Vincas Grybas
Vincas Grybas was a Lithuanian sculptor. Vincas Grybas was born in Lukiškės village where he also finished elementary school. Later he continued his studies at Warsaw art school. After World War I Grybas extended his studies in Kaunas and Paris...
was erected there in 1930. His place in Lithuanian history is also commemorated by
Daukantas Square
Daukantas Square
Daukantas Square in Vilnius, Lithuania is located in Old Town in front of the Presidential Palace. Its name commemorates a progenitor of the 19th-century Lithuanian national revival, Simonas Daukantas. In the late 19th century it had a monument of Mikhail Nikolayevich Muravyov-Vilensky.The square...
, facing the
Presidential Palace
Presidential Palace, Vilnius
The Presidential Palace , located in Vilnius Old Town, is the official office and eventual official residence of the President of Lithuania. The palace dates back to the 14th century and during its history it has undergone various reconstructions, supervised by prominent architects, including...
in Vilnius.
External links
BŪDAS SENOVĖS LIETUVIŲ, KALNĖNŲ IR ŽEMAIČIŲ