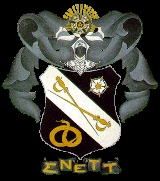 Sigma Nu
Sigma Nu
is an undergraduate, college fraternity with chapters in the United States, Canada and the United Kingdom. Sigma Nu was founded in 1869 by three cadets at the
Virginia Military Institute
Virginia Military Institute
The Virginia Military Institute , located in Lexington, Virginia, is the oldest state-supported military college and one of six senior military colleges in the United States. Unlike any other military college in the United States—and in keeping with its founding principles—all VMI students are...
in
Lexington
Lexington, Virginia
Lexington is an independent city within the confines of Rockbridge County in the Commonwealth of Virginia. The population was 7,042 in 2010. Lexington is about 55 minutes east of the West Virginia border and is about 50 miles north of Roanoke, Virginia. It was first settled in 1777.It is home to...
,
Virginia
Virginia
The Commonwealth of Virginia , is a U.S. state on the Atlantic Coast of the Southern United States. Virginia is nicknamed the "Old Dominion" and sometimes the "Mother of Presidents" after the eight U.S. presidents born there...
. Founders
James Frank Hopkins
James Frank Hopkins
James Frank Hopkins was a Confederate Army volunteer and founder of the Sigma Nu fraternity at the VMI.- Civil War :...
,
Greenfield Quarles
Greenfield Quarles
Greenfield Quarles was one of the founders of Sigma Nu fraternity.Born in Christian County, Kentucky, April 1, 1847. Greenfield Quarles entered the Confederate service at the age of 16 as an aide to his uncle General William A. Quarles. He served until he was captured during the Second Battle of...
and
James McIlvaine Riley
James McIlvaine Riley
James McIlvaine Riley entered the Virginia Military Institute in the fall of 1866. Born in St. Louis, Missouri, Riley was always a favorite with classmates, and was a good public speaker and athlete. He was a member of VMI's first baseball team in the fall of 1866, playing second base and...
formed Sigma Nu shortly after Hopkins witnessed what he considered a
hazing
Hazing
Hazing is a term used to describe various ritual and other activities involving harassment, abuse or humiliation used as a way of initiating a person into a group....
ritual by upperclassmen at the Virginia Military Institute. Sigma Nu's existence remained secret until the founders publicly announced their new society on the first day of January 1869, the accepted birth date of Sigma Nu Fraternity.
The Fraternity's values are summarized as an adherence to the principles of Love, Truth, and Honor. Because of its military heritage, Sigma Nu retains many military trappings in its chapter ranks and traditions, and places much importance on the concept of personal honor. Today, Sigma Nu honors its founders' integrity as the basis of its strictly enforced ban on hazing. Sigma Nu is one third of the Lexington Triad along with
Kappa Alpha Order
Kappa Alpha Order
Kappa Alpha Order is a social fraternity and fraternal order. Kappa Alpha Order has 124 active chapters, 3 provisional chapters, and 2 commissions...
and
Alpha Tau Omega
Alpha Tau Omega
Alpha Tau Omega is a secret American leadership and social fraternity.The Fraternity has more than 250 active and inactive chapters, more than 200,000 initiates, and over 7,000 active undergraduate members. The 200,000th member was initiated in early 2009...
, all of which were founded in Lexington.
Sigma Nu Educational Foundation, Inc.
In 1945, Brother William P. Yates (Beta Rho,
Pennsylvania
University of Pennsylvania
The University of Pennsylvania is a private, Ivy League university located in Philadelphia, Pennsylvania, United States. Penn is the fourth-oldest institution of higher education in the United States,Penn is the fourth-oldest using the founding dates claimed by each institution...
), inspired the formation of the "Sigma Nu Inc., Educational Foundation" with a handsome bequest. Its name was changed recently to the "Sigma Nu Educational Foundation, Inc." The foundation has been instrumental in assisting collegiate members with financial aid supplements, and the General Fraternity in the development of the LEAD Program, (LEAD is an acronym for leadership, ethics, achievement, development). The Foundation continues to support the exclusively educational programs of the Fraternity.
Alumni
Famous Sigma Nu alumni have included men of note in the arts, media, politics, sports, and numerous other fields.
External links