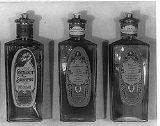 Shampoo
noun
(1) The act of washing your hair with shampoo
(2) Cleansing agent consisting of soaps or detergents used for washing the hair
verb
(3) Use shampoo on (hair)
Etymology
From ,
imperative
form of < root .
Noun
A traditional Indian and Persian body massage given after pouring warm water over the body and rubbing it with extracts from herbs.
An instance of washing the hair or other fibres with shampoo.

I'm going to give the carpet a shampoo.