 Set construction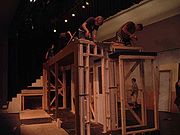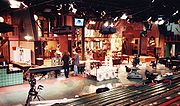 Set construction

Construction

In the fields of architecture and civil engineering, construction is a process that consists of the building or assembling of infrastructure. Far from being a single activity, large scale construction is a feat of human multitasking...



is the process by which a
set designer
Scenic design
Scenic design is the creation of theatrical, as well as film or television scenery. Scenic designers have traditionally come from a variety of artistic backgrounds, but nowadays, generally speaking, they are trained professionals, often with M.F.A...
works in collaboration with the director of a production to create the set for a theatrical, film or television production. The set designer produces a
scale model
Scale model
A scale model is a physical model, a representation or copy of an object that is larger or smaller than the actual size of the object, which seeks to maintain the relative proportions of the physical size of the original object. Very often the scale model is used as a guide to making the object in...
, scale drawings, paint elevations (a scale painting supplied to the scenic painter of each element that requires painting), and research about
props
Theatrical property
A theatrical property, commonly referred to as a prop, is an object used on stage by actors to further the plot or story line of a theatrical production. Smaller props are referred to as "hand props". Larger props may also be set decoration, such as a chair or table. The difference between a set...
, textures, and so on. Scale drawings typically include a
groundplan
Floor plan
In architecture and building engineering, a floor plan, or floorplan, is a diagram, usually to scale, showing a view from above of the relationships between rooms, spaces and other physical features at one level of a structure....
, elevation, and section of the complete set, as well as more detailed drawings of individual scenic elements which, in theatrical productions, may be static,
flown
Fly system
A fly system, flying system or theatrical rigging system, is a system of lines , blocks , counterweights and related devices within a theatre that enable a stage crew to quickly, quietly and safely fly components such as curtains, lights, scenery, stage effects and, sometimes, people...
, or built onto
scenery wagon
Scenery wagon
A scenery wagon, also known as a stage wagon, is a mobile platform that is used to support and transport movable, three-dimensional theatrical scenery on a theater stage. In most cases, the scenery is constructed on top of the wagon such that the wagon, and the scenery it supports, forms a single,...
s. Models and paint elevations are frequently hand-produced, though in recent years, many designers and most commercial theatres have begun producing scale drawings with the aid of computer drafting programs such as
AutoCAD
AutoCAD
AutoCAD is a software application for computer-aided design and drafting in both 2D and 3D. It is developed and sold by Autodesk, Inc. First released in December 1982, AutoCAD was one of the first CAD programs to run on personal computers, notably the IBM PC...
or
Vectorworks
VectorWorks
Vectorworks is a computer-aided design and Building Information Modeling software program developed by Nemetschek Vectorworks that is used for drafting, technical drawing and 3D modeling. Vectorworks offers 2D, 3D, production management, and presentation capabilities for all phases of the design...
.
In theater, the
technical director
Technical director
The Technical Director or Technical Manager is usually a senior technical person within a software company, film studio, theatrical company or television studio...
or production manager is the person responsible for evaluating the finished designs and considering budget and time limitations. He or she engineers the scenery, has it redrafted for building, budgets time, crew and materials, and liaisons between the designer and the shop. Technical directors often have assistant technical directors whose duties can range from drafting to actually building scenery.
A scene shop is often overseen by a shop foreman or master
carpenter
Carpenter (theater)
In theatre, a carpenter is a stagehand who builds sets and stage elements. They usually are hired by the production manager, crew chief or technical director and in some less common cases they may be hired by director or producer...
. This person assigns tasks, does direct supervision of carpenters, and deals with day-to-day matters such as absences, breaks, tool repair, etc. The staff of a scene shop is usually referred to as scenic carpenters, but within that there are many specialities such as
plaster
Plaster
Plaster is a building material used for coating walls and ceilings. Plaster starts as a dry powder similar to mortar or cement and like those materials it is mixed with water to form a paste which liberates heat and then hardens. Unlike mortar and cement, plaster remains quite soft after setting,...
ers,
welder
Welder
A welder is a tradesman who specializes in welding materials together. The materials to be joined can be metals or varieties of plastic or polymer...
s, and scenic stitchers.
Scenic painting
Scenic painting
Theatrical scenic painting includes wide-ranging disciplines, encompassing virtually the entire scope of painting and craft techniques. An experienced scenic painter will have skills in landscape painting, figurative painting, trompe l'oeil, and faux finishing, be versatile in different media such...
is a separate aspect of scenic construction, although the scenic painter usually answers to the technical director.
There is also usually another person often referred to as a jack of all trades, or as a Fred-John. He or she doesn't specialize in a particular aspect of construction, but is skilled to some degree in most.
See also
External links