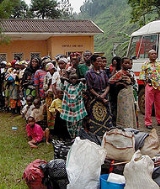 Second Congo War
The
Second Congo War
, also known as
Coltan War
and the
Great War of Africa
, began in August 1998 in the
Democratic Republic of the Congo
Democratic Republic of the Congo
The Democratic Republic of the Congo is a state located in Central Africa. It is the second largest country in Africa by area and the eleventh largest in the world...
(formerly called
Zaire
Zaire
The Republic of Zaire was the name of the present Democratic Republic of the Congo between 27 October 1971 and 17 May 1997. The name of Zaire derives from the , itself an adaptation of the Kongo word nzere or nzadi, or "the river that swallows all rivers".-Self-proclaimed Father of the Nation:In...
), and officially ended in July 2003 when the
Transitional Government of the Democratic Republic of the Congo
Transitional Government of the Democratic Republic of the Congo
The Transitional Government of the Democratic Republic of Congo was tasked with moving from the state riven by the Second Congo War to a government based upon a constitution agreed on by consensus. In 2001 President Laurent Kabila was assassinated and his son Joseph Kabila was named head of state...
took power; however, hostilities continue to this day.
The largest war in modern
African history
History of Africa
The history of Africa begins with the prehistory of Africa and the emergence of Homo sapiens in East Africa, continuing into the present as a patchwork of diverse and politically developing nation states. Agriculture began about 10,000 BCE and metallurgy in about 4000 BCE. The history of early...
, it directly involved eight
Africa
Africa
Africa is the world's second largest and second most populous continent, after Asia. At about 30.2 million km² including adjacent islands, it covers 6% of the Earth's total surface area and 20.4% of the total land area...
n nations, as well as about 25 armed groups. By 2008 the war and its aftermath had killed 5.4 million people, mostly from disease and starvation, making the Second Congo War the deadliest conflict worldwide since
World War II
World War II
World War II, or the Second World War , was a global conflict lasting from 1939 to 1945, involving most of the world's nations—including all of the great powers—eventually forming two opposing military alliances: the Allies and the Axis...
.