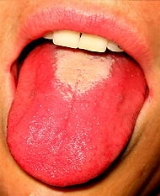 Scarlet fever
Scarlet fever
is a disease caused by
exotoxin
Exotoxin
An exotoxin is a toxin excreted by a microorganism, like bacteria, fungi, algae, and protozoa. An exotoxin can cause damage to the host by destroying cells or disrupting normal cellular metabolism. They are highly potent and can cause major damage to the host...
released by
Streptococcus pyogenes
Streptococcus pyogenes
Streptococcus pyogenes is a spherical, Gram-positive bacterium that is the cause of group A streptococcal infections. S. pyogenes displays streptococcal group A antigen on its cell wall. S...
. Once a major cause of death, it is now effectively treated with antibiotics. The term
scarlatina
may be used interchangeably with
scarlet fever
, though it is most often used to indicate the less acute form of scarlet fever seen since the beginning of the twentieth century.
Symptoms
It is characterized by:
Sore throat

Sore throat

A sore throat or throat pain is a common physical symptom usually caused by acute pharyngitis, or throat inflammation, though it also occurs in a number of other situations, such as post trauma and in diphtheria. It can cause mild to extreme pain....



Fever

Fever

Fever is a common medical sign characterized by an elevation of temperature above the normal range of due to an increase in the body temperature regulatory set-point. This increase in set-point triggers increased muscle tone and shivering.As a person's temperature increases, there is, in...



Bright red tongue with a "strawberry" appearance

Strawberry tongue

Strawberry tongue is the appearance of tongue with inflamed red papillae, giving an appearance suggestive to a red strawberry.-Associated conditions:It is seen in Kawasaki disease, toxic shock syndrome, and scarlet fever....



Characteristic rash

Rash

A rash is a change of the skin which affects its color, appearance or texture. A rash may be localized in one part of the body, or affect all the skin. Rashes may cause the skin to change color, itch, become warm, bumpy, chapped, dry, cracked or blistered, swell and may be painful. The causes, and...


, which:
is fine, red, and rough-textured; it blanches upon pressure.
appears 12–48 hours after the fever.
generally starts on the chest, armpits, and behind the ears.
spares the face (although some circumoral pallor is characteristic).
is worse in the skin fold

Skin fold

Skin folds are areas of skin where it folds. Many skin folds are distinct, heritable anatomical features, and may be used for identification of animal species, while others are non-specific and may be produced either by individual development of an organism or by arbitrary application of force to...


s. These Pastia lines (where the rash runs together in the armpits and groin) appear and can persist after the rash is gone.
may spread to cover the uvula.
The rash begins to fade three to four days after onset and desquamation

Desquamation

Desquamation , also called skin peeling, is the shedding of the outermost membrane or layer of a tissue, such as the skin.-Skin:Normal, nonpathologic desquamation of the skin occurs when keratinocytes, after moving apically over about 14 days, are individually shed unnoticeably...


(peeling) begins. "This phase begins with flakes peeling from the face. Peeling from the palms and around the fingers occurs about a week later." Peeling also occurs in axilla, groin, and tips of the fingers and toes.
Diagnosis of scarlet fever is clinical. The blood test shows marked
leukocytosis
Leukocytosis
Leukocytosis is a raised white blood cell count above the normal range in the blood. It is frequently a sign of an inflammatory response, most commonly the result of infection, and is observed in certain parasitic infections...
with
neutrophilia
Neutrophilia
Neutrophilia is a condition where a person has a high number of neutrophil granulocytes in their blood.-Causes:...
and conservated or increased eosinophils, high
erythrocyte sedimentation rate
Erythrocyte sedimentation rate
The erythrocyte sedimentation rate , also called a sedimentation rate or Biernacki Reaction, is the rate at which red blood cells sediment in a period of 1 hour...
(ESR) and
C-reactive protein
C-reactive protein
C-reactive protein is a protein found in the blood, the levels of which rise in response to inflammation...
(CRP) (both indications of inflammation), and elevation of antistreptolysin O titer.
Blood culture
Blood culture
Blood culture is a microbiological culture of blood. It is employed to detect infections that are spreading through the bloodstream...
is rarely positive, but the streptococci can usually be demonstrated in throat culture. The complications of scarlet fever include septic complications due to spread of streptococcus in blood and immune-mediated complications due to an aberrant immune response. Septic complications—today rare—include ear and sinus infection,
streptococcal pneumonia
Bacterial pneumonia
Bacterial pneumonia is a type of pneumonia caused by bacterial infection.-Sign and symptoms:*Fever*Rigors*Cough*Dyspnea*Chest pain*Pneumococcal pneumonia can cause Hemoptysis-Gram positive:...
,
empyema thoracis
Empyema
Pleural empyema is an accumulation of pus in the pleural cavity. Most pleural empyemas arise from an infection within the lung , often associated with parapneumonic effusions. There are three stages: exudative, fibrinopurulent and organizing. In the exudative stage, the pus accumulates...
, meningitis and full-blown
sepsis
Sepsis
Sepsis is a potentially deadly medical condition that is characterized by a whole-body inflammatory state and the presence of a known or suspected infection. The body may develop this inflammatory response by the immune system to microbes in the blood, urine, lungs, skin, or other tissues...
, upon which the condition may be called malignant scarlet fever.
Immune complications include acute
glomerulonephritis
Glomerulonephritis
Glomerulonephritis, also known as glomerular nephritis, abbreviated GN, is a renal disease characterized by inflammation of the glomeruli, or small blood vessels in the kidneys...
,
rheumatic fever
Rheumatic fever
Rheumatic fever is an inflammatory disease that occurs following a Streptococcus pyogenes infection, such as strep throat or scarlet fever. Believed to be caused by antibody cross-reactivity that can involve the heart, joints, skin, and brain, the illness typically develops two to three weeks after...
and
erythema nodosum
Erythema nodosum
Erythema nodosum is an inflammation of the fat cells under the skin characterized by tender red nodules or lumps that are usually seen on both shins...
. The secondary scarlatinous disease, or secondary malignant syndrome of scarlet fever, includes renewed fever, renewed angina, septic
ear, nose, and throat
Otolaryngology
Otolaryngology or ENT is the branch of medicine and surgery that specializes in the diagnosis and treatment of ear, nose, throat, and head and neck disorders....
complications and kidney infection or rheumatic fever and is seen around the eighteenth day of untreated scarlet fever.
The rash is the most striking sign of scarlet fever. It usually begins looking like a bad sunburn with tiny bumps, and it may itch. The rash usually appears first on the neck and face, often leaving a clear unaffected area around the mouth. It spreads to the chest and back, then to the rest of the body. In body creases, especially around the underarms and elbows, the rash forms classic red streaks (on very dark skin, the streaks may appear darker than the rest of the skin). Areas of rash usually turn white (or paler brown, with dark complected skin) when pressed on. By the sixth day of the infection, the rash usually fades, but the affected skin may begin to peel. Usually there are other symptoms that help to confirm a diagnosis of scarlet fever, including a reddened sore throat, a
fever
Fever
Fever is a common medical sign characterized by an elevation of temperature above the normal range of due to an increase in the body temperature regulatory set-point. This increase in set-point triggers increased muscle tone and shivering.As a person's temperature increases, there is, in...
at or above 101 °F (38.3 °C), and swollen glands in the neck. Scarlet fever can also occur with a low fever. The tonsils and back of the throat may be covered with a whitish coating, or appear red, swollen, and dotted with whitish or yellowish specks of pus. Early in the infection, the tongue may have a whitish or yellowish coating. Also, an infected person may have chills, body aches, nausea, vomiting, and loss of appetite.
When scarlet fever occurs because of a throat infection, the fever typically stops within 3 to 5 days, and the sore throat passes soon afterward. The scarlet fever rash usually fades on the sixth day after sore throat symptoms started, and begins to peel (as above). The infection itself is usually cured with a 10-day course of antibiotics, but it may take a few weeks for tonsils and swollen glands to return to normal.
In rare cases, scarlet fever may develop from a streptococcal skin infection like
impetigo
Impetigo
Impetigo is a highly contagious bacterial skin infection most common among pre-school children. People who play close contact sports such as rugby, American football and wrestling are also susceptible, regardless of age. Impetigo is not as common in adults. The name derives from the Latin impetere...
. In these cases, the person may not get a sore throat.
Treatment
Other than the occurrence of the diarrhea, the treatment and course of scarlet fever are no different from those of any
strep throat
Strep throat
Streptococcal pharyngitis, streptococcal tonsillitis, or streptococcal sore throat is a type of pharyngitis caused by a group A streptococcal infection. It affects the pharynx including the tonsils and possibly the larynx. Common symptoms include fever, sore throat, and enlarged lymph nodes...
. In case of penicillin allergy,
clindamycin
Clindamycin
Clindamycin rINN is a lincosamide antibiotic. It is usually used to treat infections with anaerobic bacteria but can also be used to treat some protozoal diseases, such as malaria...
or
erythromycin
Erythromycin
Erythromycin is a macrolide antibiotic that has an antimicrobial spectrum similar to or slightly wider than that of penicillin, and is often used for people who have an allergy to penicillins. For respiratory tract infections, it has better coverage of atypical organisms, including mycoplasma and...
can be used with success. Patients should no longer be infectious after taking antibiotics for 24 hours. People who have been exposed to scarlet fever should be watched carefully for a full week for symptoms, especially if aged 3 to young adult. It is very important to be tested (throat culture) and if positive, seek treatment.
A
drug-resistant
Drug resistance
Drug resistance is the reduction in effectiveness of a drug such as an antimicrobial or an antineoplastic in curing a disease or condition. When the drug is not intended to kill or inhibit a pathogen, then the term is equivalent to dosage failure or drug tolerance. More commonly, the term is used...
strain of scarlet fever has emerged in
Hong Kong
Hong Kong
Hong Kong is one of two Special Administrative Regions of the People's Republic of China , the other being Macau. A city-state situated on China's south coast and enclosed by the Pearl River Delta and South China Sea, it is renowned for its expansive skyline and deep natural harbour...
in 2011, accounting for at least two deaths in that city - the first such in over a decade. The mutant strain of the bacterium is about 60% resistant to the
antibiotics
Antibiotic resistance
Antibiotic resistance is a type of drug resistance where a microorganism is able to survive exposure to an antibiotic. While a spontaneous or induced genetic mutation in bacteria may confer resistance to antimicrobial drugs, genes that confer resistance can be transferred between bacteria in a...
, says Professor
Kwok-yung Yuen
Yuen Kwok-yung
Yuen Kwok-yung , Academician of the Chinese Academy of Engineering and Silver Bauhinea Star Awardee of the Hong Kong Special Administrative Region of China, was born in Hong Kong and graduated from the Medical School at the University of Hong Kong. He is also Fellow of the Royal College of...
, head of Hong Kong University's microbiology department. This is compared to a previous strain of the disease, which demonstrated a 10-30% resistance. This new strain may have spread to neighboring
Macau
Macau
Macau , also spelled Macao , is, along with Hong Kong, one of the two special administrative regions of the People's Republic of China...
and mainland
China
China
Chinese civilization may refer to:* China for more general discussion of the country.* Chinese culture* Greater China, the transnational community of ethnic Chinese.* History of China* Sinosphere, the area historically affected by Chinese culture...
.
History
Husband and wife Gladys Henry Dick and
George Frederick Dick
developed a
vaccine
Vaccine
A vaccine is a biological preparation that improves immunity to a particular disease. A vaccine typically contains an agent that resembles a disease-causing microorganism, and is often made from weakened or killed forms of the microbe or its toxins...
in 1924 that was later eclipsed by
penicillin
Penicillin
Penicillin is a group of antibiotics derived from Penicillium fungi. They include penicillin G, procaine penicillin, benzathine penicillin, and penicillin V....
in the 1940s.