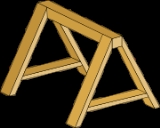 Sawhorse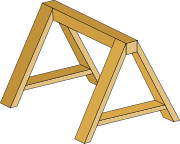 A
sawhorse
is a
beam
Beam (structure)
A beam is a horizontal structural element that is capable of withstanding load primarily by resisting bending. The bending force induced into the material of the beam as a result of the external loads, own weight, span and external reactions to these loads is called a bending moment.- Overview...
with four legs used to support a
board
Lumber
Lumber or timber is wood in any of its stages from felling through readiness for use as structural material for construction, or wood pulp for paper production....
or
plank
Plank (wood)
A plank is a piece of timber, flat, elongated and rectangular, with parallel faces, higher or longer than wide, used in the construction of ships, houses, bridges, etc......
for
saw
Saw
A saw is a tool that uses a hard blade or wire with an abrasive edge to cut through softer materials. The cutting edge of a saw is either a serrated blade or an abrasive...
ing. A pair of sawhorses can support a plank, forming a scaffold. In certain circles, it is also known as a
mule
Mule
A mule is the offspring of a male donkey and a female horse. Horses and donkeys are different species, with different numbers of chromosomes. Of the two F1 hybrids between these two species, a mule is easier to obtain than a hinny...
.
The sawhorse may be designed to fold for storage. A sawhorse with a wide top is particularly useful to support a board for sawing or as a field
workbench
Workbench
A workbench is sturdy table at which manual work is done. They range from simple flat surfaces to very complex designs that may be considered tools in themselves. Workbenches vary in size from tiny jewelers benches to the huge benches used by staircase makers...
, and is more useful as a single, but also more difficult to store.
A sawhorse can also be used as the base for a portable work table by placing a sheet of 3/4"
plywood
Plywood
Plywood is a type of manufactured timber made from thin sheets of wood veneer. It is one of the most widely used wood products. It is flexible, inexpensive, workable, re-usable, and can usually be locally manufactured...
or even a
door
Door
A door is a movable structure used to open and close off an entrance, typically consisting of a panel that swings on hinges or that slides or rotates inside of a space....
on top of two sawhorses. If the sawhorses are strong enough, the portable table can be used as a platform for tools like a
table saw
Table saw
A table saw or sawbench is a woodworking tool consisting of a circular saw blade, mounted on an arbor, that is driven by an electric motor...
, although with caution if the top is not secured to the sawhorses.
Related devices
A sawbuck

Sawbuck

A sawbuck is a device for holding rough wood so that it may be sawn into pieces of length usable in a stove or fireplace. Easily made in the field from rough material, it consists of two "X" forms, one at each end, which are stabilized by a central piece...


is a similar device for working with logs and branches.
Barricade

Barricade

Barricade, from the French barrique , is any object or structure that creates a barrier or obstacle to control, block passage or force the flow of traffic in the desired direction...


s fitted with flashing lights and used to block excavations or road construction or other safety-related purposes. Formerly made of wood, now many have metal structural members or are made wholly of plastic or composite.

The A-frame barricade or parade barricade resembles a sawhorse with a brightly painted top rail.
The Type I (or II) barricade also known as a waffle-board barricade resembles a sawhorse that can be folded flat. Type I indicates sheeting on top; Type II has sheeting on top and bottom.http://www.trans-supply.com/p-346-type-i-ii-solid-plastic-board-barricades.aspx
The Type III barricade has multiple rails supported by two end posts with feet.
Crowd control
A device for
crowd control
Crowd control
Crowd control is the controlling of a crowd, to prevent the outbreak of disorder and prevention of possible riot. Examples are at soccer matches, when a sale of goods has attracted an excess of customers, refugee control, or mass decontamination and mass quarantine situations . It calls for gentler...
in the late 20th century had the shape of a sawhorse made of wood. The legs are similar but rather heavy duty
facsimile
Facsimile
A facsimile is a copy or reproduction of an old book, manuscript, map, art print, or other item of historical value that is as true to the original source as possible. It differs from other forms of reproduction by attempting to replicate the source as accurately as possible in terms of scale,...
s of the hobby version of about the same height. The horizontal bar consists of a heavy-duty plank about 4.2 metres (14 feet) long with printed on it in large letters:
Police Line - Do Not Cross
. Many cities have chosen to replace this wooden barrier with the French barrier, which is a metal crowd control device.
External links