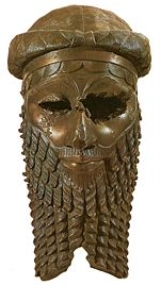 Sargon of Akkad
Sargon of Akkad
, also known as
Sargon the Great
"the Great King" (
Akkadian
Akkadian language
Akkadian is an extinct Semitic language that was spoken in ancient Mesopotamia. The earliest attested Semitic language, it used the cuneiform writing system derived ultimately from ancient Sumerian, an unrelated language isolate...
Šarru-kīnu
, meaning "the true king" or "the king is legitimate"), was an Akkadian emperor famous for his conquest of the
Sumer
Sumer
Sumer was a civilization and historical region in southern Mesopotamia, modern Iraq during the Chalcolithic and Early Bronze Age....
ian city-states in the 23rd and 22nd centuries BC. The founder of the Dynasty of Akkad, Sargon reigned in the last quarter of the third millennium BC. He became a prominent member of the royal court of
Kish
Kish (Sumer)
Kish is modern Tell al-Uhaymir , and was an ancient city of Sumer. Kish is located some 12 km east of Babylon, and 80 km south of Baghdad ....
, killing the king and usurping his throne before embarking on the quest to conquer Mesopotamia.