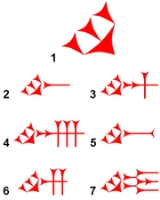 Akkadian language
Akkadian
(also
Accadian
,
Assyro-Babylonian
) is an
extinct
Extinct language
An extinct language is a language that no longer has any speakers., or that is no longer in current use. Extinct languages are sometimes contrasted with dead languages, which are still known and used in special contexts in written form, but not as ordinary spoken languages for everyday communication...
Semitic language (part of the greater Afroasiatic language family) that was spoken in ancient
Mesopotamia
Mesopotamia
Mesopotamia is a toponym for the area of the Tigris–Euphrates river system, largely corresponding to modern-day Iraq, northeastern Syria, southeastern Turkey and southwestern Iran.Widely considered to be the cradle of civilization, Bronze Age Mesopotamia included Sumer and the...
. The earliest attested Semitic language, it used the cuneiform writing system derived ultimately from ancient
Sumerian
Sumerian language
Sumerian is the language of ancient Sumer, which was spoken in southern Mesopotamia since at least the 4th millennium BC. During the 3rd millennium BC, there developed a very intimate cultural symbiosis between the Sumerians and the Akkadians, which included widespread bilingualism...
, an unrelated
language isolate
Language isolate
A language isolate, in the absolute sense, is a natural language with no demonstrable genealogical relationship with other languages; that is, one that has not been demonstrated to descend from an ancestor common with any other language. They are in effect language families consisting of a single...
. The name of the language is derived from the city of
Akkad
Akkad
The Akkadian Empire was an empire centered in the city of Akkad and its surrounding region in Mesopotamia....
, a major center of Mesopotamian civilization.
During the
third millennium BC
3rd millennium BC
The 3rd millennium BC spans the Early to Middle Bronze Age.It represents a period of time in which imperialism, or the desire to conquer, grew to prominence, in the city states of the Middle East, but also throughout Eurasia, with Indo-European expansion to Anatolia, Europe and Central Asia. The...
, a close cultural symbiosis developed between the
Sumer
Sumer
Sumer was a civilization and historical region in southern Mesopotamia, modern Iraq during the Chalcolithic and Early Bronze Age....
ians and the Akkadians, which included widespread bilingualism.