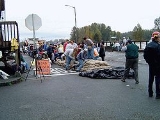 Sandbag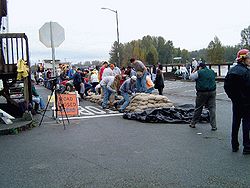 A
sandbag
is a sack made of hessian/burlap, polypropylene or other materials that is filled with
sand
Sand
Sand is a naturally occurring granular material composed of finely divided rock and mineral particles.The composition of sand is highly variable, depending on the local rock sources and conditions, but the most common constituent of sand in inland continental settings and non-tropical coastal...
or
soil
Soil
Soil is a natural body consisting of layers of mineral constituents of variable thicknesses, which differ from the parent materials in their morphological, physical, chemical, and mineralogical characteristics...
and used for such purposes as
flood control
Flood control
In communications, flood control is a feature of many communication protocols designed to prevent overwhelming of a destination receiver. Such controls can be implemented either in software or in hardware, and will often request that the message be resent after the receiver has finished...
, military
fortification
Fortification
Fortifications are military constructions and buildings designed for defence in warfare and military bases. Humans have constructed defensive works for many thousands of years, in a variety of increasingly complex designs...
, shielding glass windows in
war zone
War Zone
A war zone is a location of military conflict, but the term may also refer to:* War Zone , a 1998 documentary about street harassment* The War Zone, a 1999 film starring Ray Winstone...
s and
ballast
Buoyancy compensator (aviation)
The static buoyancy of airships during a trip is not constant. It is therefore necessary to take measures to control the buoyancy and thus the altitude, the so-called buoyancy compensation.-Changes which have an effect on buoyancy:...
.
Advantages are that burlap and sand are inexpensive, and that the bags can be brought in empty and filled with local sand or soil.
Usage
Sandbags may be used during emergencies when rivers threaten to overflood, or a
levee
Levee
A levee, levée, dike , embankment, floodbank or stopbank is an elongated naturally occurring ridge or artificially constructed fill or wall, which regulates water levels...
or dike is damaged. They may also be used in non-emergency situations (or after an emergency) as a foundation for new levees, or other water-control structures. Sandbags are not always an effective measure in the event of flooding because water will eventually seep through the bags and finer materials, like clay, may leak out through the seam. After usage, dry sandbags can be stored for future use. Wet bags may need to be disposed in a landfill as they may be contaminated by chemicals and fecal matter.
The military uses sandbags for field
fortification
Fortification
Fortifications are military constructions and buildings designed for defence in warfare and military bases. Humans have constructed defensive works for many thousands of years, in a variety of increasingly complex designs...
s, or as a temporary measure to protect civilian structures. Because burlap and sand are inexpensive, large protective barriers can be erected cheaply. The friction created by moving soil or sand grains and multiple tiny air gaps makes sandbags an efficient
dissipator
Dissipation
In physics, dissipation embodies the concept of a dynamical system where important mechanical models, such as waves or oscillations, lose energy over time, typically from friction or turbulence. The lost energy converts into heat, which raises the temperature of the system. Such systems are called...
of
explosive blast
Explosion
An explosion is a rapid increase in volume and release of energy in an extreme manner, usually with the generation of high temperatures and the release of gases. An explosion creates a shock wave. If the shock wave is a supersonic detonation, then the source of the blast is called a "high explosive"...
. The most common size for sandbags is 14 inches by 26 inches. These dimensions and weight of sand a bag this size can hold alows for the construction of an interlocked wall like
brickwork
Brickwork
Brickwork is masonry produced by a bricklayer, using bricks and mortar to build up brick structures such as walls. Brickwork is also used to finish corners, door, and window openings, etc...
. They are not too heavy to lift and move into place. They may be laid in excavated defences as
revetment
Revetment
Revetments, or revêtements , have a variety of meanings in architecture, engineering and art history. In stream restoration, river engineering or coastal management, they are sloping structures placed on banks or cliffs in such a way as to absorb the energy of incoming water...
, or as free-standing walls above ground where excavations are impractical. As plain burlap sandbags deteriorate fairly quickly, sandbag structures that are meant to remain in place for a long time may be painted with a
portland cement
Portland cement
Portland cement is the most common type of cement in general use around the world because it is a basic ingredient of concrete, mortar, stucco and most non-specialty grout...
slurry
Slurry
A slurry is, in general, a thick suspension of solids in a liquid.-Examples of slurries:Examples of slurries include:* Lahars* A mixture of water and cement to form concrete* A mixture of water, gelling agent, and oxidizers used as an explosive...
to reduce the effects of
rot
ROT
The aviation term ROT stands for rate one turn, also known as a standard rate turn. All aircraft must be able to perform a standard rate turn....
and abrasion. Cotton ducking sandbags last considerably longer than burlap and are hence preferable for long-term use. However, the vast majority of sandbags used by modern militaries and for flood prevention are made of circular woven
polypropylene
Polypropylene
Polypropylene , also known as polypropene, is a thermoplastic polymer used in a wide variety of applications including packaging, textiles , stationery, plastic parts and reusable containers of various types, laboratory equipment, loudspeakers, automotive components, and polymer banknotes...
. The easy availability to military personnel, size and construction of the bags has also led to the use of sandbags as makeshift hoods for prisoners of war.
Sandbags made using big bags
Big bags are much larger than traditional sandbags. Moving a bag of this size typically involves a
forklift truck
Forklift truck
A forklift is a powered industrial truck used to lift and transport materials. The modern forklift was developed in the 1920s by various companies including the transmission manufacturing company Clark and the hoist company Yale & Towne Manufacturing...
. Thailand utilized big bags filled with sand to erect temporary walls to protect against the
2011 Thailand floods
2011 Thailand floods
Major floods are occurring during the 2011 monsoon season in Thailand, most severely in the Chao Phraya but also in the Mekong River basin. Beginning in late July and continuing for over three months, the floods have caused 602 reported deaths by early November, affected over 2.3 million people,...
.
Other uses
Sandbags are also used for disposable ballast in
gas balloon
Gas balloon
A gas balloon is any balloon that stays aloft due to being filled with a gas less dense than air or lighter than air . A gas balloon may also be called a Charlière for its inventor, the Frenchman Jacques Charles. Today, familiar gas balloons include large blimps and small rubber party balloons...
s, and as
counterweight
Counterweight
A counterweight is an equivalent counterbalancing weight that balances a load.-Uses:A counterweight is often used in traction lifts , cranes and funfair rides...
s for
theatre sets
Set construction
Set construction is the process by which a set designer works in collaboration with the director of a production to create the set for a theatrical, film or television production...
.
Sandbags have been used since at least the late 18th century. They have traditionally been filled manually using
shovel
Shovel
A shovel is a tool for digging, lifting, and moving bulk materials, such as soil, coal, gravel, snow, sand, or ore. Shovels are extremely common tools that are used extensively in agriculture, construction, and gardening....
s. Since the 1990s, machine filling has become more common, which allows the work to be done more quickly and efficiently.
During
World War II
World War II
World War II, or the Second World War , was a global conflict lasting from 1939 to 1945, involving most of the world's nations—including all of the great powers—eventually forming two opposing military alliances: the Allies and the Axis...
, sandbags were also used as extemporized "soft armor" on American tanks, to help defeat German anti-tank rounds, but were ineffective.
Sandbags are also used in
weight training
Weight training
Weight training is a common type of strength training for developing the strength and size of skeletal muscles. It uses the weight force of gravity to oppose the force generated by muscle through concentric or eccentric contraction...
, and with rear-wheel drive cars to increase traction in inclement weather.
In games and various kinds of adversarial settings, the term
sandbagging
Sandbagging
Sandbagging, hiding the strength, skill or difficulty of something or someone early in an engagement, may refer to: in billiards and other games, deliberately playing below one's actual ability in order to fool opponents into accepting higher stakes bets, or to lower one's competitive rating in...
refers to the practice of purposely placing oneself in a weaker position so as to give the deceptive impression that one is less skilled than one truly is.
Sandbags are often used to temporarily stabilize soil from erosion, such as oceanfront structures whose foundations have been undermined from heavy waves.
An often unknown use of sandbags includes panel restoration and re-creation. The sandbag being used behind the panel as it is beaten by a hollowing hammer to create initial angles and curves.
Sandbags are also used in
earthbag construction
Earthbag construction
Earthbag construction is an inexpensive method to create structures which are both strong and can be quickly built. It is a natural building technique that evolved from historic military bunker construction techniques and temporary flood-control dike building methods...
to make inexpensive, environmentally sustainable homes.
In slang
The word can also refer to a simple
weapon
Weapon
A weapon, arm, or armament is a tool or instrument used with the aim of causing damage or harm to living beings or artificial structures or systems...
consisting of a small bag filled with sand for use as a cudgel typically by criminals, or to the act of striking a person on the head with such a weapon. This usage is obsolescent in normal speech, appearing mainly in legal codes. However the verb form is extended
metaphor
Metaphor
A metaphor is a literary figure of speech that uses an image, story or tangible thing to represent a less tangible thing or some intangible quality or idea; e.g., "Her eyes were glistening jewels." Metaphor may also be used for any rhetorical figures of speech that achieve their effects via...
ically in several
slang
Slang
Slang is the use of informal words and expressions that are not considered standard in the speaker's language or dialect but are considered more acceptable when used socially. Slang is often to be found in areas of the lexicon that refer to things considered taboo...
expressions.
External links