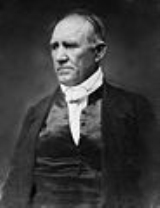 Sam Houston
Samuel Houston
, known as
Sam Houston
(March 2, 1793 July 26, 1863), was a 19th-century
American
United States
The United States of America is a federal constitutional republic comprising fifty states and a federal district...
statesman
Statesman
A statesman is usually a politician or other notable public figure who has had a long and respected career in politics or government at the national and international level. As a term of respect, it is usually left to supporters or commentators to use the term...
,
politician
Politician
A politician, political leader, or political figure is an individual who is involved in influencing public policy and decision making...
, and soldier. He was born in
Timber Ridge
Timber Ridge
Timber Ridge is a mountain ridge of the Ridge-and-valley Appalachians straddling the U.S. states of Virginia and West Virginia. Timber Ridge extends from the forks of Sleepy Creek at Stotlers Crossroads in Morgan County, West Virginia, to Lehew in Hampshire County, West Virginia...
in the
Shenandoah Valley
Shenandoah Valley
The Shenandoah Valley is both a geographic valley and cultural region of western Virginia and West Virginia in the United States. The valley is bounded to the east by the Blue Ridge Mountains, to the west by the eastern front of the Ridge-and-Valley Appalachians , to the north by the Potomac River...
of
Virginia
Virginia
The Commonwealth of Virginia , is a U.S. state on the Atlantic Coast of the Southern United States. Virginia is nicknamed the "Old Dominion" and sometimes the "Mother of Presidents" after the eight U.S. presidents born there...
, of Scots-Irish descent. Houston became a key figure in the history of
Texas
Texas
Texas is the second largest U.S. state by both area and population, and the largest state by area in the contiguous United States.The name, based on the Caddo word "Tejas" meaning "friends" or "allies", was applied by the Spanish to the Caddo themselves and to the region of their settlement in...
and was elected as the
first and third President of the Republic of Texas
, U.S.