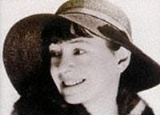 Dorothy Parker
Dorothy Parker
was an
American
United States
The United States of America is a federal constitutional republic comprising fifty states and a federal district...
poet
Poet
A poet is a person who writes poetry. A poet's work can be literal, meaning that his work is derived from a specific event, or metaphorical, meaning that his work can take on many meanings and forms. Poets have existed since antiquity, in nearly all languages, and have produced works that vary...
, short story writer, critic and
satirist
Satire
Satire is primarily a literary genre or form, although in practice it can also be found in the graphic and performing arts. In satire, vices, follies, abuses, and shortcomings are held up to ridicule, ideally with the intent of shaming individuals, and society itself, into improvement...
, best known for her
wit
Wit
Wit is a form of intellectual humour, and a wit is someone skilled in making witty remarks. Forms of wit include the quip and repartee.-Forms of wit:...
, wisecracks, and eye for 20th century urban foibles.
From a conflicted and unhappy childhood, Parker rose to acclaim, both for her literary output in such venues as
The New Yorker
The New Yorker
The New Yorker is an American magazine of reportage, commentary, criticism, essays, fiction, satire, cartoons and poetry published by Condé Nast...
and as a founding member of the
Algonquin Round Table
Algonquin Round Table
The Algonquin Round Table was a celebrated group of New York City writers, critics, actors and wits. Gathering initially as part of a practical joke, members of "The Vicious Circle", as they dubbed themselves, met for lunch each day at the Algonquin Hotel from 1919 until roughly 1929...
. Following the breakup of the circle, Parker traveled to Hollywood to pursue
screenwriting
Screenwriting
Screenwriting is the art and craft of writing scripts for mass media such as feature films, television productions or video games. It is a freelance profession....
. Her successes there, including two Academy Award nominations, were curtailed as her involvement in
left-wing politics
Left-wing politics
In politics, Left, left-wing and leftist generally refer to support for social change to create a more egalitarian society...
led to a place on the
Hollywood blacklist
Hollywood blacklist
The Hollywood blacklist—as the broader entertainment industry blacklist is generally known—was the mid-twentieth-century list of screenwriters, actors, directors, musicians, and other U.S. entertainment professionals who were denied employment in the field because of their political beliefs or...
.
Parker went through three marriages (two to the same man) and survived several suicide attempts but grew increasingly dependent on alcohol.
Excuse my dust.

Her proposed epitaph for herself, quoted in Vanity Fair (June 1925)
And she had It. It, hell; she had Those.

Regarding a character in Elinor Glyn|Elinor Glyn's novel It; in her review of same, "Madame Glyn Lectures on 'It,' with Illustrations" in The New Yorker (1927-11-26)
Salary is no object: I want only enough to keep body and soul apart.

New Yorker (4 February 1928)
It is that word 'hummy,' my darlings, that marks the first place in The House at Pooh Corner at which Tonstant Weader fwowed up.

Her "Constant Reader" book review of The House at Pooh Corner|The House at Pooh Corner by A. A. Milne, in The New Yorker (20 October 1928)
That would be a good thing for them to cut on my tombstone: Wherever she went, including here, it was against her better judgment.

"But the One on the Right" in The New Yorker (1929)
The House Beautiful is, for me, the play lousy.

Review of "The House Beautiful" by Channing Pollock, New Yorker (21 March 1931)
[A] lady ... with all the poise of the Sphinx though but little of her mystery.

Concerning a child actress in A. A. Milne|A. A. Milne's play Give Me Yesterday; in her review of same, "Just Around Pooh Corner" in The New Yorker (1931-03-14)
Drink and dance and laugh and lie,Love, the reeling midnight through,For tomorrow we shall die!(But, alas, we never do.)

"The Flaw in Paganism" in Death and Taxes (1931)
[On the most beautiful words in the English language] The ones I like...are "cheque" and "enclosed."

Quoted in N.Y. Herald Tribune (12 December 1932)