 SINAC

National System of Conservation Areas (SINAC)

300m Sur Ulacit, Edificio Padilla

San José, Costa Rica

Tel: (506) 2522-6500

Web: http://www.sinac.go.cr
SINAC
the
National System of Conservation Areas
, or in
Spanish
Spanish language
Spanish , also known as Castilian , is a Romance language in the Ibero-Romance group that evolved from several languages and dialects in central-northern Iberia around the 9th century and gradually spread with the expansion of the Kingdom of Castile into central and southern Iberia during the...
the , is the
Costa Rica
Costa Rica
Costa Rica , officially the Republic of Costa Rica is a multilingual, multiethnic and multicultural country in Central America, bordered by Nicaragua to the north, Panama to the southeast, the Pacific Ocean to the west and the Caribbean Sea to the east....
n National Parks administrator, and is part of the Ministry of Environment and Energy or
MINAE
MINAE
MINAE, the Ministry of Environment and Energy or in Spanish , is part of the government of Costa Rica.-Agencies:*SINAC - National System of Conservation Areas*DGGM - Geology and Mining General Directorate...
. Created in 1994 it combined previously three separate organisations that had previously managed
law
Law
Law is a system of rules and guidelines which are enforced through social institutions to govern behavior, wherever possible. It shapes politics, economics and society in numerous ways and serves as a social mediator of relations between people. Contract law regulates everything from buying a bus...
s relating to National Parks,
Wildlife
Wildlife
Wildlife includes all non-domesticated plants, animals and other organisms. Domesticating wild plant and animal species for human benefit has occurred many times all over the planet, and has a major impact on the environment, both positive and negative....
and
Forestry
Forestry
Forestry is the interdisciplinary profession embracing the science, art, and craft of creating, managing, using, and conserving forests and associated resources in a sustainable manner to meet desired goals, needs, and values for human benefit. Forestry is practiced in plantations and natural stands...
.
SINAC oversees over 160 protected areas, of which 26 are designated National Parks. Other areas are designated wildlife refuges, biological reserves, national monuments, forest reserves, national wetlands, and protected zones.
The entire country of 12,596,690 acres (50,977 km²) is under the jurisdiction of eleven large Conservation Areas which were created in 1998, overseen by divisions of SINAC. Over 25% of the national territory i.e. 3,221,636 acres (13,037 km²) is included in the national parks, refuges and protected zones within these eleven Conservation Areas.
Costa Rica's progressive policies on environmental protection and sustainable eco-tourism in the National Parks System have been lauded as a model for other countries. The
rainforest
Rainforest
Rainforests are forests characterized by high rainfall, with definitions based on a minimum normal annual rainfall of 1750-2000 mm...
s, tropical forests, marine areas and wetlands of Costa Rica are the subject of many university and scientific organization studies. The enrichment of the world's knowledge of these important
habitats
Habitat (ecology)
A habitat is an ecological or environmental area that is inhabited by a particular species of animal, plant or other type of organism...
is an invaluable contribution from the conservation efforts of the various organisations involved.
Conservation Areas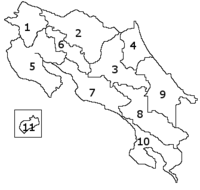 Volcano
Arenal Volcano National Park
Arenal Volcano National Park is a Costa Rican national park in the central part of the country, forming the Arenal Tilaran Conservation Area. The park encompasses the Arenal Volcano, the most active in the country, which had previously been believed to be dormant until a major eruption in 1968...
and
Tenorio Volcano
Tenorio Volcano National Park
Tenorio Volcano National Park is a National Park in the northern part of Costa Rica, which forms part of the Arenal Tilaran Conservation Area. The jewel of the National Park is the volcano, from which it receives its name...
National Parks
Central Pacific Conservation Area

Central Pacific Conservation Area

Central Pacific Conservation Area is an administrative area which is managed by SINAC for the purposes of conservation in the southwestern part of Costa Rica, on the Pacific coast...


including the Manuel Antonio

Manuel Antonio National Park

Manuel Antonio National Park, in Spanish the Parque Nacional Manuel Antonio, is a small National Park in the Central Pacific Conservation Area located on the Pacific coast of Costa Rica, just south of the city of Quepos, Puntarenas, and from the national capital of San José...


, Carara

Carara National Park

Carara National Park is a National Park in the Central Pacific Conservation Area located near the Pacific coast of Costa Rica.Carara National Park was established on April 27, 1978 as a biological reserve, but its growing popularity after 1990 forced the government to upgrade its category to...


and La Cangreja

La Cangreja National Park

La Cangreja National Park, until 2002 the Cerro de la Cangreja Protected Zone, is a National Park in the Central Pacific Conservation Area located near the Pacific coast of Costa Rica that protects tropical forest in the Puriscal Canton region of the Cordillera de Talamanca.Park-related websites...


National Parks
Pacific La Amistad Conservation Area

Pacific La Amistad Conservation Area

Pacific La Amistad Conservation Area is an administrative area which is managed by SINAC for the purposes of conservation in the southern part of Costa Rica, on the Pacific side of the Continental Divide...


including Chirripó

Chirripó National Park

Chirripó National Park is located in the middle portion of the Talamanca Range of Costa Rica, approximately 30 km northeast from the city of San Isidro del General. It protects a number of important ecosystems on the Costa Rican Pacific slope and is notable for including the largest extension...


and Tapantí

Tapantí National Park

Tapantí National Park, sometimes called Orosí National Park, is a National Park in the Pacific La Amistad Conservation Area of Costa Rica located on the edge of the Talamanca Range, near Cartago. It protects forests to the north of Chirripó National Park, and also contains part of the Orosí River...


National Parks
Caribbean La Amistad Conservation Area

Caribbean La Amistad Conservation Area

Caribbean La Amistad Conservation Area is an administrative area which is managed by SINAC for the purposes of conservation in the eastern part of Costa Rica, on the Caribbean coast...


including the Barbilla

Barbilla National Park

Barbilla National Park is a National Park in the Caribbean La Amistad Conservation Area of Costa Rica located on the eastern slopes of the Cordillera de Talamanca...


and Cahuita

Cahuita National Park

Cahuita National Park is a national park in the Caribbean La Amistad Conservation Area of Costa Rica located on the southern Caribbean coast in Limón Province, connected to the town of Cahuita...


National Parks and La Amistad International Park

La Amistad International Park

The La Amistad International Park, or in Spanish , formerly the La Amistad National Park, is an Transboundary Protected Area in Latin America, management of which is shared between Costa Rica and Panama, following a recommendation by UNESCO after the park's inclusion in the World Heritage Site...


which is shared with Panama

Panama

Panama , officially the Republic of Panama , is the southernmost country of Central America. Situated on the isthmus connecting North and South America, it is bordered by Costa Rica to the northwest, Colombia to the southeast, the Caribbean Sea to the north and the Pacific Ocean to the south. The...


and Pacific La Amistad Conservation Area
Osa Conservation Area

Osa Conservation Area

Osa Conservation Area is an administrative area which is managed by SINAC for the purposes of conservation in Costa Rica, on the southern Pacific coast region...


including Corcovado

Corcovado National Park

Corcovado National Park is a National Park on the Osa Peninsula in the South West of Costa Rica , which is part of the Osa Conservation Area. It was established on 24 October 1975, and encompasses an area of 425 km² . It is widely considered the crown jewel in the extensive system of national...


and Piedras Blancas

Piedras Blancas National Park

Piedras Blancas National Park is a national park part of the Osa Conservation Area. It is found in the Puntarenas Province of southern Costa Rica near the town of La Gamba. It protects rainforests and beaches near the Golfo Dulce on the Pacific Coast. It used to operate as part of the Corcovado...


National Parks
Cocos Island Marine Conservation Area which maintains just the Cocos Island National Park
External links