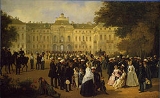 Russian Imperial Guard
The Russian
Imperial Guard
, officially known as the
Leib Guard
( pronounced "leyb-gvardiya", from
German
German language
German is a West Germanic language, related to and classified alongside English and Dutch. With an estimated 90 – 98 million native speakers, German is one of the world's major languages and is the most widely-spoken first language in the European Union....
Leib
, meaning
body
; cf Body Guards) were military units serving as personal
guards
Russian Guards
Guards or Guards units were and are elite military units in Imperial Russia, Soviet Union and the Russian Federation. The tradition goes back to the retinue of a knyaz of medieval Kievan Rus' and the streltsy, the Muscovite harquebusiers formed by Ivan the Terrible by 1550...
of the Emperor of Russia.
Peter the Great
Peter I of Russia
Peter the Great, Peter I or Pyotr Alexeyevich Romanov Dates indicated by the letters "O.S." are Old Style. All other dates in this article are New Style. ruled the Tsardom of Russia and later the Russian Empire from until his death, jointly ruling before 1696 with his half-brother, Ivan V...
founded the first such units following the
Prussia
Prussia
Prussia was a German kingdom and historic state originating out of the Duchy of Prussia and the Margraviate of Brandenburg. For centuries, the House of Hohenzollern ruled Prussia, successfully expanding its size by way of an unusually well-organized and effective army. Prussia shaped the history...
n practice in the 1690s, to replace the politically-motivated
Streltsy
Streltsy
Streltsy were the units of Russian guardsmen in the 16th - early 18th centuries, armed with firearms. They are also collectively known as Marksman Troops .- Origins and organization :...
.
The final composition of the Russian Imperial Guard at the beginning of 1914 was:
Guards Corps
St.