 Royal Australian Survey Corps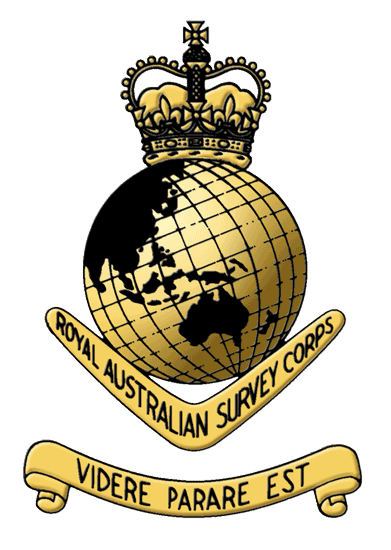 The
Royal Australian Survey Corps
(
RASvy
) was a Corps of the
Australian Army
Australian Army
The Australian Army is Australia's military land force. It is part of the Australian Defence Force along with the Royal Australian Navy and the Royal Australian Air Force. While the Chief of Defence commands the Australian Defence Force , the Army is commanded by the Chief of Army...
that was formed on 1 July 1915 and disbanded on 1 July 1996. The Historical Collection of the Survey Corps is maintained by the
Australian Army Engineer Museum
at the School of Military Engineering, Steele Barracks, Moorebank, Sydney, New South Wales.
Survey Corps Associations
of ex-members, family and friends are located in Adelaide, Bendigo, Brisbane, Canberra, Perth and Sydney.
PRE WORLD WAR 1
Commencing in 1907, military mapping for the Commonwealth of Australia was provided by part-time militia staff of the Australian Intelligence Corps (AIC). The deficiencies of this arrangement led to the establishment in 1910 of the Survey Section, Royal Australian Engineers (RAE), allotted for duty under direction of the AIC. The Section was commanded by an Australian officer and staffed by four non-commissioned officers (NCO) on loan from the British Army Royal Engineers and Australian Warrant Officers and NCOs. All men were professional surveyors or draftsman. The Section was divided into two sun-sections and employed in New South Wales, Victoria, South Australia and Western Australia producing scale 1 mile to 1 inch maps mainly of areas around cities and key infrastructure. The AIC was disbanded in 1914 but the work of the Survey Section continued under the supervision and control of the Intelligence Section of the General Staff. under the general direction of the Chief of the General Staff (CGS).
WORLD WAR I
The outbreak of World War 1did not, at first, seriously affect the work of the members of the section as an embargo was placed on their enlistment in the Australian Imperial Force (AIF). On 3 July 1915, ten weeks after the landings at Gallipoli, Military Order 396 of 1915 promulgated that His Excellency the Governor-General has been pleased to approve of: 'A Corps to be called the Australian Survey Corps being raised as a unit of the Permanent Military Forces. All officers, warrant officers, non-commissioned officers and men now serving in the Survey Section of the Royal Australian Engineers being transferred to the Australian Survey Corps with their present ranks and seniority.' The Australian Survey Corps was placed fourth in the Order of Precedence of Corps after the Royal Australian Engineers. Before the end of July the strength of the Corps was three officers and sixteen other ranks. When the embargo on Survey Corps members enlistment in the AIF was removed in 1917, three officers and twelve other ranks enlisted leaving only five members in Australia. Mapping operations in Australia virtually came to a standstill when the AIF members departed for the Middle East and the Western Front where some of them joined the Australian Corps Topographical Section in support of the Anzac Corps and others served with British Army Royal Engineer Survey Companies. Two members were awarded Distinguished Conduct Medals for mapping under enemy fire.
BETWEEN THE WORLD WARS
Military reorganisation after World War 1, and the general reduction in military capability, saw the Survey Corps numbers reduced to 15 all ranks. Then in 1920 the Corps was suspended and all members were transferred to the Survey Section, RAE (Permanent). Mapping continued, mainly at the scale 1 mile to 1 inch, albeit at a reduced rate consistent with the allocated resources, with priority given to areas around Brisbane, Sydney and Melbourne. Technical developments provided for improved efficiencies. These included use of single photographs and strips of air photographs to supplement ground surveys for map detail and control of spatial accuracy. These developments highlighted inconsistencies in State map reference systems and the need for a national system. In 1932 the Australian Survey Corps was once again formed and Survey Section RAE (Permanent) members (15) were transferred to the Corps. Recruiting recommenced and in 1935 the Corps establishment was raised to 25 all ranks. Increments allowed for a mapping Survey Section to be based in each of three states, New South Wales, Victoria and Queensland and a Geodetic Survey Section. Then in 1938, with war clouds once again on the horizon, a three year Long Range Mapping Programme was approved, with additional funding bringing the total to 97 all ranks. These extra resources would provide for a total of about 35 new maps each year. However, at the outbreak of World War 2 there were only 50 members in the Australian Survey Corps. Most of them were professionally qualified, and the Corps was very knowledgeable of emerging technical developments which would improve map production. That there were no militia units of the Corps was due mainly to the fact that little progress in the mapping programme was achieved with part-time effort. The Corps was well equipped for the range of field survey and office mapping tasks with the exception of printing presses. Maps were printed by the Victorian State Government Printer. At this stage, just before World War II, the total map coverage at the scale 1 mile to 1 inch was about 50000 square miles (129,499.4 km²) or about 40% of the identified military tactical requirement for mapping of Australia.
Units from World War I to pre-World War II were:
Survey Section, RAE (Permanent)
No 1 Survey Section (Permanent) based in QLD and South Australia
No 2 Survey Section (Permanent) based in VIC
No 3 Survey Section (Permanent) based in NSW
No 4 Geodetic Survey Section (Permanent)
WORLD WAR II
In July 1939 'Instructions for War – Survey' were issued. This outlined the military survey organisation to undertake an emergency mapping programme and the nucleus for expansion to war establishment. The emergency mapping programme was for strategic mapping at scale 4 miles to 1 inch covering a coastal strip 200 miles (300 km) inland from Townsville to Port Augusta and 100 miles (200 km) inland from Albany to Geraldton and key strategic areas in Tasmania and around Darwin. Map production was from existing State information and conducted jointly between State and Commonwealth agencies and Survey Corps units. The programme expanded to include more of Australia, New Guinea, New Britain and New Ireland and although many maps were of a preliminary standard only, they provided general coverage critical at the time.
Initially the Survey Corps proceeded with programmed tasks and survey units were established as RAE militia units. In late 1940 expansion of the Survey Corps was approved to include militia units. Four militia Field Survey Companies were established in the military districts and absorbed the Corps Sections in those districts. In early 1941, 2/1 Corps Field Survey Company RAE, sailed with the 2nd Australian Imperial Force, to provide survey and mapping to the Australian Corps in the Middle East theatre. Over the next four years fifteen Corps units with various roles provided survey and mapping support to military operations in the South West Pacific Area theatre of the war including Northern Territory, Papua, New Guinea, New Britain, New Ireland, Bougainville, Dutch New Guinea, Borneo and the States of Australia in particular northern Australia. Women of the Australian Women's Army Service served in Survey units and formation headquarter sections in Australia and in New Guinea. The value of survey support within combat forces was well acknowledged, with Survey Sections assigned to both 7th Division and 9th Division for the large scale amphibious landings in Borneo. The Corps produced more than 1400 new maps of the theatres of war, printing more than 3 million copies of the maps. The highly valued efforts of the Corps did not go unnoticed by senior commanders. Lieutenant-General E.F. Herring, General Officer Commanding New Guinea Force and Lieutenant-General J. Northcott, Chief of the General Staff wrote letters of appreciation of the work of the Corps to the Director of Survey, Advanced Land Headquarters. General D. Macarthur, Commander-in-Chief, South West Pacific Area wrote a letter of high commendation of Corps work to General Blamey, Commander, Allied land Forces, South West Pacific Area. At Morotai in Borneo, the Mobile Lithographic Section was given the privilege of preparing the Instrument of Surrender signed by Lieutenant-General Teshima, Commander, Second Japanese Army and countersigned by General T. Blamey, Commander-in-Chief, Australian Military Forces. The unit then printed thousands of copies of the surrender document for souvenirs. At the end of the war more than half of the Corps strength of 1700 were on active service outside Australia.
The achievement of the Corps during the war was its greatest contribution to the nation than any other during its existence. This was duly recognised in 1948 when King George VI granted the title 'Royal' to the Australian Survey Corps.
Corps units in World War II were:
Survey Directorate Land Headquarters - Melbourne, Dutch New Guinea, Borneo
2nd/1st Army Topographical Survey Company, formerly 2nd/1st Corps Topographical Survey Company - Middle East, New Guinea, Dutch New Guinea, Borneo
No 6 Army Topographical Survey Company, - Victoria, Northern Territory, Western Australia, Queensland, New Guinea, Dutch New Guinea
Land Headquarters Cartographic Company, formerly Army Headquarters Cartographic Company - Melbourne and Bendigo Victoria
No 2 Field Survey Company - New South Wales, New Guinea, New Britain, Bougainville
No 3 Field Survey Company - Victoria, New Guinea
No 4 Field Survey Company - Western Australia
No 5 Field Survey Company, formerly 1 Field Survey Company - Queensland, Dutch New Guinea, Borneo
No 7 Field Survey Section, formerly Northern Territory Force Field Survey Section - Northern Territory
No 8 Field Survey Section, formerly New Guinea Field Survey Section and No 2 Field Survey Section - New Guinea
No 1 Mobile Lithographic Section, formerly 2 Army Survey Mobile Reproduction Section - Melbourne, Brisbane, Borneo
No 11 Field Survey Depot - Bendigo
No 12 Field Survey Depot - Queensland, Borneo
No 13 Field Survey Depot - Sydney, New Guinea
Field Survey Training Depot - Victoria
POST WORLD WAR II - Surveying and Mapping, Australia
After World War 2 the Corps reverted to its peace time role of contributing to the defence and development of Australia retaining a capability in the Permanent Force Interim Army in 1946, and the Australian Regular Army from 1947 with a Corps strength of about 430 all ranks. In the early post-war years the Corps continued with the 1 mile to 1 inch mapping programme and contributed to nation building projects for water conservation and settlement in the Burdekin River basin in Queensland, investigative surveys for the Snowy River Diversion Scheme in New South Wales and Victoria, surveys for water flows between the Murrumbidgee and Murray Rivers near Urana, New South Wales, production of maps for the 1947 Australian Census and survey and mapping projects for the Woomera Rocket Range in South Australia and Western Australia and the atomic test range at Maralinga in South Australia. Corps units were established in each of the States, except Tasmania, and a survey school was established in Victoria. These units supported the regional military commands and contributed, in a prominent and leadership way, to Defence priority areas in the Government approved national survey and topographic mapping programmes. In 1968 the Corps completed its commitment to a large part of the national topographic map series at scale 1:250,000 and then embarked on its part of the national programme of scale 1:100,000 topographic maps. It completed its commitment of 862 maps in 1982. The Corps' geodetic surveys provided the framework for the mapping programmes and were integrated with other Government surveys to create the national geodetic datum and mapping grid. Whilst the Corps had produced maps at scale 1:50,000 and larger of areas of high Defence priority since its formation, it was not until 1983 that Defence endorsed a program for more than 2600 scale 1:50,000 maps in Defence priority areas in Northern Australia and the main land communication routes. As well as supporting Army requirements for survey and mapping, the Corps produced air navigation charts for the Royal Australian Air Force of Australia and a large area of its region and printed hydrographic charts for the Royal Australian Navy.
Units and command staff post World War II were:
Army Headquarters Directorate of Survey - Army
Headquarters Field Force Command - Survey Section
Army Survey Regiment based at Bendigo, Victoria

Bendigo, Victoria

Bendigo is a major regional city in the state of Victoria, Australia, located very close to the geographical centre of the state and approximately north west of the state capital Melbourne. It is the second largest inland city and fourth most populous city in the state. The estimated urban...


, formerly AHQ Survey Regiment and Southern Command Field Survey Section and AHQ Cartographic Unit
1st Topographic Survey Squadron, now part of the Royal Australian Engineers

Royal Australian Engineers

The Royal Australian Engineers is a corps of the Australian Army . The RAE is ranked fourth in seniority of the corps of the Australian Army, behind the Staff Cadets, Armoured and Artillery Corps...


, based at Enoggera Barracks

Enoggera Barracks

Enoggera Barracks is an Australian Army base in the northwestern Brisbane suburb of Enoggera in Queensland.-History:...


in Brisbane

Brisbane

Brisbane is the capital and most populous city in the Australian state of Queensland and the third most populous city in Australia. Brisbane's metropolitan area has a population of over 2 million, and the South East Queensland urban conurbation, centred around Brisbane, encompasses a population of...


, formed from 1st Field Survey Squadron (formerly Northern Command Field Survey Section and Northern Command Field Survey Unit - Queensland, Territory Papua and New Guinea) and 1st Division Survey Section
2nd Field Survey Squadron based at Sydney

Sydney

Sydney is the most populous city in Australia and the state capital of New South Wales. Sydney is located on Australia's south-east coast of the Tasman Sea. As of June 2010, the greater metropolitan area had an approximate population of 4.6 million people...


, NSW, formerly Eastern Command Field Survey Section and Eastern Command Field Survey Unit - New South Wales, Indonesia, Papua New Guinea, nations of South West Pacific
4th Field Survey Squadron, based at Keswick Barracks, Adelaide

Adelaide

Adelaide is the capital city of South Australia and the fifth-largest city in Australia. Adelaide has an estimated population of more than 1.2 million...


, SA, formerly Central Command Field Survey Section and Central Command Field Survey Unit - South Australia, Northern Territory, Territory of Papua and New Guinea
5th Field Survey Squadron based Perth

Perth, Western Australia

Perth is the capital and largest city of the Australian state of Western Australia and the fourth most populous city in Australia. The Perth metropolitan area has an estimated population of almost 1,700,000....


, formerly Western Command Field Survey Section and Western Command Field Survey Unit - Western Australia, Indonesia
New Guinea Field Survey Unit
8th Field Survey Squadron raised and disbanded in Papua New Guinea based at Popondetta, Wewak, Port Moresby
1st Topographical Survey Company (CMF) based in Sydney, NSW
2nd Topographical Survey Company (CMF) based in Melbourne, VIC
1st Topographic Survey Troop - A Sect in Vietnam, B Sect based in Sydney, NSW
9th Topographic Survey Troop (CMF) based in Sydney, NSW
7th Military Geographic Information Section based at Darwin, NT
Army Map Depot, formerly AHQ Field Survey Depot and Army Field Survey Depot - Victoria
School of Military Survey that was initially based at Balcombe, Victoria and subsequently at Bonegilla, Victoria

Bonegilla, Victoria

Bonegilla is a bounded rural locality of the City of Wodonga Local Government Area in northeast Victoria, Australia, located 10 kilometres east of Wodonga, and around 300km north-east of Melbourne. At the 2006 census, Bonegilla and surrounding area had a population of 773.- History :Bonegilla Post...


it was superseded by the Geomatic Engineering Wing of the School of Military Engineering

School of Military Engineering

School of Military Engineering may refer to a training institution for military engineering such as:*Royal School of Military Engineering of the British Army*College of Military Engineering, Pune of the Indian Army...


based at Steele Barracks

Steele Barracks (Moorebank)

Steele Barracks is an Australian Army base in the Sydney suburb of Moorebank in New South Wales, near Liverpool. It is the home of the Royal Australian Engineers School of Military Engineering , as well as the RAE Museum, and the RAE Golf Club...


in Moorebank, New South Wales

New South Wales

New South Wales is a state of :Australia, located in the east of the country. It is bordered by Queensland, Victoria and South Australia to the north, south and west respectively. To the east, the state is bordered by the Tasman Sea, which forms part of the Pacific Ocean. New South Wales...



Joint Intelligence Organisation Printing Section
POST WORLD WAR II - DIRECT SUPPORT TO AUSTRALIAN MILITARY OPERATIONS (other than Survey)
RA Svy was involved in the planning and execution phases of nearly all Australian Defence Force operations after World War II. Corps units, officers and soldiers were deployed on operations and conflicts of various types including:
1946 - staff posted to British Commonwealth Occupation Force, Japan
1955–1960 - Malayan Campaign, officers posted to Force Headquarters
1966–1971 - A Section, 1st Topographic Survey Troop deployed with the Australian Task Force in Vietnam
1975 – Cyclone Tracey - rapid response production of orthophotomaps and a senior Corps officer seconded as Staff Officer to the Army General commanding the emergency operations
1987 - Operation Morrisdance - rapid response mapping of Fiji
1988 - Operation Sailcloth - rapid response mapping of Vanuatu
1990/1991 – Operations Desert Shield and Desert Storm, Corps officers posted in United States and United Kingdom mapping agencies and units on operations
1993 – Corps soldiers posted to UN Transitional Authority in Cambodia
1995 – Corps officers posted to UN Protection Force Headquarters in Bosnia-Herzegovina
INTERNATIONAL COOPERATION
Commencing in 1954, the Corps was again involved in mapping the New Guinea area, initially in cooperation with the United States Army Map Service for two years, and again as solely an Australian force in the 1960s. There was a continuous Survey Corps presence in Papua New Guinea from 1969 to 1995. During this period the Corps completed the national mapping programme of scale 1:100,000 topographic maps covering the entire country, the derived 1:250,000 Joint Operations Graphic – Air charts, large scale military city ortho-photo maps and participated in beach surveys of most of the coastline. The national mapping programme was based on high altitude air photography acquired by the Royal Australian Air Force on Operation Skai Piksa, supported by the Corps. Under the Defence Cooperation Programme, the Corps completed many projects with nations in Australia's area of strategic interest. These projects included ground surveys, definition of geodetic datums, air photography, assistance with definition of Exclusive Economic Zones, mapping and training of officers and technicians. Projects commenced in 1969 in Indonesia and expanded to include Solomon Islands, Fiji, Tonga, Kiribati, Nauru, Tuvalu, Vanuatu and Western Samoa. Technical Advisers were posted to national survey and mapping organisations in Fiji, Indonesia, Malaysia, Papua New Guinea, Solomon Islands and Vanuatu. Associations with other Armies commenced in World War I and for more than 50 years the Corps participated in mapping, charting and geodesy projects for standardisation and interoperability with major allies including Canada, New Zealand, United Kingdom and United States. The Corps managed bi-lateral map exchange arrangements with major allies and regional nations. Personnel exchange programs included Canada, United Kingdom and United States.
CORPS PEOPLE
In 1988, Her Majesty Queen Elizabeth II approved the appointment of Her Royal Highness Diana Princess of Wales as Colonel-in-Chief of the Royal Australian Survey Corps. In 1965 the Corps adopted the tune and song 'Wandering the King's Highway' as its Corps marching tune.
The high reputation and esteem in which the Corps was held within the Australian Defence Force, the surveying and mapping profession and amongst Australia's military allies and friends was based on its achievements largely possible only by the quality of its people. After World War II eight Corps officers were later appointed Surveyors-General or Directors of Survey/Mapping/Lands in the States or Commonwealth organisations. Many personnel went on to leadership positions in professional institutions.
Most Corps officers were tertiary educated with many at the post-graduate level in either mapping or computer disciplines and military command and staff training. Corps soldier training was both broad within a trade, across Corps trades and specific to specialised equipment with military training for various levels of leadership. Officers and soldiers posted outside Corps positions were highly regarded. Until the 1970s the Corps sponsored and trained other than mapping related trades essential to its operations. These included drivers, storeman and clerks. After some rationalisation the Corps retained career and training responsibility for all mapping related trades, but also photographers (non public relations), illustrators and projectionists who were posted mainly to training institutions and headquarters. The Army Audio Visual Unit was the only Corps unit not to have a mapping related role.
The Corps participated in the national service scheme in the 1950s, training and maintaining two Citizen Military Force field survey companies in Sydney and Melbourne from 1951 to 1957, mainly for national servicemen to complete their obligations. National servicemen served with the Survey Corps in Vietnam.
TECHNOLOGY AND TECHNIQUES
RA Svy had the enviable reputation of leading innovation, development and implementation of many generations of state of the art technology and techniques across all areas of surveying and mapping. Significant examples of these include:
1910-1915 - established the standard for the Australian Military Map Series, based on United Kingdom Ordnance Survey maps
1914 - commenced triangulation as the basis for topographic mapping by the method of plane tabling
1923-1927 - used Royal Australian Air Force, No 1 Squadron, air photography to complement ground survey
1930 - graphical methods of perspective rectification of air photography to produce the Albury, New South Wales, 1 mile to 1 inch map, identified the disparity between the Victoria and New South Wales state survey triangulation networks
1933 - adopted Sydney Observatory as the geodetic datum for the eastern states, the Clarke 1858 spheroid of reference and a British modified map grid based on the Transverse Mercator map projection with Australian zones
1934 - first baseline measurement by the method of temperature cooefficent of electrical resistance of invar measuring tapes near Millicent, South Australia (development by Professor Grant of University of Adelaide was acknowledged as world class science and development)
1934 – commencement of a survey triangulation program to connect the eastern states
1936 - adopted the 'Arundel' method of slotted templates for overlapping strip air photography for mapping, first map Sale, Victoria, 1 mile to 1 inch map
World War II - many innovative adaptions of conventional survey and mapping methods to rapid response support to military operations
1952 – mapping by multi-projector(anaglyph)stereoplotting from overlapping air photography
1953 - large format cartographic camera
1956 – changed to metric scale mapping, largely as part of standardisation with allies in the South East Asia Treaty Organisation and adoption of an improved Australian spheroid of reference for mapping, first map Mildura 1:50,000
1956 – cartographic scribing of map detail replaced fair drawing with ink, first map Mildura 1:50,000
1957 – helicopter transport of survey parties revolutionised transport in remote areas
1957 – electromagnetic distance measurement systems changed survey methods from triangulation to traverse
1960 - adoption of the '165 Spheroid'
early-1960s – manual hill-shading, analytic stereocomparitor for air photography, block aerotriangulation by digital computer, presensitised lithographic printing plates, radar airborne profile recorder (WREMAPS I), vehicle mounted ground elevation meter, airborne electromagnetic distance measurement system (MRC2) for surveys over long distances by trilateration to replace traverse, optical/mechanical photogrammetric air photography plotters
1966 - the Corps' Australian and Territory of Papua New Guina surveys were integrated with other agency surveys into a national geodetic network which was published as the Australian Geodetic Datum 1966 and Australian National Spheroid with map coordinates on the Australian Map Grid (Transverse Mercator) projection. This was used for surveying and mapping until 1994.
1970 - digital coordinatograph plotter for grids, graticules and base compilation sheets with aerial triangulated model control
1971 - super wide angle air survey cameras (WILD RC10)
1972 - second generation airborne electromagnetic distance measurement system (MRB3)
1972-1973 - orthophotomap production
1974 – portable satellite (US Navy Navigation Satellites) receivers (AN/PRR-14) and computing system to replace airborne electromagnetic distance measurement equipment, airborne laser terrain profile recorder (WREMAPS II)
1975 – computerised cartography and mapping system (AUTOMAP 1), first map published 1978 (Yampi Training Area, 1:50,000)
1978 - new cartographic specifications (SYMBAS Symbolisation All Scales) for map and air chart production by digital cartographic methods
1982 - 'Bundle' analytic adjustment to augment 'polynominal strip' adjustment of large area block air photography
1984 - second generation computerised cartography and mapping system (AUTOMAP 2)as a precursor to collection of digital geographic information and creation of geographic information systems in support of military operations
1986–1988 - global positioning system (TI4100) and helicopter and vehicle mounted inertial positioning system (FILS3)to replace AN/PRR-14
1988–1992 – adopted the World Geodetic System 1984 (WGS84)as the reference framework and spheroid, which is the geodetic system of the Global Positioning System, for all military geospatial products. In 1994 the Australian Government adopted the Geodetic Datum Australia 1994 which for practical purposes is coincident with the World Geodetic System 1984 (WGS84). The associated map grids remain based on the Transverse Mercator projection.
1990-1992 - participation with military allies, Canada, United Kingdom and United States, in research and development of digital geospatial product standards to produce the Digital Chart of the World (DCW)and associated standards which became the baseline for international exchange of digital geospatial information
INTEGRATION WITH THE CORPS OF ROYAL AUSTRALIAN ENGINEERS
The Survey Corps was subject to many Government and Defence reviews since the 1950s, with seven from the early-1980s. Review outcomes led to many reorganisations. In the late 1980s and early 1990s efficiency reviews led to an Army direction that the non-core strategic mapping functions of the Corps were to be tested as part of the Defence Commercial Support Program. The outcome of this review was that the majority of Corps staff positions would be removed and that the work would be performed by Defence civilians in a new Defence agency. The Chief of the General Staff (CGS)decided that the remaining combat force and training force functions of the Corps would be retained and enhanced and that the Corps and its people would be integrated with the Corps of Royal Australian Engineers. At the integration parade of the two Corps on 1 July 1996, 81 years after the formation of the Australian Survey Corps, the CGS said that "Since 1915 the Survey Corps has not just been a major contributor to the tactical success of the Australian Army in two World Wars and other conflicts, it has played an outstanding role in the building of this nation – the Commonwealth of Australia – and the building of other nations such as Papua New Guinea". The author of the official Corps history, himself not a Corps member but a much published military history author, concluded that "Australians as a whole might still be blissfully unaware and hence unappreciative of the debt of gratitude owed to the generations of surveyors who have helped make possible the enviable standard of living generally enjoyed today across the country. Should that situation ever change, and the story receive the wider recognition that it deserves, then the part within that tale occupied by military mapmakers is worthy of special acclaim by a grateful nation."
On 9 July 2007 the Governor-General of the Commonwealth of Australia unveiled a plaque, at the Australian War Memorial, to Royal Australian Survey Corps units which served in war. In his address he praised the efforts of all personnel of the Corps over its 81 years of service to the nation in both war and peace.