 Rotor (electric)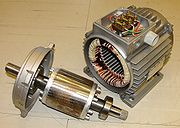 The
rotor
is the non-stationary part of a rotary
electric motor
Electric motor
An electric motor converts electrical energy into mechanical energy.Most electric motors operate through the interaction of magnetic fields and current-carrying conductors to generate force...
, electric generator or
alternator
Alternator
An alternator is an electromechanical device that converts mechanical energy to electrical energy in the form of alternating current.Most alternators use a rotating magnetic field but linear alternators are occasionally used...
, which rotates because the wires and magnetic field of the motor are arranged so that a
torque
Torque
Torque, moment or moment of force , is the tendency of a force to rotate an object about an axis, fulcrum, or pivot. Just as a force is a push or a pull, a torque can be thought of as a twist....
is developed about the rotor's axis. In some designs, the rotor can act to serve as the motor's
armature
Armature (electrical engineering)
In electrical engineering, an armature generally refers to one of the two principal electrical components of an electromechanical machine–generally in a motor or generator, but it may also mean the pole piece of a permanent magnet or electromagnet, or the moving iron part of a solenoid or relay....
, across which the input
voltage
Voltage
Voltage, otherwise known as electrical potential difference or electric tension is the difference in electric potential between two points — or the difference in electric potential energy per unit charge between two points...
is supplied. The stationary part of an electric motor is the
stator
Stator
The stator is the stationary part of a rotor system, found in an electric generator, electric motor and biological rotors.Depending on the configuration of a spinning electromotive device the stator may act as the field magnet, interacting with the armature to create motion, or it may act as the...
.
A common problem is called
cogging torque
Cogging torque
Cogging torque of electrical motors is the torque due to the interaction between the permanent magnets of the rotor and the stator slots of a Permanent Magnet machine. It is also known as detent or 'no-current' torque. This torque is position dependent and its periodicity per revolution depends on...
.
See also