 Rosie the Riveter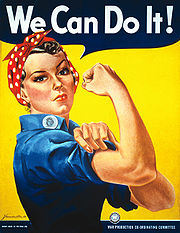 Rosie the Riveter
is a
cultural icon
Cultural icon
A cultural icon can be a symbol, logo, picture, name, face, person, building or other image that is readily recognized and generally represents an object or concept with great cultural significance to a wide cultural group...
of the
United States
United States
The United States of America is a federal constitutional republic comprising fifty states and a federal district...
, representing the American women who worked in factories during
World War II
World War II
World War II, or the Second World War , was a global conflict lasting from 1939 to 1945, involving most of the world's nations—including all of the great powers—eventually forming two opposing military alliances: the Allies and the Axis...
, many of whom produced munitions and war supplies. These women sometimes took entirely new jobs replacing the male workers who were in the military. Rosie the Riveter is commonly used as symbol of
feminism
Feminism
Feminism is a collection of movements aimed at defining, establishing, and defending equal political, economic, and social rights and equal opportunities for women. Its concepts overlap with those of women's rights...
and women's economic power.
History
The term "Rosie the Riveter" was first used in 1942 in a song of the same name written by
Redd Evans
Redd Evans
Redd Evans was a music lyricist whose songs have been recorded by Nat King Cole, Frank Sinatra and Doris Day amongst many others....
and John Jacob Loeb. The song was recorded by numerous artists, including the popular
big band
Big band
A big band is a type of musical ensemble associated with jazz and the Swing Era typically consisting of rhythm, brass, and woodwind instruments totaling approximately twelve to twenty-five musicians...
leader
Kay Kyser
Kay Kyser
James Kern Kyser was a popular bandleader and radio personality of the 1930s and 1940s.-Early years:He was born in Rocky Mount, North Carolina, the son of pharmacists Paul Bynum Kyser and Emily Royster Kyser. Editor Vermont C. Royster was his cousin...
, and became a national hit. The song portrays "Rosie" as a tireless assembly line worker, doing her part to help the American
war effort
War effort
In politics and military planning, a war effort refers to a coordinated mobilization of society's resources—both industrial and human—towards the support of a military force...
.

All the day long,

Whether rain or shine

She's part of the assembly line.

She's making history,

Working for victory
Rosie the Riveter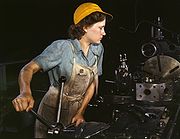 Although real-life Rosie the Riveters took on male dominated trades during World War II, women were expected to return to their everyday housework once men returned from the war. Government campaigns targeting women were addressed solely at housewives, perhaps because already employed women would move to the higher-paid "essential" jobs on their own, perhaps because it was assumed that most would be housewives. Propaganda was also directed at their husbands, many of whom were unwilling to support such jobs. Most women opted to do this. Later, many women returned to traditional work such as clerical or administration positions, despite their reluctance to re-enter the lower-paying fields. However, some of these women continued working in the factories.
The individual who was the inspiration for the song was Rosalind P. Walter, who "came from old money and worked on the night shift building the
F4U Corsair
F4U Corsair
The Vought F4U Corsair was a carrier-capable fighter aircraft that saw service primarily in World War II and the Korean War. Demand for the aircraft soon overwhelmed Vought's manufacturing capability, resulting in production by Goodyear and Brewster: Goodyear-built Corsairs were designated FG and...
fighter." Later in life Walter was a philanthropist, a board member of the
WNET
WNET
WNET, channel 13 is a non-commercial educational public television station licensed to Newark, New Jersey. With its signal covering the New York metropolitan area, WNET is a primary station of the Public Broadcasting Service and a primary provider of PBS programming...
public television station in New York and an early and long-time supporter of the
Charlie Rose
Charlie Rose
Charles Peete "Charlie" Rose, Jr. is an American television talk show host and journalist. Since 1991 he has hosted Charlie Rose, an interview show distributed nationally by PBS since 1993...
interview show.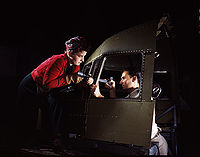 Rosie the Riveter became most closely associated with another real woman, Rose Will Monroe, who was born in
Pulaski County, Kentucky
Pulaski County, Kentucky
Pulaski County is a county located in the U.S. state of Kentucky. The population was 63,063 in the 2010 Census. Its county seat is Somerset6. The county is named for Count Kazimierz Pułaski. Most of the county is a prohibition or dry county...
in 1920 and moved to
Michigan
Michigan
Michigan is a U.S. state located in the Great Lakes Region of the United States of America. The name Michigan is the French form of the Ojibwa word mishigamaa, meaning "large water" or "large lake"....
during World War II. She worked as a riveter at the
Willow Run
Willow Run Airport
Willow Run Airport is an airport located in Van Buren Charter Township and in Ypsilanti Township, near Ypsilanti, Michigan, that serves freight, corporate, and general aviation clients...
Aircraft Factory in
Ypsilanti, Michigan
Ypsilanti, Michigan
Ypsilanti is a city in Washtenaw County in the U.S. state of Michigan. As of the 2000 census, the city population was 22,362. The city is bounded to the north by the Charter Township of Superior and on the west, south, and east by the Charter Township of Ypsilanti...
, building B-29 and B-24 bombers for the
U.S. Army Air Forces
United States Army Air Forces
The United States Army Air Forces was the military aviation arm of the United States of America during and immediately after World War II, and the direct predecessor of the United States Air Force....
. Monroe achieved her dream of piloting a plane when she was in her 50's and her love of flying resulted in an accident that contributed to her death 19 years later. Monroe was asked to star in a promotional film about the war effort at home. The song "Rosie the Riveter" was popular at the time, and Monroe happened to best fit the description of the worker depicted in the song. Rosie went on to become perhaps the most widely recognized icon of that era. The films and posters she appeared in were used to encourage women to go to work in support of the war effort.
According to the
Encyclopedia of American Economic History
, "Rosie the Riveter" inspired a social movement that increased the number of working American women to 20 million by 1944, a 57% increase from 1940. By 1944 only 1.7 million unmarried men between the ages of 20 and 34 worked in the defense industry, while 4.1 million unmarried women between those ages did so. Although the image of "Rosie the Riveter" reflected the industrial work of welders and riveters during World War II, the majority of working women filled non-factory positions in every sector of the economy. What unified the experiences of these women was that they proved to themselves (and the country) that they could do a "man's job" and could do it well. In 1942, just between the months of January and July, the estimates of the proportion of jobs that would be "acceptable" for women was raised by employers from 29 to 85%. African American women were some of those most affected by the need for women workers. It has been said that it was the process of whites working along blacks during the time that encouraged a breaking down of social barriers and a healthy recognition of diversity. African-Americans were able to lay the groundwork for the postwar civil rights revolution by equating segregation with Nazi white supremacist ideology.
Conditions were sometimes harsh and pay was not always equal—the average man working in a wartime plant was paid $54.65 per week, while women were paid about $31.50. Nonetheless, women quickly responded to Rosie the Riveter, who convinced them that they had a patriotic duty to enter the workforce. Some claim that she forever opened the work force for women, but others dispute that point, noting that many women were discharged after the war and their jobs were given to returning servicemen. These critics claim that when peace returned, few women returned to their wartime positions and instead resumed domestic vocations or transferred into sex-typed occupations such as clerical and service work. For some, World War II represented a major turning point for women as they eagerly supported the war effort, while other historians emphasize that the changes were temporary and that immediately after the war was over, women were expected to return to traditional roles of wives and mothers, and finally, a third group has emphasized how the long-range significance of the changes brought about by the war provided the foundation for the contemporary woman's movement.
Leila J. Rupp
Leila J. Rupp
Leila J. Rupp is a historian, feminist, and professor of Feminist Studies at the University of California, Santa Barbara. She is an alumna of Bryn Mawr College, a member of the Seven Sisters women's colleges, where she received her bachelor's degree in 1972 as well as Ph.D. in 1976, both in history...
in her study of World War II wrote "For the first time, the working woman dominated the public image. Women were riveting housewives in slacks, not mother, domestic beings, or civilizers."
After the war, the "Rosies" and the generations that followed them knew that working in the factories was in fact a possibility for women, even though they did not reenter the job market in such large proportions again until the 1970s. By that time factory employment was in decline all over the country.
On October 14, 2000, the
Rosie the Riveter/World War II Home Front National Historical Park
Rosie the Riveter/World War II Home Front National Historical Park
Rosie the Riveter/World War II Home Front National Historical Park is located in Richmond, California, near San Francisco. The park encompasses an array of historic properties in the city which were constructed during the 1940s to support America's entry into World War II.The park is a "partnership...
was opened in
Richmond, California
Richmond, California
Richmond is a city in western Contra Costa County, California, United States. The city was incorporated on August 7, 1905. It is located in the East Bay, part of the San Francisco Bay Area. It is a residential inner suburb of San Francisco, as well as the site of heavy industry, which has been...
, site of four
Kaiser shipyards
Kaiser Shipyards
The Kaiser Shipyards were seven major shipbuilding yards located mostly on the U.S. west coast during World War II. They were owned by the Kaiser Shipbuilding Company, a creation of American industrialist Henry J...
, where thousands of "Rosies" from around the country worked (although ships at the Kaiser yards were not riveted, but rather welded). Over 200 former Rosies attended the ceremony.
The documentary film
The Life and Times of Rosie the Riveter
The Life and Times of Rosie the Riveter
The Life and Times of Rosie the Riveter is a 1980 documentary film by Connie Field about the American women who went to work during World War II to do "men's jobs"...
addresses the history of Rosie.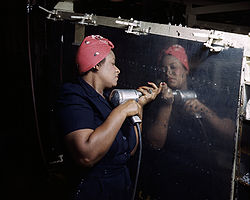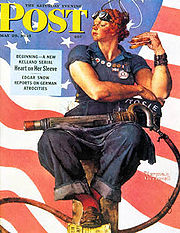 The image most iconically associated with Rosie is
J. Howard Miller
J. Howard Miller
J. Howard Miller was an American graphic artist. He painted posters during World War II in support of the war effort, among them the famous We Can Do It! poster, frequently misidentified as Rosie the Riveter.-Painting the poster:...
's famous poster for Westinghouse, titled "We Can Do It!", which was modeled on the middle Michigan factory worker
Geraldine Doyle
Geraldine Doyle
Geraldine Hoff Doyle was the real-life model for the World War II era "We Can Do It" posters, an embodiment of the iconic World War II character Rosie the Riveter....
in 1942, but this image was not actually intended to be Rosie the Riveter. Rosie the Riveter is a fictional character.
Westinghouse poster
In 1942, Pittsburgh artist J. Howard Miller was hired by the Westinghouse Company's War Production Coordinating Committee to create a series of posters for the war effort. One of these posters became the famous "We Can Do It!" image—an image that in later years would also become "Rosie the Riveter", though this was not intended at its creation. Miller based his "We Can Do It!" poster on a United Press photograph taken of Lansing, Michigan, factory worker
Geraldine Doyle
Geraldine Doyle
Geraldine Hoff Doyle was the real-life model for the World War II era "We Can Do It" posters, an embodiment of the iconic World War II character Rosie the Riveter....
. Its intent was to help recruit women to join the work force. At the time of the poster's release the name "Rosie" was not associated with the image. The poster—one of many in Miller's Westinghouse series—was not initially seen much beyond one Midwest Westinghouse factory where it was displayed for two weeks in February 1943. It was only later, in the early 1980s, that the Miller poster was rediscovered and became famous as "Rosie The Riveter". Doyle died on December 26, 2010 at the age of 86. She was remembered on
NPR
NPR
NPR, formerly National Public Radio, is a privately and publicly funded non-profit membership media organization that serves as a national syndicator to a network of 900 public radio stations in the United States. NPR was created in 1970, following congressional passage of the Public Broadcasting...
: "We bid farewell to an unwitting feminist hero thought to be the model for an iconic poster from World War Two."
Saturday Evening Post
Norman Rockwell
Norman Rockwell
Norman Percevel Rockwell was a 20th-century American painter and illustrator. His works enjoy a broad popular appeal in the United States for their reflection of American culture. Rockwell is most famous for the cover illustrations of everyday life scenarios he created for The Saturday Evening...
's image of "Rosie the Riveter" received mass distribution on the cover of the
Saturday Evening Post
in 1943. Rockwell's illustration features a brawny woman named 'Rosie' taking her lunch break with a rivet gun on her lap and beneath her boot a copy of
Hitler
Adolf Hitler
Adolf Hitler was an Austrian-born German politician and the leader of the National Socialist German Workers Party , commonly referred to as the Nazi Party). He was Chancellor of Germany from 1933 to 1945, and head of state from 1934 to 1945...
's manifesto,
Mein Kampf
Mein Kampf
Mein Kampf is a book written by Nazi leader Adolf Hitler. It combines elements of autobiography with an exposition of Hitler's political ideology. Volume 1 of Mein Kampf was published in 1925 and Volume 2 in 1926...
. Less known to the general public is that the
Sistine Ceiling
Sistine Chapel ceiling
The Sistine Chapel ceiling, painted by Michelangelo between 1508 and 1512, at the commission of Pope Julius II, is a cornerstone work of High Renaissance art. The ceiling is that of the large Papal Chapel built within the Vatican between 1477 and 1480 by Pope Sixtus IV after whom it is named...
image of
Isaiah
Isaiah
Isaiah ; Greek: ', Ēsaïās ; "Yahu is salvation") was a prophet in the 8th-century BC Kingdom of Judah.Jews and Christians consider the Book of Isaiah a part of their Biblical canon; he is the first listed of the neviim akharonim, the later prophets. Many of the New Testament teachings of Jesus...
the prophet is the root of Rockwell's Rosie. Rockwell's model, Shirley Karp Dick, the original Rosie, was paid $6 to model. Two of her most famous photos were of Rosie treading on a book written by Adolf Hitler and of her in a U.S. fighter plane with another woman fueling the plane. During her tenure as Rosie, Shirley Karp Dick was part of the movement that motivated over 11 million women to take over male dominated trades during World War II. She died on January 15, 2009 at the age of 85.
Rockwell's painting of Rosie the Riveter was acquired in 2009 by the Crystal Bridges Museum of American Art for an undisclosed price.
Homages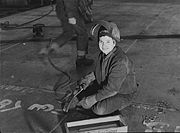 According to
Penny Colman
Penny Colman
Penny Colman is an author of books, essays, stories, and articles for all ages. In 2005, her social history, Corpses, Coffins, and Crypts: A History of Burial, was named one of the 100 Best of the Best Books for the 21st Century by members of the Young Adult Library Services Association , a...
's
Rosie the Riveter
, there was also, very briefly, a "Wendy the Welder" based on Janet Doyle, a worker at the
Kaiser Richmond Liberty Shipyards
Richmond Shipyards
The four Richmond Shipyards, located in the city of Richmond, California, United States, were run by Permanente Metals and part of the Kaiser Shipyards, and were responsible for constructing more ships during World War II than any other shipyard in the country. The shipyards are part of the Rosie...
in California.
In the 1960s, Hollywood actress
Jane Withers
Jane Withers
Jane Withers is an American actress best known for being one of the most popular child film stars of the 1930s and early 1940s, as well as for her portrayal of "Josephine the Plumber" in a series of TV commercials for Comet cleanser in the 1960s and early 1970s.-Biography:Withers began her career...
gained fame as "Josephine the Plumber", a character in a long-running and popular series of television commercials for
"Comet" cleansing powder
Comet (cleanser)
Comet is a powdered cleaning product sold in North America and distributed in the United States by Prestige Brands. Scratch Free Comet with Bleach Disinfectant Cleanser contains 1.2% sodium dichloro-s-triazinetrione dihydrate and 98.8% "other" ingredients...
that lasted into the 1970s. This character was based on the original "Rosie" character and thus owes much to exemplary women's efforts in the traditional male workplace.
More recent cultural references include a character called "Rosie" in the video game
BioShock
Bioshock
BioShock is a first-person shooter video game developed by 2K Boston and designed by Ken Levine. It was released for Microsoft Windows and Xbox 360 on August 21, 2007 in North America, and three days later in Europe and Australia. It became available on Steam on August 21, 2007...
, armed with a
rivet gun
Rivet gun
A rivet gun, also known as a pneumatic hammer, is a type of tool used to drive rivets. Nearly all rivet guns are pneumatically powered. The rivet gun is used on the manufactured head side of the rivet and a bucking bar is used on the buck-tail side of the rivet...
. There is a
DC Comics
DC Comics
DC Comics, Inc. is one of the largest and most successful companies operating in the market for American comic books and related media. It is the publishing unit of DC Entertainment a company of Warner Bros. Entertainment, which itself is owned by Time Warner...
character called Rosie The Riveter, who wields a rivet gun as a weapon (and first appeared in
Green Lantern
Green Lantern
The Green Lantern is the shared primary alias of several fictional characters, superheroes appearing in comic books published by DC Comics. The first Green Lantern was created by writer Bill Finger and artist Martin Nodell in All-American Comics #16 .Each Green Lantern possesses a power ring and...
vol. 2 #176 (May 1984)). In the video game
Fallout 3
Fallout 3
Fallout 3 is an action role-playing game released by Bethesda Game Studios, and the third major installment in the Fallout series. The game was released in North America, Europe and Australia in October 2008, and in Japan in December 2008 for Microsoft Windows, PlayStation 3 and Xbox 360...
there are billboards featuring "Rosies" assembling
Atomic Bombs
Nuclear weapon
A nuclear weapon is an explosive device that derives its destructive force from nuclear reactions, either fission or a combination of fission and fusion. Both reactions release vast quantities of energy from relatively small amounts of matter. The first fission bomb test released the same amount...
while drinking Nuka-Cola. A Rosie the Riveter action figurine is made by Accoutrements, although loosely based on Miller's anonymous poster. In the final bars at 3:06 of the
video
track clock, in "
Candyman
Candyman (Christina Aguilera song)
"Candyman" is a swing jazz song written by Christina Aguilera and Linda Perry for Aguilera's third studio album, Back to Basics. It was released as the album's third and final American single in early 2007. It received a Grammy Award nomination for Best Female Pop Vocal Performance at 2008 Grammy...
", by
Christina Aguilera
Christina Aguilera
Christina María Aguilera is an American recording artist and actress. Aguilera first appeared on national television in 1990 as a contestant on the Star Search program, and went on to star in Disney Channel's television series The Mickey Mouse Club from 1993–1994...
, which emulates the famous
Andrews Sisters
The Andrews Sisters
The Andrews Sisters were a highly successful close harmony singing group of the swing and boogie-woogie eras. The group consisted of three sisters: contralto LaVerne Sophia Andrews , soprano Maxene Angelyn Andrews , and mezzo-soprano Patricia Marie "Patty" Andrews...
vocal harmonies of the WW-II era—while wearing a red bandanna and shot with the era's vintage
Technicolor
Technicolor
Technicolor is a color motion picture process invented in 1916 and improved over several decades.It was the second major process, after Britain's Kinemacolor, and the most widely used color process in Hollywood from 1922 to 1952...
color processing scheme, Christina gives the famous "Rosie" pose, with fist-up, and right hand on biceps. Beyonce Knowles also uses the idea in her 2010 "Why Don't You Love Me?" video. In June 2009 the Crystal Bridges museum in Bentonville has acquired Norman Rockwell's iconic Rosie the Riveter painting for its permanent collection from a private collector. Country music singer Emma Jacob, on her album
Strong Like Me
, accurately recreates the Rosie the Riveter image for the album's cover.
American singer
Pink
Pink (singer)
Alecia Beth Moore , better known by her stage name Pink , is an American singer-songwriter, musician and actress....
does a homage to the image of Rosie in her 2010 "
Raise Your Glass
Raise Your Glass
"Raise Your Glass" is a song by American recording artist and songwriter Pink, released as the lead single of her first compilation album, Greatest Hits... So Far!!!...
" music video for her
Greatest Hits
album.
The April 2011 issue of
Wired
Wired (magazine)
Wired is a full-color monthly American magazine and on-line periodical, published since January 1993, that reports on how new and developing technology affects culture, the economy, and politics...
features a cover photograph of
Limor Fried
Limor Fried
Limor Fried, aka ladyada, is an American electrical engineer and owner of the electronics hobbyist company, Adafruit Industries. She is influential in the open-source hardware scene, having participated in the first Open Source Hardware Summit and the drafting of the Open Source Hardware...
in the classic Rosie pose.
A 3D/Stereoscopic image of Rosie the Riveter was utilized with the title card for English actress
Hayley Atwell
in the
closing credits
Closing credits
Closing credits or end credits are added at the end of a motion picture, television program, or video game to list the cast and crew involved in the production. They usually appear as a list of names in small type, which either flip very quickly from page to page, or move smoothly across the...
of the 2011 American
superhero film
Superhero film
A superhero film, superhero movie, or superhero motion picture is: action, fantasy and science fiction film; that is focused on the actions of one or more superheroes, individuals who usually possess superhuman abilities relative to a normal person and are dedicated to protecting the public...
Captain America: The First Avenger
Captain America: The First Avenger
Captain America: The First Avenger is a 2011 American superhero film based on the Marvel Comics character Captain America. It is the fifth installment of the Marvel Cinematic Universe...
.
See also
United States home front during World War II

United States home front during World War II

This page, United States home front during World War II, covers the developments within the United States, 1940–1945, to support its efforts during World War II.-Economics:...



Women's roles in the World Wars
Women's Land Army

Women's Land Army

The Women's Land Army was a British civilian organisation created during the First and Second World Wars to work in agriculture replacing men called up to the military. Women who worked for the WLA were commonly known as Land Girls...


—British farm workers ("land girls")
Woman's Land Army of America

Woman's Land Army of America

The Woman's Land Army of America , later the Women's Land Army , was a civilian organization created during the First and Second World Wars to work in agriculture replacing men called up to the military. Women who worked for the WLAA were sometimes known as farmerettes...


("farmettes")
Australian Women's Land Army

Australian Women's Land Army

The Australian Women's Land Army was an organisation created in World War II in Australia to combat rising labour shortages in the farming sector. The AWLA was formed on 27 July 1942 and was modelled on Women's Land Army in Great Britain. When Japan joined the Axis in 1941 male agricultural labour...



Canary girl

Canary girl

The canary girls were the United Kingdom's trinitrotoluene shell makers of World War I . The nickname arose because exposure to TNT can turn the skin orange-yellow , similar to the plumage of the bird, the canary.Since most men were joining the military, women were required to fill factory jobs...


—British women working in munitions
Ronnie the Bren Gun Girl

Veronica Foster

Veronica Foster, popularly known as "Ronnie, the Bren Gun Girl", was a Canadian icon representing nearly one million Canadian women who worked in the manufacturing plants that produced munitions and materiel during World War II. Foster worked for John Inglis Co. Ltd producing Bren light machine...


—the Canadian equivalent
Women in the workforce

Women in the workforce

Until modern industrialized times, legal and cultural practices, combined with the inertia of longstanding religious and educational traditions, had restricted women's entry and participation in the workforce. Economic dependency upon men, and consequently the poor socio-economic status of women...



Greatest Generation

Greatest Generation

"The Greatest Generation" is a term coined by journalist Tom Brokaw to describe the generation who grew up in the United States during the deprivation of the Great Depression, and then went on to fight in World War II, as well as those whose productivity within the war's home front made a decisive...



Work ethic

Work ethic

Work ethic is a set of values based on hard work and diligence. It is also a belief in the moral benefit of work and its ability to enhance character. An example would be the Protestant work ethic...



Further reading
William L. Bird, Jr. and Harry R. Rubenstein. Design for Victory: World War II Posters on the American Home Front. New York: Princeton Architectural Press, 1998.
External links