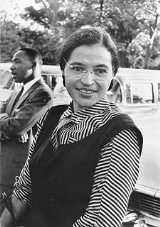 Rosa Parks
Rosa Louise McCauley Parks
(February 4, 1913 – October 24, 2005) was an African-American
civil rights
Civil rights
Civil and political rights are a class of rights that protect individuals' freedom from unwarranted infringement by governments and private organizations, and ensure one's ability to participate in the civil and political life of the state without discrimination or repression.Civil rights include...
activist
Activism
Activism consists of intentional efforts to bring about social, political, economic, or environmental change. Activism can take a wide range of forms from writing letters to newspapers or politicians, political campaigning, economic activism such as boycotts or preferentially patronizing...
, whom the U.S. Congress called "the first lady of civil rights", and "the mother of the freedom movement".
On December 1, 1955 in
Montgomery, Alabama
Montgomery, Alabama
Montgomery is the capital of the U.S. state of Alabama, and is the county seat of Montgomery County. It is located on the Alabama River southeast of the center of the state, in the Gulf Coastal Plain. As of the 2010 census, Montgomery had a population of 205,764 making it the second-largest city...
, Parks refused to obey bus driver
James F. Blake
James F. Blake
James F. Blake was the bus driver whom Rosa Parks defied in 1955, prompting the Montgomery Bus Boycott. Blake served in the Army in the European theatre during World War II. He worked as a bus driver for Montgomery City Bus Lines until 1974.One day in 1943, Parks boarded the bus and paid the fare...
's order that she give up her seat to make room for a white passenger. Parks' action was not the first of its kind to impact the civil rights issue.
I do the very best I can to look upon life with optimism and hope and looking forward to a better day, but I don't think there is anything such as complete happiness. It pains me that there is still a lot of Klan activity and racism. I think when you say you're happy, you have everything that you need and everything that you want, and nothing more to wish for. I haven't reached that stage yet.

Quoted in "Standing Up for Freedom," Academy of Achievement.org (2005-10-31)