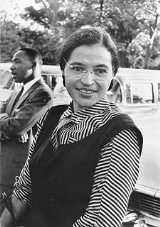 Rosa Parks
Topics
Rosa Parks
Quotations

Quotations
Rosa Louise McCauley Parks
(1913-02-04 – 2005-10-24) was an
African American
civil rights activist and seamstress whom the U.S. Congress dubbed the "Mother of the Modern-Day Civil Rights Movement". She is famous for her refusal on December 1, 1955 to obey bus driver
James Blake
's demand that she relinquish her seat to a white man.
Sourced
People always say that I didn't give up my seat because I was tired, but that isn't true. I was not tired physically, or no more tired than I usually was at the end of a working day. I was not old, although some people have an image of me as being old then. I was forty-two. No, the only tired I was, was tired of giving in.

Rosa Parks and James Haskins, Rosa Parks: My Story (1992)
I did not get on the bus to get arrested I got on the bus to go home.
We didn't have any civil rights. It was just a matter of survival, of existing from one day to the next. I remember going to sleep as a girl hearing the Klan ride at night and hearing a lynching and being afraid the house would burn down.
I do the very best I can to look upon life with optimism and hope and looking forward to a better day, but I don't think there is anything such as complete happiness. It pains me that there is still a lot of Klan activity and racism. I think when you say you're happy, you have everything that you need and everything that you want, and nothing more to wish for. I haven't reached that stage yet.

Quoted in "Standing Up for Freedom," Academy of Achievement.org (2005-10-31)
I would like to be known as a person who is concerned about freedom and equality and justice and prosperity for all people.
Unsourced
I knew someone had to take the first step and I made up my mind not to move.
Our mistreatment was just not right, and I was tired of it.
I didn't want to pay my fare and then go around the back door, because many times, even if you did that, you might not get on the bus at all. They'd probably shut the door, drive off, and leave you standing there.
My only concern was to get home after a hard day's work.
I have learned over the years that when one's mind is made up, this diminishes fear; knowing what must be done does away with fear.
Have you ever been hurt and the place tries to heal a bit, and you just pull the scar off of it over and over again.
I wanted to be free as everybody else. I didn't want to be constantly humiliated for something I had no influence on: the color of my skin.
Somebody has to say "Stop!" some time, and that seemed to be the right station to stop the constant harassment and find out, which human rights I was entitled to.
Stand for something or you will fall for anything. Today's mighty oak is yesterday's nut that held its ground.
James Blake: Well, I'm going to have you arrested.
Rosa Parks: You may go on and do so.