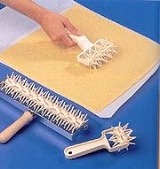 Roller docker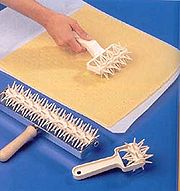 A
roller docker
,
rolling docker
,
dough docker
or simply
docker
is a food preparation utensil that looks like a small
rolling pin
Rolling pin
thumb|A wooden "roller" type rolling pinA rolling pin is a cylindrical food preparation utensil used to shape and flatten dough. Two styles of rolling pins are found; roller and rods. Roller types consists of a thick cylindrical roller with small handles at each end; rod type rolling pins are...
with spikes, or like a small rotary tiller. It is used to pierce
bread
Bread
Bread is a staple food prepared by cooking a dough of flour and water and often additional ingredients. Doughs are usually baked, but in some cuisines breads are steamed , fried , or baked on an unoiled frying pan . It may be leavened or unleavened...
dough,
cracker
Cracker (food)
A cracker is a baked good commonly made from grain flour dough and typically made in quantity in various hand-sized or smaller shapes. Flavorings or seasonings, such as salt, herbs, seeds, and/or cheese, may be added to the dough or sprinkled on top before baking...
dough,
pizza
Pizza
Pizza is an oven-baked, flat, disc-shaped bread typically topped with a tomato sauce, cheese and various toppings.Originating in Italy, from the Neapolitan cuisine, the dish has become popular in many parts of the world. An establishment that makes and sells pizzas is called a "pizzeria"...
dough or pastry dough to prevent over
rising
Proofing (baking technique)
Proofing , as the term is used by professional bakers, is the final dough-rise step before baking, and refers to a specific rest period within the more generalized process known as fermentation...
or blistering.
This specialized tool is more common in professional bakeries than homes that only do light or occasional baking.
Roller dockers come in a variety of materials including
nylon
Nylon
Nylon is a generic designation for a family of synthetic polymers known generically as polyamides, first produced on February 28, 1935, by Wallace Carothers at DuPont's research facility at the DuPont Experimental Station...
,
plastic
Plastic
A plastic material is any of a wide range of synthetic or semi-synthetic organic solids used in the manufacture of industrial products. Plastics are typically polymers of high molecular mass, and may contain other substances to improve performance and/or reduce production costs...
, and
steel
Steel
Steel is an alloy that consists mostly of iron and has a carbon content between 0.2% and 2.1% by weight, depending on the grade. Carbon is the most common alloying material for iron, but various other alloying elements are used, such as manganese, chromium, vanadium, and tungsten...
.