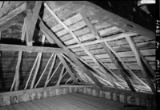 Rafter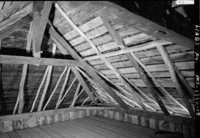 A
rafter
is one of a series of sloped structural members (beams), that extend from the ridge or hip to the downslope perimeter or eave, designed to support the roof deck and its associated loads.
Design
A type of
beam
Beam (structure)
A beam is a horizontal structural element that is capable of withstanding load primarily by resisting bending. The bending force induced into the material of the beam as a result of the external loads, own weight, span and external reactions to these loads is called a bending moment.- Overview...
, which supports the
roof
Roof
A roof is the covering on the uppermost part of a building. A roof protects the building and its contents from the effects of weather. Structures that require roofs range from a letter box to a cathedral or stadium, dwellings being the most numerous....
of a building. In home construction, rafters are typically made of
wood
Wood
Wood is a hard, fibrous tissue found in many trees. It has been used for hundreds of thousands of years for both fuel and as a construction material. It is an organic material, a natural composite of cellulose fibers embedded in a matrix of lignin which resists compression...
. Exposed rafters are a feature of traditional roof styles.
Applications
In many buildings, rafters have been replaced by engineered
truss
Truss
In architecture and structural engineering, a truss is a structure comprising one or more triangular units constructed with straight members whose ends are connected at joints referred to as nodes. External forces and reactions to those forces are considered to act only at the nodes and result in...
es (trussed rafters), normally because of span limitations and/or roof load (weight from above).
See also