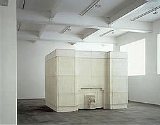 Rachel Whiteread
Rachel Whiteread
,
CBE
Order of the British Empire
The Most Excellent Order of the British Empire is an order of chivalry established on 4 June 1917 by George V of the United Kingdom. The Order comprises five classes in civil and military divisions...
(born 20 April 1963) is an
English
English people
The English are a nation and ethnic group native to England, who speak English. The English identity is of early mediaeval origin, when they were known in Old English as the Anglecynn. England is now a country of the United Kingdom, and the majority of English people in England are British Citizens...
artist
Artist
An artist is a person engaged in one or more of any of a broad spectrum of activities related to creating art, practicing the arts and/or demonstrating an art. The common usage in both everyday speech and academic discourse is a practitioner in the visual arts only...
, best known for her
sculptures
Sculpture
Sculpture is three-dimensional artwork created by shaping or combining hard materials—typically stone such as marble—or metal, glass, or wood. Softer materials can also be used, such as clay, textiles, plastics, polymers and softer metals...
, which typically take the form of
casts
Casting
In metalworking, casting involves pouring liquid metal into a mold, which contains a hollow cavity of the desired shape, and then allowing it to cool and solidify. The solidified part is also known as a casting, which is ejected or broken out of the mold to complete the process...
. She won the annual
Turner Prize
Turner Prize
The Turner Prize, named after the painter J. M. W. Turner, is an annual prize presented to a British visual artist under the age of 50. Awarding the prize is organised by the Tate gallery and staged at Tate Britain. Since its beginnings in 1984 it has become the United Kingdom's most publicised...
in 1993—the first woman to win the prize.
Whiteread is one of the
Young British Artists
Young British Artists
Young British Artists or YBAs is the name given to a loose group of visual artists who first began to exhibit together in London, in 1988...
, and exhibited at the
Royal Academy
Royal Academy
The Royal Academy of Arts is an art institution based in Burlington House on Piccadilly, London. The Royal Academy of Arts has a unique position in being an independent, privately funded institution led by eminent artists and architects whose purpose is to promote the creation, enjoyment and...
's
Sensation
Sensation exhibition
Sensation was an exhibition of the collection of contemporary art owned by Charles Saatchi, including many works by Young British Artists, which first took place 18 September – 28 December 1997 at the Royal Academy of Art in London and later toured to Berlin and New York...
exhibition in 1997. She is probably best known for
Ghost
, a large
plaster
Plaster
Plaster is a building material used for coating walls and ceilings. Plaster starts as a dry powder similar to mortar or cement and like those materials it is mixed with water to form a paste which liberates heat and then hardens. Unlike mortar and cement, plaster remains quite soft after setting,...
cast of the inside of a room in a Victorian house, and for her
resin
Resin
Resin in the most specific use of the term is a hydrocarbon secretion of many plants, particularly coniferous trees. Resins are valued for their chemical properties and associated uses, such as the production of varnishes, adhesives, and food glazing agents; as an important source of raw materials...
sculpture for the empty plinth in
London
London
London is the capital city of :England and the :United Kingdom, the largest metropolitan area in the United Kingdom, and the largest urban zone in the European Union by most measures. Located on the River Thames, London has been a major settlement for two millennia, its history going back to its...
's
Trafalgar Square
Trafalgar Square
Trafalgar Square is a public space and tourist attraction in central London, England, United Kingdom. At its centre is Nelson's Column, which is guarded by four lion statues at its base. There are a number of statues and sculptures in the square, with one plinth displaying changing pieces of...
.
Whiteread was born in London and raised in the
Essex
Essex
Essex is a ceremonial and non-metropolitan county in the East region of England, and one of the home counties. It is located to the northeast of Greater London. It borders with Cambridgeshire and Suffolk to the north, Hertfordshire to the west, Kent to the South and London to the south west...
countryside, until age seven, when the family returned to London.
I think the difference between me and some of the other YBAs [Young British Artists] was that I was ambitious for the work, and not ambitious for myself.

As quoted in "Still breaking the mould" by Gordon Burn in The Guardian (11 October 2005)