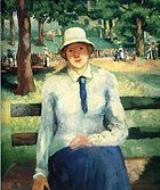 Quarter-life crisis
The
quarterlife crisis
is a period of life following the major changes of
adolescence
Adolescence
Adolescence is a transitional stage of physical and mental human development generally occurring between puberty and legal adulthood , but largely characterized as beginning and ending with the teenage stage...
, usually ranging from the late teens to the early thirties, in which a person begins to feel doubtful about their own lives, brought on by the stress of becoming an
adult
Adult
An adult is a human being or living organism that is of relatively mature age, typically associated with sexual maturity and the attainment of reproductive age....
. The term was coined by analogy with
mid-life crisis
Mid-life crisis
Midlife crisis is a term coined in 1965 by Elliott Jaques and used in Western societies to describe a period of dramatic self-doubt that is felt by some individuals in the "middle years" or middle age of life, as a result of sensing the passing of their own youth and the imminence of their old age...
.
Aspects
The
quarter-life crisis
occurs shortly after a young person enters the "real world".
Erik H. Erikson, who proposed eight crises that humans face during their development, proposed the existence of a life crisis occurring at this age. The conflict he associated with young adulthood is the
Intimacy vs. Isolation
crisis. According to him, after establishing a personal identity in adolescence, young adults seek to form intense, usually romantic relationships with other people.
People experiencing a quarter life crisis often feel "lost, scared, lonely or confused" about what steps to take in order to transition properly into adulthood. Studies have shown that unemployment and the idea of not being able to find a job is a major cause for young people to undergo stress or anxiety. Early stages of a person living on their own for the first time and learning to cope without parental help can also induce feelings of isolation and loneliness.
The notion of the quarter-life crisis is explored by the 1967 film
The Graduate
The Graduate
The Graduate is a 1967 American comedy-drama motion picture directed by Mike Nichols. It is based on the 1963 novel The Graduate by Charles Webb, who wrote it shortly after graduating from Williams College. The screenplay was by Buck Henry, who makes a cameo appearance as a hotel clerk, and Calder...
, one of the first film depictions of this issue. Other notable films that also do so are "
Garden State (film)
Garden State (film)
Garden State is a 2004 comedy-drama film written by, directed by, and starring Zach Braff, with Natalie Portman, Peter Sarsgaard, and Sir Ian Holm. The film centers on Andrew Largeman , a 26-year-old actor/waiter who returns to his hometown in New Jersey after his mother dies...
", "
High Fidelity (film)
High Fidelity (film)
High Fidelity is a 2000 American comedy-drama film directed by Stephen Frears and starring John Cusack and the Danish actress Iben Hjejle. The film is based on the 1995 British novel of the same name by Nick Hornby, with the setting moved from London to Chicago and the name of the lead character...
", "
Office Space
Office Space
Office Space is a 1999 American comedy film satirizing work life in a typical 1990s software company. Written and directed by Mike Judge, it focuses on a handful of individuals fed up with their jobs portrayed by Ron Livingston, Jennifer Aniston, Gary Cole, David Herman, Ajay Naidu, and Diedrich...
", "
500 Days of Summer
500 Days of Summer
Days of Summer is a 2009 comedy drama film. It was written by Scott Neustadter and Michael H. Weber, directed by Marc Webb, produced by Mark Waters, and stars Joseph Gordon-Levitt and Zooey Deschanel. The film employs a nonlinear narrative structure, with the story based upon its male protagonist...
", "
Lost in Translation (film)
Lost in Translation (film)
Lost in Translation is a 2003 American film written and directed by Sofia Coppola; her second feature film after The Virgin Suicides and it stars Bill Murray and Scarlett Johansson...
" and "
Vicky Cristina Barcelona
Vicky Cristina Barcelona
Vicky Cristina Barcelona is a 2008 romance comedy-drama film written and directed by Woody Allen, and starring Javier Bardem, Penélope Cruz, Scarlett Johansson and Rebecca Hall...
".
Further reading
Barr, Damian. Get It Together: A Guide to Surviving Your Quarterlife Crisis. Hodder & Stoughton Paperbacks, 2004. ISBN 0-340-82903-6
Hassler, Christine. "20-Something, 20-Everything: A Quarter-life Woman's Guide to Balance and Direction." New World Library, 2005. ISBN 978-1577314769.
Hassler, Christine. "20-Something Manifesto: Quarter-Lifers Speak Out About Who They Are, What They Want, and How to Get It" New World Library, 2008. ISBN 978-1577315957.
Pollak, Lindsey. "Getting from College to Career: 90 Things to Do Before You Join the Real World." Collins Business, 2007. ISBN 006114259X
Robbins, Alexandra. "Conquering Your Quarterlife Crisis: Advice From Twentysomethings Who Have Been There and Survived." Perigee, 2004. ISBN 978-0399530388
Robbins, Alexandra; Wilner, Abby. Quarterlife Crisis: The Unique Challenges of Life in Your Twenties. Tarcher, 2001. ISBN 1-585-42106-5
Wilner, Abby; Stocker, Catherine. "Quarterlifer's Companion: How to Get on the Right Career Path, Control Your Finances, and Find the Support Network You Need to Thrive." McGraw-Hill, 2004. ISBN 978-0071450157
External links
Article from The Times

The Times

The Times is a British daily national newspaper, first published in London in 1785 under the title The Daily Universal Register . The Times and its sister paper The Sunday Times are published by Times Newspapers Limited, a subsidiary since 1981 of News International...



Article from The Daily Telegraph

The Daily Telegraph

The Daily Telegraph is a daily morning broadsheet newspaper distributed throughout the United Kingdom and internationally. The newspaper was founded by Arthur B...



Life is hard when you're in your 20s - BBC

BBC

The British Broadcasting Corporation is a British public service broadcaster. Its headquarters is at Broadcasting House in the City of Westminster, London. It is the largest broadcaster in the world, with about 23,000 staff...