 Pyre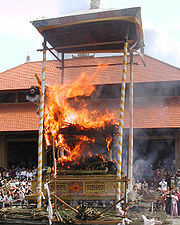 A
pyre
also known as a
funeral pyre
, is a structure, usually made of
wood
Wood
Wood is a hard, fibrous tissue found in many trees. It has been used for hundreds of thousands of years for both fuel and as a construction material. It is an organic material, a natural composite of cellulose fibers embedded in a matrix of lignin which resists compression...
, for burning a body as part of a
funeral
Funeral
A funeral is a ceremony for celebrating, sanctifying, or remembering the life of a person who has died. Funerary customs comprise the complex of beliefs and practices used by a culture to remember the dead, from interment itself, to various monuments, prayers, and rituals undertaken in their honor...
rite. As a form of
cremation
Cremation
Cremation is the process of reducing bodies to basic chemical compounds such as gasses and bone fragments. This is accomplished through high-temperature burning, vaporization and oxidation....
, a body is placed upon the pyre, which is then set on
fire
Fire
Fire is the rapid oxidation of a material in the chemical process of combustion, releasing heat, light, and various reaction products. Slower oxidative processes like rusting or digestion are not included by this definition....
.
Religious
Traditionally, pyres are used for the cremation of the deceased in the
Hindu
Hinduism
Hinduism is the predominant and indigenous religious tradition of the Indian Subcontinent. Hinduism is known to its followers as , amongst many other expressions...
and
Sikh
Sikhism
Sikhism is a monotheistic religion founded during the 15th century in the Punjab region, by Guru Nanak Dev and continued to progress with ten successive Sikh Gurus . It is the fifth-largest organized religion in the world and one of the fastest-growing...
religions, a practice which dates back several thousands of years. Funeral pyres were also used in
Viking
Viking
The term Viking is customarily used to refer to the Norse explorers, warriors, merchants, and pirates who raided, traded, explored and settled in wide areas of Europe, Asia and the North Atlantic islands from the late 8th to the mid-11th century.These Norsemen used their famed longships to...
culture, typically on floating boats, as well as by the Romans.
Secular
Pyres and
bonfire
Bonfire
A bonfire is a controlled outdoor fire used for informal disposal of burnable waste material or as part of a celebration. Celebratory bonfires are typically designed to burn quickly and may be very large...
s are used in celebrations and remembrance in services. Examples of these are
Guy Fawkes Night
Guy Fawkes Night
Guy Fawkes Night, also known as Guy Fawkes Day, Bonfire Night and Firework Night, is an annual commemoration observed on 5 November, primarily in England. Its history begins with the events of 5 November 1605, when Guy Fawkes, a member of the Gunpowder Plot, was arrested while guarding...
in the
United Kingdom
United Kingdom
The United Kingdom of Great Britain and Northern IrelandIn the United Kingdom and Dependencies, other languages have been officially recognised as legitimate autochthonous languages under the European Charter for Regional or Minority Languages...
and some
Commonwealth
Commonwealth of Nations
The Commonwealth of Nations, normally referred to as the Commonwealth and formerly known as the British Commonwealth, is an intergovernmental organisation of fifty-four independent member states...
countries, where the 'Guy', either seen as an
effigy
Effigy
An effigy is a representation of a person, especially in the form of sculpture or some other three-dimensional form.The term is usually associated with full-length figures of a deceased person depicted in stone or wood on church monuments. These most often lie supine with hands together in prayer,...
of
Guy Fawkes
Guy Fawkes
Guy Fawkes , also known as Guido Fawkes, the name he adopted while fighting for the Spanish in the Low Countries, belonged to a group of provincial English Catholics who planned the failed Gunpowder Plot of 1605.Fawkes was born and educated in York...
or the
Pope
Pope
The Pope is the Bishop of Rome, a position that makes him the leader of the worldwide Catholic Church . In the Catholic Church, the Pope is regarded as the successor of Saint Peter, the Apostle...
, is burned.
Funeral pyres were used by the Nazis to cremate the bodies of 1,500,000+ Jews in
Belzec
Belzec extermination camp
Belzec, Polish spelling Bełżec , was the first of the Nazi German extermination camps created for implementing Operation Reinhard during the Holocaust...
,
Sobibor
Sobibór extermination camp
Sobibor was a Nazi German extermination camp located on the outskirts of the town of Sobibór, Lublin Voivodeship of occupied Poland as part of Operation Reinhard; the official German name was SS-Sonderkommando Sobibor...
and
Treblinka
Treblinka extermination camp
Treblinka was a Nazi extermination camp in occupied Poland during World War II near the village of Treblinka in the modern-day Masovian Voivodeship of Poland. The camp, which was constructed as part of Operation Reinhard, operated between and ,. During this time, approximately 850,000 men, women...
extermination camps, as opposed to the crematoriums used in other camps. Pyres have also been used to dispose of large quantities of
livestock
Livestock
Livestock refers to one or more domesticated animals raised in an agricultural setting to produce commodities such as food, fiber and labor. The term "livestock" as used in this article does not include poultry or farmed fish; however the inclusion of these, especially poultry, within the meaning...
in agriculture, particularly those infected with disease.
Western world and legality
Whilst funeral pyres are still used in several cultures, they are very uncommon and even illegal in some cultures, particularly in the
Western World
Western world
The Western world, also known as the West and the Occident , is a term referring to the countries of Western Europe , the countries of the Americas, as well all countries of Northern and Central Europe, Australia and New Zealand...
. Despite cremation being commonplace, open air cremations in the
United Kingdom
United Kingdom
The United Kingdom of Great Britain and Northern IrelandIn the United Kingdom and Dependencies, other languages have been officially recognised as legitimate autochthonous languages under the European Charter for Regional or Minority Languages...
were thought to be unlawful under the Cremation Act 1902 - although in recent years, some have taken place amongst immigrant communities. In February, 2010, a court of appeals in the United Kingdom ruled that a cremation on an open pyre would be legal inside of a building with an open roof, well away from roads and homes. In the US, a group in
Crestone, Colorado
Crestone, Colorado
Crestone is a statutory town in Saguache County in Southwestern Colorado, United States. The population was 73 at the 2000 census. It is a small village at the foot of the western slope of the Sangre de Cristo Range, in the northern part of the San Luis Valley. Crestone was a small mining town, but...
has done the research, obtained the necessary legal permissions and created a permanent cement pyre structure to perform around 12 "open-air cremations" a year.
External links