Punta Cana
Punta Cana
is part of the newly created Punta Cana-
Bávaro
Bávaro
Bávaro is a touristic area in Punta Cana, located in La Altagracia province, the easternmost province of the Dominican Republic. Bavaro was developed together with the resort area and tourist region of Punta Cana, as a town for resort workers...
-Veron-Macao municipal district in La Altagracia, the easternmost province of the
Dominican Republic
Dominican Republic
The Dominican Republic is a nation on the island of La Hispaniola, part of the Greater Antilles archipelago in the Caribbean region. The western third of the island is occupied by the nation of Haiti, making Hispaniola one of two Caribbean islands that are shared by two countries...
. The area is best known for its beaches and
balneario
Balneario
Balneario is a Latin American seaside resort, although they may also occur along great lakes, rivers and at hot springs. In Spain balneario typically only refers to spa town resorts. Whatever the case these resorts offer recreation, sports, entertainment, food, hospitality and safety services,...
s, which face both the
Caribbean
Caribbean Sea
The Caribbean Sea is a sea of the Atlantic Ocean located in the tropics of the Western hemisphere. It is bounded by Mexico and Central America to the west and southwest, to the north by the Greater Antilles, and to the east by the Lesser Antilles....
and
Atlantic
Atlantic Ocean
The Atlantic Ocean is the second-largest of the world's oceanic divisions. With a total area of about , it covers approximately 20% of the Earth's surface and about 26% of its water surface area...
, and it has been a popular
tourist
Tourism
Tourism is travel for recreational, leisure or business purposes. The World Tourism Organization defines tourists as people "traveling to and staying in places outside their usual environment for not more than one consecutive year for leisure, business and other purposes".Tourism has become a...
destination since the 1970s. The Punta Cana area has an estimated population of 100,000 with a growth rate of six percent. To the north, it borders the village and beach of Cabeza de Toro, and then the
Bávaro
Bávaro
Bávaro is a touristic area in Punta Cana, located in La Altagracia province, the easternmost province of the Dominican Republic. Bavaro was developed together with the resort area and tourist region of Punta Cana, as a town for resort workers...
and El Cortecito beaches. The nearest city, the 500-year-old capital of the Province
Higüey
Salvaleón de Higüey
Higüey , or in full Salvaleón de Higüey, is the capital city of the eastern province of La Altagracia, in the Dominican Republic. The river Yuma flows through the urban area of Higüey....
, is 45 kilometres (28 mi) away, and it takes about an hour to drive there. Europeans, particularly Spanish hotel chains, own all but two of the 50+ megaresorts of the Punta Cana tourism destination.
Punta Cana-Bavaro's resorts show an eclectic variety of
architecture
Architecture
Architecture is both the process and product of planning, designing and construction. Architectural works, in the material form of buildings, are often perceived as cultural and political symbols and as works of art...
and
interior design
Interior design
Interior design describes a group of various yet related projects that involve turning an interior space into an effective setting for the range of human activities are to take place there. An interior designer is someone who conducts such projects...
inspired by Spanish and native Dominican cultures. Areas bordering Punta Cana include Cap Cana to the south and the original tiny fishing-village of Cabo San Rafael. A 100 metres (328.1 ft) high cliff is located more to the south, near of
Boca de Yuma
Boca de Yuma
Boca de Yuma is a village in the province of La Altagracia, in the Dominican Republic. It is situated west of the mouth of the Rio Yuma, near the Caribbean Sea.The word Yuma is an indigenous Taíno name....
town, a fishing village dated from the 16th century. Nearby, you can find the Ponce de Leon's Fortress, in San Rafael del Yuma town. This is one of the most isolated area within the La Altagracia Province though.
The province's 100 kilometres (62.1 mi) coastline tends to be mildly windy. The ocean waters are mainly shallows, with several natural marine pools in which visitors can bathe without any danger.
North to South the main beaches are: Uvero Alto, Macao, Arena Gorda, Bávaro, El Cortecito – all north of the cape – and Cabeza de Toro, Cabo Engaño, Punta Cana, Juanillo – south of the cape.
Bávaro is an area starting from Cabeza de Toro until Macao Beach. As the hotels started to rise along the East coast, Bavaro itself became a center of services with shopping malls, fast-food stores, drug stores, fine restaurants, banks, clinics, workshops, supermarkets, and schools. The major town in the district is Veron, now bigger than Higuey in territory, a spontaneous -and poor- urban development running along the original road from the west. Veron, last name of the French proprietor of a timberline business in the early 1930s, is now the base-city for hotel workers and related. It has, besides Bavaro, one of the only four gas stations in Punta Cana. The very next is located 48 kilometres (29.8 mi) west in Higuey, at the Fruisa crossroads, with a new Texaco gas station opened April 2010, 3 kilometres (1.9 mi) south of Macao beach, and the new Shell gas station close to the airport (on the highway Coral) opened at the end of 2010.
The
Punta Cana International Airport
Punta Cana International Airport
Punta Cana International Airport is a privately owned commercial airport in Punta Cana, eastern Dominican Republic. The airport is built in a traditional Dominican style with open-air terminals with their roofs covered in palm fronds. built the Punta Cana International Airport in 1984. A number...
is one of the busiest and best connected airports in the Caribbean. In 2008, Punta Cana received 3,758,109 passengers, making it the busiest airport in the country. The airport serves more passengers than the
Las Américas International Airport
Las Américas International Airport
-Cargo airlines:-Accidents and incidents:*On February 15, 1970, a Dominicana de Aviación DC-9 flying to Luis Muñoz Marín International Airport in San Juan, Puerto Rico, crashed, killing all 102 persons on board ....
in
Santo Domingo
Santo Domingo
Santo Domingo, known officially as Santo Domingo de Guzmán, is the capital and largest city in the Dominican Republic. Its metropolitan population was 2,084,852 in 2003, and estimated at 3,294,385 in 2010. The city is located on the Caribbean Sea, at the mouth of the Ozama River...
. Grupo Puntacana built the Punta Cana International Airport in 1984 to facilitate tourism in the area. It was the world's first privately owned international airport. In late 2009, the airport opened a US Customs
preclearance
United States border preclearance
The United States operates border preclearance facilities at a number of ports and airports in foreign countries. They are staffed and operated by U.S. Customs and Border Protection officers. Travelers pass through Immigration and Customs, Public Health, and Department of Agriculture inspections...
station, which allows passengers to clear customs and immigration before boarding a direct flight to the USA. Precleared flights can land at domestic terminals in the US.
Punta Cana is listed 79 in the top 100 places to visit before you die. (conducted by U.C.L.A)
Climate
The weather is fairly consistent all year, with an average temperature of 30 °C (86 °F). The hot and humid season lasts from May to October, and during the day temperatures might reach 35 °C (95 °F). From November to March, temperatures during the evening are around 20 °C (68 °F). Very little rain falls around the area, primarily because of the mostly flat landscape, a combination of savanna and mountains.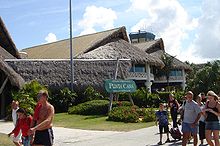 Activities
Punta Cana, part of the newly Punta Cana-Bavaro county, is considered the major resort area in the Dominican Republic with 28,000 hotel rooms.
Puntacana Resort and Club
PUNTACANA Resort and Club
PUNTACANA Resort & Club is a resort and residential community located in Punta Cana, La Altagracia Province, Dominican Republic; established in 1969 by businessman and hotelier Frank Rainieri and Theodore W. Kheel, a New York attorney and labor mediator...
(the first one, 1969),
Cap Cana
Cap Cana
Cap Cana is a resort located in the Eastern Dominican Republic known as Juanillo. The site was founded as a new and more ambitious touristic site with contributions from international investors and partners such as Ritz-Carlton, Sotogrande, and Donald Trump. The site has beaches, golf courses, and...
, Palma Real Villas and Roko Ki are some of the leading developments, and Roco Ki and Punta Perla in development.
Punta Cana has 12 professional golf courses that were built in 1991, from designers such as
Jack Nicklaus
Jack Nicklaus
Jack William Nicklaus , nicknamed "The Golden Bear", is an American professional golfer. He won 18 career major championships on the PGA Tour over a span of 25 years and is widely regarded as one of the greatest professional golfers of all time. In addition to his 18 Majors, he was runner-up a...
,
P.B. Dye
Pete Dye
Paul B. "Pete" Dye is a world-renowned golf course designer and a member of a famous family of course designers. He is married to fellow designer and former amateur champion Alice Dye.-Early life:Pete Dye was born in Urbana, Ohio...
,
Tom Fazio
Tom Fazio
Thomas Fazio, ASGCA is a golf course architect.Fazio graduated in 1962 from Lansdale Catholic High School and was inducted into its "Hall of Fame" in 2007. He began his career in golf course design with his family's firm in suburban Philadelphia, which he left in the 1960s; he established his own...
,
Nick Faldo
Nick Faldo
Sir Nicholas Alexander "Nick" Faldo, MBE is an English professional golfer on the European Tour who now mainly works as an on air golf analyst. Over his career, he has won six majors: three Open Championships and three Masters. He was ranked the World No...
and
Nick Price
Nick Price
Nicholas Raymond Leige Price is a South African-Zimbabwean Professional golfer and an inductee in the World Golf Hall of Fame. In the mid-1990s, Price reached number one in the Official World Golf Rankings.-Background:...
. Punta Espada, along with Teeth of the Dog in Casa de Campo figure among the very first 50 best golf courses in the world.
Many other tourist facilities and attractions have been established in the area, catering to the large international market. Watersports are well catered-for, with diving and boat trips available. One of the most popular tours is to Saona Island (real Taino name Adamanai) located about 100 Kilometers west, which is popular for scuba diving.
The Basilica Catholic Monument, built in 1962 and designed by two French architects, in Higuey, the 500-year-old capital of the Province, is a popular cultural attraction.
External links