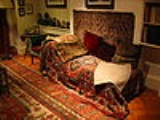 Psychoanalysis
Psychoanalysis
is a psychological theory developed in the late 19th and early 20th centuries by
Austria
Austria
Austria , officially the Republic of Austria , is a landlocked country of roughly 8.4 million people in Central Europe. It is bordered by the Czech Republic and Germany to the north, Slovakia and Hungary to the east, Slovenia and Italy to the south, and Switzerland and Liechtenstein to the...
n neurologist
Sigmund Freud
Sigmund Freud
Sigmund Freud , born Sigismund Schlomo Freud , was an Austrian neurologist who founded the discipline of psychoanalysis...
. Psychoanalysis has expanded, been criticized and developed in different directions, mostly by some of Freud's former students, such as
Alfred Adler
Alfred Adler
Alfred Adler was an Austrian medical doctor, psychotherapist, and founder of the school of individual psychology. In collaboration with Sigmund Freud and a small group of Freud's colleagues, Adler was among the co-founders of the psychoanalytic movement as a core member of the Vienna...
and Carl Gustav Jung,
Wilhelm Reich
Wilhelm Reich
Wilhelm Reich was an Austrian-American psychiatrist and psychoanalyst, known as one of the most radical figures in the history of psychiatry...
and later by neo-Freudians such as
Erich Fromm
Erich Fromm
Erich Seligmann Fromm was a Jewish German-American social psychologist, psychoanalyst, sociologist, humanistic philosopher, and democratic socialist. He was associated with what became known as the Frankfurt School of critical theory.-Life:Erich Fromm was born on March 23, 1900, at Frankfurt am...
,
Karen Horney
Karen Horney
Karen Horney born Danielsen was a German-American psychoanalyst. Her theories questioned some traditional Freudian views, particularly his theory of sexuality, as well as the instinct orientation of psychoanalysis and its genetic psychology...
,
Harry Stack Sullivan
Harry Stack Sullivan
Harry Stack Sullivan was a U.S. psychiatrist whose work in psychoanalysis was based on direct and verifiable observation .-Life and works:Sullivan was a child of Irish immigrants and allegedly grew up in an...
and
Jacques Lacan
Jacques Lacan
Jacques Marie Émile Lacan was a French psychoanalyst and psychiatrist who made prominent contributions to psychoanalysis and philosophy, and has been called "the most controversial psycho-analyst since Freud". Giving yearly seminars in Paris from 1953 to 1981, Lacan influenced France's...
.
The basic tenets of psychoanalysis include the following:
human behavior, experience and cognition are largely determined by innate and irrational drives;
those drives are largely unconscious

Unconscious mind

The unconscious mind is a term coined by the 18th century German romantic philosopher Friedrich Schelling and later introduced into English by the poet and essayist Samuel Taylor Coleridge...


;
attempts to bring those drives into awareness meet psychological resistance

Psychological resistance

Psychological resistance is the phenomenon often encountered in clinical practice in which patients either directly or indirectly oppose changing their behavior or refuse to discuss, remember, or think about presumably clinically relevant experiences....


in the form of defence mechanism

Defence mechanism

In Freudian psychoanalytic theory, defence mechanisms are unconscious psychological strategies brought into play by various entities to cope with reality and to maintain self-image. Healthy persons normally use different defences throughout life...


s;
beside the inherited constitution of personality, one's development is determined by events in early childhood;
conflicts between conscious view of reality and unconscious (repressed) material can result in mental disturbances such as neurosis, neurotic traits, anxiety, depression etc.;
the liberation from the effects of the unconscious material is achieved through bringing this material into the consciousness (via e.g.