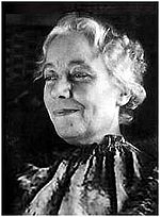 Karen Horney
Karen Horney
born
Danielsen
(16 September 1885 – 4 December 1952) was a German-American psychoanalyst. Her theories questioned some traditional Freudian views, particularly his theory of sexuality, as well as the instinct orientation of
psychoanalysis
Psychoanalysis
Psychoanalysis is a psychological theory developed in the late 19th and early 20th centuries by Austrian neurologist Sigmund Freud. Psychoanalysis has expanded, been criticized and developed in different directions, mostly by some of Freud's former students, such as Alfred Adler and Carl Gustav...
and its genetic psychology. As such, she is often classified as
Neo-Freudian
Neo-Freudian
The Neo-Freudian psychiatrists and psychologists were a group of loosely linked American theorists of the mid-twentieth century, who were all influenced by Sigmund Freud, but who extended his theories, often in social or cultural directions...
.
Horney was born Karen Danielsen on 16 September 1885 in Blankenese, Germany, near
Hamburg
Hamburg
-History:The first historic name for the city was, according to Claudius Ptolemy's reports, Treva.But the city takes its modern name, Hamburg, from the first permanent building on the site, a castle whose construction was ordered by the Emperor Charlemagne in AD 808...
.