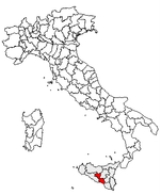 Province of Caltanissetta
The
Province of Caltanissetta
(
Italian
Italian language
Italian is a Romance language spoken mainly in Europe: Italy, Switzerland, San Marino, Vatican City, by minorities in Malta, Monaco, Croatia, Slovenia, France, Libya, Eritrea, and Somalia, and by immigrant communities in the Americas and Australia...
:
Provincia di Caltanissetta
;
Sicilian
Sicilian language
Sicilian is a Romance language. Its dialects make up the Extreme-Southern Italian language group, which are spoken on the island of Sicily and its satellite islands; in southern and central Calabria ; in the southern parts of Apulia, the Salento ; and Campania, on the Italian mainland, where it is...
:
Pruvincia di Caltanissetta
) is a province in the southern part of
Sicily
Sicily
Sicily is a region of Italy, and is the largest island in the Mediterranean Sea. Along with the surrounding minor islands, it constitutes an autonomous region of Italy, the Regione Autonoma Siciliana Sicily has a rich and unique culture, especially with regard to the arts, music, literature,...
, Italy. It contains 22
comuni
(singular:
comune
Comune
In Italy, the comune is the basic administrative division, and may be properly approximated in casual speech by the English word township or municipality.-Importance and function:...
), see
Comuni of the Province of Caltanissetta
Comuni of the Province of Caltanissetta
The following is a list of the 22 comuni of the Province of Caltanissetta, Sicily, in Italy....
.
Bordering provinces
In order of counterclockwise
Coat of arms
Its coat of arms is a red crest and two green leaf stems on top with a laurel leaf on the right and a crown in the middle.
Geography
The province extends to the central part of Sicily in the northwestern direction where the capital is located. The commune of
Resuttano
Resuttano
Resuttano is a comune in the Province of Caltanissetta in the Italian region Sicily, located about 80 km southeast of Palermo and about 20 km north of Caltanissetta...
is found in an enclave of the province of Palermo near Caltanissetta between Monte Stretto and Portella del Vento, an enclafe without locality of the
province of Enna
Province of Enna
Enna is a province in the autonomous island region of Sicily in Italy. Its capital is the city of Enna.It has an area of 2,562 km², and a total population of 177,200 . There are 20 comunes in the province, see Comunes of the Province of Enna...
.
The land extends to the Gela plain and into the gulf named Gela.
As for June 30, 2005, the main communes by population are:
Communes
Population
Gela

Gela

Gela is a town and comune in the province of Caltanissetta in the south of Sicily, Italy. The city is at about 84 kilometers distance from the city of Caltanissetta, on the Mediterranean Sea. The city has a larger population than the provincial capital, and ranks second in land area.Gela is an...



77,234
Caltanissetta

Caltanissetta

Caltanissetta is a city and comune located on the western interior of Sicily, capital of the province of Caltanissetta...



60,632
Niscemi

Niscemi

Niscemi is a town and comune in the province of Caltanissetta, Sicily, Italy. It has a population of 26,492.-Etymology:The name Niscemi is derived from the Arabic word نَشَم neshem or its singular form نَشَمَة neshemeh, this being the name of a particular type of tree.-World War II:During World War...



26,734
San Cataldo
23,199
Mazzarino

Mazzarino

Mazzarino is a city and comune in the province of Caltanissetta in the region of Sicily, Italy.The city emerged in the second half of the 13th century. In 1507, the lords of the manor received the title Count of Mazzarini.It is home to two castles.In the 50s, the local friary was theater for the...



12,340
Riesi

Riesi

Riesi is a comune in the Province of Caltanissetta in the Italian region Sicily, located about 110 kilometres southeast of Palermo and about 20 kilometres south of Caltanissetta...



11,649
Mussomeli

Mussomeli

Mussomeli is a town and comune in the province of Caltanissetta, Sicily, Italy.-History:Mussomeli was founded in the 14th century by Manfredo III Chiaramonte with the name Manfredi, but later the current name, probable of Arab origin, was reimposed. In 1549 it became a county under the Lanza family...



11,306
Sommatino

Sommatino

Sommatino is a town in the Province of Caltanissetta in the Italian region Sicily, located about 100 km southeast of Palermo and about 20 km southwest of Caltanissetta.-Economy:...



7,515
Serradifalco

Serradifalco

Serradifalco is a town and comune in the province of Caltanissetta, Sicily, Italy.- History :Serradifalco was founded in a feudal fief which bore the same name since the late 15th century...



6,383
Santa Caterina Villarmosa

Santa Caterina Villarmosa

Santa Caterina Villarmosa is a comune in the Province of Caltanissetta in the Italian region Sicily, located about 80 km southeast of Palermo and about 13 km north of Caltanissetta....



5,866
Sutera

Sutera

Sutera is a comune in the Province of Caltanissetta in the Italian region Sicily, located about 70 km southeast of Palermo and about 30 km west of Caltanissetta. The area is dominated by a large monolithic rock termed "The Mountain of San Paolino". Upon this mountain sits the bones of...



5,142
External links
Official website