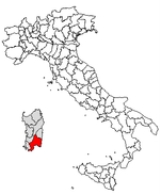 Province of Cagliari
Cagliari
is a
province
Provinces of Italy
In Italy, a province is an administrative division of intermediate level between a municipality and a region .-Overview:...
in the autonomous island region of
Sardinia
Sardinia
Sardinia is the second-largest island in the Mediterranean Sea . It is an autonomous region of Italy, and the nearest land masses are the French island of Corsica, the Italian Peninsula, Sicily, Tunisia and the Spanish Balearic Islands.The name Sardinia is from the pre-Roman noun *sard[],...
in
Italy
Italy
Italy , officially the Italian Republic languages]] under the European Charter for Regional or Minority Languages. In each of these, Italy's official name is as follows:;;;;;;;;), is a unitary parliamentary republic in South-Central Europe. To the north it borders France, Switzerland, Austria and...
. Its capital is the city of
Cagliari
Cagliari
Cagliari is the capital of the island of Sardinia, a region of Italy. Cagliari's Sardinian name Casteddu literally means castle. It has about 156,000 inhabitants, or about 480,000 including the outlying townships : Elmas, Assemini, Capoterra, Selargius, Sestu, Monserrato, Quartucciu, Quartu...
.
It has an area of 4,470 km², and a total population of 543,310 (2001). There are 71
comuni
(singular:
comune
) in the province
http://www.upinet.it/indicatore.asp?id_statistiche=6
.
Major comuni
As of June 30, 2005, the major
comuni
by population are:
Comune
Population
Cagliari

Cagliari

Cagliari is the capital of the island of Sardinia, a region of Italy. Cagliari's Sardinian name Casteddu literally means castle. It has about 156,000 inhabitants, or about 480,000 including the outlying townships : Elmas, Assemini, Capoterra, Selargius, Sestu, Monserrato, Quartucciu, Quartu...



160,886
Quartu Sant'Elena

Quartu Sant'Elena

Quartu Sant'Elena is a city and comune in the Province of Cagliari, Sardinia, Italy. It is the third biggest city of Sardinia with a population of c. 71,000 as of 2008.- History:...



70,020
Selargius

Selargius

Selargius is a comune in the Province of Cagliari in the Italian region Sardinia, located about 6 km northeast of Cagliari. As of 31 December 2004, it had a population of 28,548 and an area of 26.7 km².-History:...



28,682
Assemini

Assemini

Assemini is a comune in the Province of Cagliari in the Italian region Sardinia, located about 12 km northwest of Cagliari in the plain of the Cixerri, Flumini Mannu and Sa Nuxedda rivers. It includes notable forest area which are part of the Sulcis Regional Park...



25,531
Capoterra

Capoterra

Capoterra is a town and comune in the province of Cagliari, Sardinia, Italy.It is located on the western arm of the Golfo degli Angeli, c. 15 km from Cagliari. Economy is mostly based on agriculture, although the tourism sector grew notably in the past decades....



22,620
Monserrato

Monserrato

Monserrato is a comune in the Province of Cagliari in the Italian region Sardinia, located about 5 km northeast of Cagliari.-History:Still 1991, when it was separated with a local referendum, Monserrato was a district of Cagliari...



20,809
Sestu

Sestu

Sestu is a comune in the Province of Cagliari in the Italian region Sardinia, located about 10 km north of Cagliari.-External links:* * *...



17,413
Sinnai

Sinnai

Sinnai is a comune in the Province of Cagliari in the Italian region Sardinia, located about 12 km northeast of Cagliari....



16,043
Quartucciu

Quartucciu

Quartucciu is a comune in the Province of Cagliari in the Italian region Sardinia, located about 8 km northeast of Cagliari.-History:Before the fall of the Western Roman Empire, Quartucciu was attacked by the Vandals...



11,503
Elmas

Elmas

Elmas is a comune in the Province of Cagliari in the Italian region of Sardinia, located about 8 km northwest of Cagliari....



8,533
Dolianova

Dolianova

Dolianova is an Italian town and comune in the province of Cagliari, Sardinia. The town was born on June 25, 1905 from the fusion of two centers: Sicci San Biagio and San Pantaleo. Its economy is based on agriculture . The name "Dolianova" has obscure origins...



8,280
Decimomannu

Decimomannu

Decimomannu is a comune in the Province of Cagliari in the Italian autonomous region of Sardinia, the second-largest island in the Mediterranean Sea ....



7,079
San Sperate

San Sperate

San Sperate is a comune in the Province of Cagliari in the Italian region Sardinia, located about 20 km northwest of Cagliari. As of 31 December 2004, it had a population of 6,982 and an area of 26.2 km²....



7,037
Villasor

Villasor

Villasor is a comune in the Province of Cagliari in the Italian region Sardinia, located about 25 km northwest of Cagliari...



7,022
Maracalagonis

Maracalagonis

Maracalagonis is a comune in the Province of Cagliari in the Italian region Sardinia, located about 12 km northeast of Cagliari. As of 31 December 2004, it had a population of 6,961 and an area of 101.5 km²....



7,000
Pula

Pula, Italy

Pula is a comune in the Province of Cagliari in the Italian region Sardinia, located about 25 km southwest of Cagliari...



6,959
Uta

Uta, Italy

Uta is a comune in the Province of Cagliari in the Italian region Sardinia, located about 15 km northwest of Cagliari. As of 31 December 2004, it had a population of 6,915 and an area of 134.4 km²....



6,928
Settimo San Pietro

Settimo San Pietro

Settimo San Pietro is a comune in the Province of Cagliari in the Italian region Sardinia, located about 9 km northeast of Cagliari, it had a population of 6,079 and an area of 23.2 km²....



6,098
Sarroch

Sarroch

Sarroch is a comune in the Province of Cagliari in the Italian region Sardinia, located about 20 km southwest of Cagliari...



5,275
Politics
Cagliari Provincial Election Results June 2010
Name
Party
1st Preference Votes
%
2nd Preference Votes
%
>
Graziano Milia
PD

Democratic Party (Italy)

The Democratic Party is a social-democratic political party in Italy, that is the second-largest in the country. The party is led by Pier Luigi Bersani, who was elected in the 2009 leadership election....



71.969
33,8
61.785
52,4
>
Giuseppe Farris
PdL

The People of Freedom

The People of Freedom is a centre-right political party in Italy. With the Democratic Party, it is one of the two major parties of the current Italian party system....



99.053
46,5
56.074
47,6
External links
Official website