 Prostyle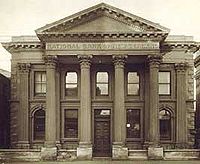 Prostyle
is an architectural term defining free standing
column
Column
A column or pillar in architecture and structural engineering is a vertical structural element that transmits, through compression, the weight of the structure above to other structural elements below. For the purpose of wind or earthquake engineering, columns may be designed to resist lateral forces...
s across the front of a building, as often in a portico. The term is often used as an
adjective
Adjective
In grammar, an adjective is a 'describing' word; the main syntactic role of which is to qualify a noun or noun phrase, giving more information about the object signified....
when referring to the
portico
Portico
A portico is a porch leading to the entrance of a building, or extended as a colonnade, with a roof structure over a walkway, supported by columns or enclosed by walls...
of a
classical
Classical architecture
Classical architecture is a mode of architecture employing vocabulary derived in part from the Greek and Roman architecture of classical antiquity, enriched by classicizing architectural practice in Europe since the Renaissance...
building which projects from the main structure. First used in Etruscan and Greek temples, the Romans later on incorporated this motif in their temples.
Example: Temple of Athena Nike, Akropolis, Athens, Greece
This architectural style probably originated in the eastern Greek isles in the 8th century B.C., however there are also many examples in archaic temples in southern Italy.