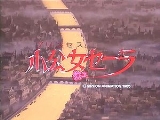 Princess Sarah
is a 1985
Japan
Japan
Japan is an island nation in East Asia. Located in the Pacific Ocean, it lies to the east of the Sea of Japan, China, North Korea, South Korea and Russia, stretching from the Sea of Okhotsk in the north to the East China Sea and Taiwan in the south...
ese
anime
Anime
is the Japanese abbreviated pronunciation of "animation". The definition sometimes changes depending on the context. In English-speaking countries, the term most commonly refers to Japanese animated cartoons....
series produced by
Nippon Animation
Nippon Animation
is a Japanese animation studio. The company is headquartered in Tokyo, with chief offices in the Ginza district of Chūō and production facilities in Tama City....
, based on
Frances Hodgson Burnett
Frances Hodgson Burnett
Frances Eliza Hodgson Burnett was an English playwright and author. She is best known for her children's stories, in particular The Secret Garden , A Little Princess, and Little Lord Fauntleroy.Born Frances Eliza Hodgson, she lived in Cheetham Hill, Manchester...
's novel,
A Little Princess
A Little Princess
A Little Princess is a 1905 children's novel by Frances Hodgson Burnett. It is a revised and expanded version of Burnett's 1888 serialized novel entitled Sara Crewe: or, What Happened at Miss Minchin's Boarding School, which was published in St. Nicholas Magazine.According to Burnett, she...
. Spanning 46 episodes, it originally premiered in 1985 across Japan on
Fuji Television
Fuji Television
is a Japanese television station based in Daiba, Minato, Tokyo, Japan, also known as or CX, based on the station's callsign "JOCX-DTV". It is the flagship station of the Fuji News Network and the ....
as the 11th series of Nippon Animation's famous
World Masterpiece Theater
World Masterpiece Theater
is a Japanese TV anime staple that showcased an animated version of a different classical book or story each year on 7:30p.m. on Sunday. It originally aired from 1969 to 1997 then resumed in 2007....
staple.
It was also later aired across Japan by the anime television network,
Animax
Animax
is a Japanese anime satellite television network, dedicated to broadcasting anime programming. A subsidiary of Japanese media conglomerate Sony, it is headquartered in in Minato, Tokyo, Japan, with its co-founders and shareholders including Sony Pictures Entertainment and the noted anime studios...
, who also later broadcast the series across its respective networks worldwide, including its
English language networks
Animax Asia
Animax Asia is the Japanese anime TV network Animaxs English language feeds in Southeast Asia and South Asia, as well as its feeds across other regions of mainland Asia, including Hong Kong and Taiwan...
in
Southeast Asia
Southeast Asia
Southeast Asia, South-East Asia, South East Asia or Southeastern Asia is a subregion of Asia, consisting of the countries that are geographically south of China, east of India, west of New Guinea and north of Australia. The region lies on the intersection of geological plates, with heavy seismic...
and
South Asia
South Asia
South Asia, also known as Southern Asia, is the southern region of the Asian continent, which comprises the sub-Himalayan countries and, for some authorities , also includes the adjoining countries to the west and the east...
, dubbing and translating the series into English under the title
Princess Sarah
.