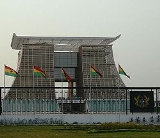 President of Ghana
The
President of Ghana
is the elected head of state and head of government of
Ghana
Ghana
Ghana , officially the Republic of Ghana, is a country located in West Africa. It is bordered by Côte d'Ivoire to the west, Burkina Faso to the north, Togo to the east, and the Gulf of Guinea to the south...
. Officially styled
President of the Republic of Ghana
and
Commander-in-Chief
Commander-in-Chief
A commander-in-chief is the commander of a nation's military forces or significant element of those forces. In the latter case, the force element may be defined as those forces within a particular region or those forces which are associated by function. As a practical term it refers to the military...
of the
Ghanaian Armed Forces
Military of Ghana
The Ghana Armed Forces consists of the Army, Navy, and the Air Force. It is supervised by the Ministry of Defence . With around 7,000 personnel serving in the Ghanian military, Ghana has the lowest ratio of active troops per thousand citizens in the world, standing at 0.33. However, the Ghanaian...
. The current President of Ghana is Prof. John Atta Mills, who took office in January 2009.
According to Chapter 8. Article 62 of the 1992 Constitution of Ghana, a person shall not be qualified for election as the President of Ghana unless -
(a) he is a citizen of Ghana by birth (or both parents must have been born in Ghana);
(b) he has attained the age of forty years; and
(c) he is a person who is otherwise qualified to be elected a Member of Parliament, except that the disqualifications set out in paragraphs (c),
(d), and (e) of clause (2) of article 94 of this Constitution shall not be removed, in respect of any such person, by a presidential pardon or by the lapse of time as provided for in clause (5) of that article.
The president of Ghana must be sworn in by the Chief Justice before people of Ghana at the Independence Square in Accra.
The president-elect must repeat the following:

I, _______________ having been elected to the high office of President of the Republic of Ghana do (in the name of the Almighty God swear) (solemnly affirm) that I will be faithful and true to the Republic of Ghana; that I will at all times preserve, protect and defend the Constitution of the Republic of Ghana; and that I dedicate myself to the service and well-being of the people of the Republic of Ghana and to do right to all manner of persons.

I further (solemnly swear) (solemnly affirm) that should I at any time break this oath of office I shall submit myself to the laws of the Republic of Ghana and suffer the penalty for it.