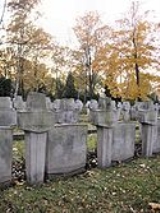 Powazki Cemetery
Powązki Cemetery
also known as the
Stare Powązki
(Old Powązki) is a historic cemetery located in the
Wola
Wola
Wola is a district in western Warsaw, Poland, formerly the village of Wielka Wola, incorporated into Warsaw in 1916. An industrial area with traditions reaching back to the early 19th century, it is slowly changing into an office and residential district...
district, western part of
Warsaw
Warsaw
Warsaw is the capital and largest city of Poland. It is located on the Vistula River, roughly from the Baltic Sea and from the Carpathian Mountains. Its population in 2010 was estimated at 1,716,855 residents with a greater metropolitan area of 2,631,902 residents, making Warsaw the 10th most...
,
Poland
Poland
Poland , officially the Republic of Poland , is a country in Central Europe bordered by Germany to the west; the Czech Republic and Slovakia to the south; Ukraine, Belarus and Lithuania to the east; and the Baltic Sea and Kaliningrad Oblast, a Russian exclave, to the north...
. It is the most famous cemetery in the city, and one of the oldest. Found here are the graves of many illustrious individuals from Polish history, including those interred along the "Avenue of Notables" (
Aleja Zasłużonych
) established in 1925.
The cemetery is often confused with the newer
Powązki Military Cemetery
Powązki Military Cemetery
Powązki Military Cemetery is an old military cemetery located in the Wola district, western part of Warsaw, Poland. The cemetery is often confused with the older Powązki Cemetery, known colloquially as "Old Powązki"...
, which is located to the north-west of the Powązki Cemetery.
Details
The Powązki Cemetery was established on 4 November 1790, it was consecrated on 20 May 1792 and initially covered the area of only about 2.5 ha. In the same year the Saint Karol Boromeusz Church, designed by Dominik Merlini, was built at the cemetery. The
catacombs
Catacombs
Catacombs, human-made subterranean passageways for religious practice. Any chamber used as a burial place can be described as a catacomb, although the word is most commonly associated with the Roman empire...
were also soon built.
Soon afterwards, several other cemeteries were founded in the area: Jewish,
Calvinist
Calvinism
Calvinism is a Protestant theological system and an approach to the Christian life...
,
Lutheran
Lutheranism
Lutheranism is a major branch of Western Christianity that identifies with the theology of Martin Luther, a German reformer. Luther's efforts to reform the theology and practice of the church launched the Protestant Reformation...
,
Caucasian
Caucasus
The Caucasus, also Caucas or Caucasia , is a geopolitical region at the border of Europe and Asia, and situated between the Black and the Caspian sea...
and
Tatar
Tatars
Tatars are a Turkic speaking ethnic group , numbering roughly 7 million.The majority of Tatars live in the Russian Federation, with a population of around 5.5 million, about 2 million of which in the republic of Tatarstan.Significant minority populations are found in Uzbekistan, Kazakhstan,...
. The Orthodox cemetery is located not far from the Powązki
necropolis
Necropolis
A necropolis is a large cemetery or burial ground, usually including structural tombs. The word comes from the Greek νεκρόπολις - nekropolis, literally meaning "city of the dead"...
.
Like many of the old European cemeteries, Powązki's tombstones were created by some of the most renowned sculptors of the age, Polish and foreign. Some of the monuments are excellent examples of various styles in art and architecture.
On
All Saints Day
(November 1) and
Zaduszki
Zaduszki
Zaduszki is a Polish tradition of lighting candles and visiting the graves of the relatives on All Souls Day. Its origins can be traced to the times of Slavic mythology....
(November 2) in Warsaw, vigils are held not only in the Roman Catholic cemeteries, but in the
Protestant
Protestantism
Protestantism is one of the three major groupings within Christianity. It is a movement that began in Germany in the early 16th century as a reaction against medieval Roman Catholic doctrines and practices, especially in regards to salvation, justification, and ecclesiology.The doctrines of the...
,
Muslim
Muslim
A Muslim, also spelled Moslem, is an adherent of Islam, a monotheistic, Abrahamic religion based on the Quran, which Muslims consider the verbatim word of God as revealed to prophet Muhammad. "Muslim" is the Arabic term for "submitter" .Muslims believe that God is one and incomparable...
, Jewish and
Orthodox
Eastern Orthodox Church
The Orthodox Church, officially called the Orthodox Catholic Church and commonly referred to as the Eastern Orthodox Church, is the second largest Christian denomination in the world, with an estimated 300 million adherents mainly in the countries of Belarus, Bulgaria, Cyprus, Georgia, Greece,...
cemeteries as well. At Powązki Cemetery, all the graves are decorated with candles.
Selected notable burials
A few of the notables buried here are:
Tekla Bądarzewska-Baranowska

Tekla Badarzewska-Baranowska

Tekla Bądarzewska-Baranowska was a Polish composer.Bądarzewska was born in 1834 in Warsaw. She married Jan Baranowski and they had five children in their nine years of marriage. Bądarzewska-Baranowska died on 29 September 1861 at the age of 27. Her grave in the Powązki Cemetery features a young...


(1834–1861), composer
Izabela Barcińska née Chopin (1811-1881), youngest sister of Fryderyk Chopin, composer.
Wojciech Bogusławski (1757–1829), writer, actor, director
Emilka Chopin (1812-1827), sister of Fryderick Chopin, composer.
Ludwika Jędrzejewiczowa nee Chopin (1807-1855), oldest sister of Fryderyk Chopin, composer.
Mikołaj Chopin (1771-1844), father of Fryderyk Chopin, composer.
Justyna Chopin (d.1861), mother of Fryderyk Chopin, composer.
Gerard Antoni Ciołek (1909–1966), architect and historian of gardens
Ignacy Dobrzyński (1807–1867), composer
Jerzy Duszyński

Jerzy Duszyński

Jerzy Duszyński was one of the most popular actors in a post-war Poland. He starred in a number of film productions as well as theatrical plays.-Biography:...


(1917–1978), actor
Józef Elsner

Józef Elsner

Józef Antoni Franciszek was a composer, music teacher and music theoretician, active mainly in Warsaw...


(1769-1854), composer and conductor. Piano teacher of Fryderyk Chopin.
Władysław Filipkowski (1892–1950), military commander
Pola Gojawiczyńska

Pola Gojawiczyńska

Pola Gojawiczyńska, real name Apolonia Gojawiczyńska, née Koźniewska was a Polish writer.-Early life:...


(1896–1963), writer
Józef Gosławski, (1908–1963), sculptor and medallic artist
Leopold Janikowski (1855–1942), meteorologist, explorer and ethnographer
Stanisław Janikowski (1891–1965), Polish diplomat
Stefan Jaracz

Stefan Jaracz

Stefan Jaracz was a Polish actor and theater director. The Stefan Jaracz Theatre in Łódź, Poland is named after him.-Life:He was born in Stare Żukowice, near Tarnów, and died in Otwock, near Warsaw....


(1883–1945), actor
Jan Kiepura

Jan Kiepura

Jan Wiktor Kiepura was an acclaimed Polish singer and actor.-Biography:...


(1902–1966), singer and actor
Krzysztof Kieślowski

Krzysztof Kieslowski

Krzysztof Kieślowski was an Academy Award nominated influential Polish film director and screenwriter, known internationally for The Double Life of Veronique and his film cycles The Decalogue and Three Colors.-Early life:...


(1941–1996), film director
Jan Kiliński

Jan Kilinski

Jan Kiliński was one of the commanders of the Kościuszko Uprising. A shoemaker by trade, he commanded the Warsaw Uprising of 1794, an uprising against the Russian garrison in Warsaw. He became a member of Polish provisional government as well.Jan Kiliński was born in Trzemeszno, a minor town in...


(1760–1819), freedom fighter
Stefan Kisielewski

Stefan Kisielewski

Stefan Kisielewski , nicknames Kisiel, Julia Hołyńska, Teodor Klon, Tomasz Staliński, was a Polish writer, publicist, composer and politician, and one of the members of Znak, one of the founders of the UPR, the polish libertarian and conservative political party.Kisielewski was born to a Polish...


(1911–1991), art critic and writer
Krzysztof Komeda

Krzysztof Komeda

Krzysztof Komeda was a Polish film music composer and jazz pianist. Perhaps best-known for his work in film scores, Komeda wrote the scores for Roman Polanski's films Rosemary's Baby, The Fearless Vampire Killers, Knife in the Water and Cul-de-sac...


(1931–1969), jazz

Jazz

Jazz is a musical style that originated at the beginning of the 20th century in African American communities in the Southern United States. It was born out of a mix of African and European music traditions. From its early development until the present, jazz has incorporated music from 19th and 20th...


composer
Henryk Kuna

Henryk Kuna

Henryk Kuna was a sculptor, active in the early twentieth century. His long career produced many famous works of arts including several renowned public monuments in his native country of Poland.-Life:...


(1885–1945), sculptor
Tadeusz Łomnicki (1927–1992), actor
Witold Lutosławski (1913–1994), composer
Witold Małcużyński (1914–1977), classical pianist
Stefan Mazurkiewicz

Stefan Mazurkiewicz

Stefan Mazurkiewicz was a Polish mathematician who worked in mathematical analysis, topology, and probability. He was a student of Wacław Sierpiński and a member of the Polish Academy of Learning...


(1888–1945), co-founder of the Warsaw school of mathematics
Stanisław Moniuszko

Stanisław Moniuszko

Stanisław Moniuszko was a Polish composer, conductor and teacher. His output includes many songs and operas, and his musical style is filled with patriotic folk themes of the peoples of the former Polish-Lithuanian Commonwealth...


(1819–1872), composer
Antoni Osuchowski

Antoni Osuchowski

Antoni Osuchowski was a Polish lawyer, publicist, philanthropist and national activist in Silesia, Warmia and Mazury....


(1849–1928), philanthropist and national activist
Lech Pijanowski

Lech Pijanowski

Lech Pijanowski was a Polish film critic, broadcaster, director, screenwriter and populiser of games.He is buried in the Powazki Cemetery.-Games:...


(1928–1974), film-maker and game designer
Bolesław Prus (1847–1912), journalist and novelist
Kazimierz Pużak

Kazimierz Puzak

Kazimierz Pużak was a Polish politician of the interwar period. Active in the Polish Socialist Party, he was one of the leaders of the Polish Secret State and Polish resistance, sentenced by the Soviets in the infamous Trial of the Sixteen in 1945.-Biography:Born on 26 August 1883 in a family of...


(1883–1950), died in the Communist

Communism

Communism is a social, political and economic ideology that aims at the establishment of a classless, moneyless, revolutionary and stateless socialist society structured upon common ownership of the means of production...


prison

Prison

A prison is a place in which people are physically confined and, usually, deprived of a range of personal freedoms. Imprisonment or incarceration is a legal penalty that may be imposed by the state for the commission of a crime...


, secretly buried in Powązki
Władysław Reymont (1867–1925), Nobel Prize

Nobel Prize

The Nobel Prizes are annual international awards bestowed by Scandinavian committees in recognition of cultural and scientific advances. The will of the Swedish chemist Alfred Nobel, the inventor of dynamite, established the prizes in 1895...


-winning novelist
Irena Sendlerowa (1910–2008), head of Children's Section of the Żegota

Zegota

"Żegota" , also known as the "Konrad Żegota Committee", was a codename for the Polish Council to Aid Jews , an underground organization of Polish resistance in German-occupied Poland from 1942 to 1945....



Wacław Sierpiński (1882–1969), mathematician
Andrzej Sołtan (1897–1959), physicist
Michał Karaszewicz-Tokarzewski (1893–1964), general
Jerzy Waldorff

Jerzy Waldorff

Jerzy Waldorff-Preyss was a Polish writer, publicist, literary critic and music activist. Author of over 20 books, mostly on the subject of classical music...


(1910–1999), art critic and one of the benefactors of the Cemetery
Henryk Wieniawski

Henryk Wieniawski

Henryk Wieniawski was a Polish violinist and composer.-Biography:Henryk Wieniawski was born in Lublin, Congress Poland, Russian Empire. His father, Tobiasz Pietruszka, had converted to Catholicism. His talent for playing the violin was recognized early, and in 1843 he entered the Paris...


(1835–1870), composer
Kazimierz Wierzyński

Kazimierz Wierzynski

Kazimierz Wierzyński was a Polish poet and journalist.-Life:Kazimierz Wierzyński was born in Drohobycz, Kingdom of Galicia and Lodomeria, and died in London....


(1894–1969), poet and writer
Stanisław Wigura (1901–1932), aircraft designer and aviator
Stanisław Wojciechowski (1869–1953), president of Poland
Aleksander Zelwerowicz

Aleksander Zelwerowicz

Aleksander Zelwerowicz was a Polish actor, director, theatre president and a teacher. He received the Order of Polonia Restituta and is one of the Polish Righteous among the Nations....


(1877–1955), actor and director, patron of the Warsaw Drama Academy
Franciszek Żwirko (1895–1932), aviator
Wojciech Żywny (1756-1842), first piano teacher of Fryderyk Chopin, composer.