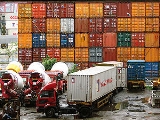 Port of Hong Kong
The
Port of Hong Kong
, located by the
South China Sea
South China Sea
The South China Sea is a marginal sea that is part of the Pacific Ocean, encompassing an area from the Singapore and Malacca Straits to the Strait of Taiwan of around...
, is a deepwater seaport dominated by trade in containerised manufactured products, and to a lesser extent raw materials and passengers. A key factor in the economic development of
Hong Kong
Hong Kong
Hong Kong is one of two Special Administrative Regions of the People's Republic of China , the other being Macau. A city-state situated on China's south coast and enclosed by the Pearl River Delta and South China Sea, it is renowned for its expansive skyline and deep natural harbour...
, the natural shelter and deep waters of
Victoria Harbour
Victoria Harbour
Victoria Harbour is a natural landform harbour situated between Hong Kong Island and the Kowloon Peninsula in Hong Kong. The harbour's deep, sheltered waters and strategic location on the South China Sea were instrumental in Hong Kong's establishment as a British colony and its subsequent...
provide ideal conditions for berthing and handling all types of vessels. It is one of the
busiest ports
World's busiest port
The world's busiest port is contested by several ports around the world, as there is as yet no standardised means of evaluating port performance and traffic. For the past decade, the distinction has been claimed by both the Port of Rotterdam and the Port of Singapore...
in the world, in the three categories of shipping movements, cargo handled and passengers carried.
Administration
Responsibility for administering the port is vested in the Director of Marine. The Port Operations Committee advises him on all matters affecting the efficient operations of the port, except those matters that are the responsibility of the Pilotage Advisory Committee and the Provisional Local Vessels Advisory Committee. The Hong Kong Port Development Council advises the Government on matters related to port planning and development and promoting Hong Kong as a regional hub port and a leading container port in the world. Meanwhile, the Hong Kong Maritime Industry Council advises the Government on measures to further develop Hong Kong's maritime industry and to promote Hong Kong's position as an international maritime centre. Both councils are chaired by the
Secretary for Economic Development and Labour
Secretary for Economic Development and Labour
The Secretary for Economic Development and Labour was the head of the Economic Development and Labour Bureau of the Government of Hong Kong, which is responsible for economic development and labour issues in Hong Kong....
. The Marine Department is responsible for ensuring that conditions exist to enable ships to enter the port, work their
cargo
Cargo
Cargo is goods or produce transported, generally for commercial gain, by ship, aircraft, train, van or truck. In modern times, containers are used in most intermodal long-haul cargo transport.-Marine:...
es and leave as quickly and as safely as possible. It is concerned with many aspects of safety standards for all classes and types of vessels, from the largest oil-carrying tankers to the smallest passenger-carrying sampans. It also maintains aids to navigation and mooring buoys for sea-going ships, manages three cross-boundary ferry terminals and administers eight public cargo-working areas.
Shipping
Hong Kong is one of several hub ports serving the South-East and East Asia region, and is an economic gateway to mainland
China
China
Chinese civilization may refer to:* China for more general discussion of the country.* Chinese culture* Greater China, the transnational community of ethnic Chinese.* History of China* Sinosphere, the area historically affected by Chinese culture...
. Hong Kong set a record in its container throughput in 2007 by handling 23.9 million TEUs (20-foot equivalent units of containers), maintaining its status as
the largest container port serving southern China and one of the busiest ports in the world. Some 456,000 vessels arrived in and departed from Hong Kong during the year, carrying 243 million tonnes of cargo and about 25 million passengers.. The average turnaround time for container vessels in Hong Kong is about 10 hours. For conventional vessels working in mid-stream at buoys or anchorages, it is 42 and 52 hours respectively.
Container traffic
The port has been one of the busiest container ports in the world for many years, and at times the busiest. It was the
world's busiest
container port from 1987 to 1989, from 1992 to 1997, and from 1999 to 2004.
Container terminals
There are currently nine container terminals situated at
Kwai Chung
Kwai Chung
Kwai Chung is a town in the New Territories of Hong Kong. Together with Tsing Yi Island, it is part of the Kwai Tsing District of Hong Kong. Kwai Chung is the site of the container port. It is also part of Tsuen Wan New Town. In 2000, it had a population of 287,000...
,
Stonecutters Island
Stonecutters Island
Stonecutters Island or Ngong Shuen Chau is a former island in Victoria Harbour, Hong Kong. Following land reclamation, it is now annexed to the Kowloon peninsula.-Fauna:...
and
Tsing Yi
Tsing Yi
Tsing Yi , or Tsing Yi Island is an island in the urban area of Hong Kong, to the northwest of Hong Kong Island and south of Tsuen Wan. With an area of 10.69 km², the island has extended drastically by reclamation along almost all its natural shore and the annexation of Nga Ying Chau and Chau...
(the last one completed in 2004). Substantial container throughput is handled by the
River Trade Terminal
River Trade Terminal
River Trade Terminal Company Limited is the only container terminal in Hong Kong for river cargo. It mainly handles and consolidates container and bulk cargo from upstream prior to dispatch to Kwai Tsing Container Terminals and vice versa....
at
Tuen Mun
Tuen Mun
Tuen Mun is a town near the mouth of Tuen Mun River and Castle Peak Bay in the New Territories, Hong Kong. It was one of the earliest settlements in Hong Kong which can be dated back to the Neolithic period. In the more recent past, it was home to many Tanka fishermen who gathered at the Castle...
and by mid-stream.
Kwai Tsing Container Terminals
The
Kwai Tsing Container Terminals
Kwai Tsing Container Terminals
Kwai Tsing Container Terminals is the main port facilities in the reclamation along Rambler Channel between Kwai Chung and Tsing Yi Island, Hong Kong. It evolves from 4 berths of Kwai Chung Container Port completed in 1970s. It later expanded with two berths in 1980s...
(Kwai Chung Container Terminals until
Container Terminal 9
Container Terminal 9
Container Terminal 9 or CT9 is the 9th container terminal in Hong Kong. It is located on Tsing Yi Island, facing Rambler Channel. It was the part of Kwai Tsing Container Terminals. The total site area is 1.5 square kilometres and the terminal itself comprises an area 0.68 km² and as long as...
was opened on Tsing Yi), located in the north-western part of the harbour, has nine container terminals with 24
berth
Berth (moorings)
A berth is a location in a port or harbour used specifically for mooring vessels while not at sea.-Locations in a port:Berth is the term used in ports and harbors to define a specific location where a vessel may be berthed, usually for the purposes of loading and unloading.Most berths will be...
s of about 8,500 metres of frontage. It covers a total terminal area of about 2.7 km² which includes container yards and container freight stations. The nine container terminals have a total handling capacity of over .
These terminals are operated by five companies, namely:
Modern Terminals Ltd. (MTL)
Hongkong International Terminals Ltd.

Hongkong International Terminals Ltd.

Hongkong International Terminals Limited is one of several key container port operators in the Port of Hong Kong owned by Hutchison Port Holdings, which is the largest port operator in Hong Kong and the world....


(HIT)
COSCO Information & Technology (H.K.) Ltd.

COSCO

China Ocean Shipping Company, known as COSCO or COSCO Group, is one of the largest liner shipping companies worldwide. It is a government owned company of the People's Republic of China...


(COSCO)
Dubai Port International Terminals Ltd.

Dubai Ports World

DP World is a major operator of marine ports with 49 terminals in operation and a further 9 under development across 31 countries. In 2010, DP World handled nearly 50 million TEU across its portfolio from the Americas to Asia...


(DPI)
Asia Container Terminals Ltd. (ACT)
The existing 8 terminals occupy 2.17 square kilometres of land, providing 18 berths and 6,592 metres deep water frontage. These terminals handle about 60% of total container traffic handled in Hong Kong.
Planning is underway for a potential Container Terminal 10 (CT10), with possible sites narrowed down to either southwest Tsing Yi or northwest Lantau, to the west of the airport.
Container terminals
Terminal
Operator
Depth
(m)
Berths
Quay length
(m)
Quay cranes
Area
(m²)
Capacity
(kTEUs)
Terminal 1 (CT1)
MTL
14
1
4
Terminal 2 (CT2)
MTL
14
1
5
Terminal 3 (CT3)
DPI
14
1
305
6
167,000
>1,200
Terminal 4 (CT4)
HIT
12.5
3
8
Terminal 5 (CT5)
MTL
14
1
4
Terminal 6 (CT6)
HIT
12.5-15.5
3
11
Terminal 7 (CT7)
HIT
15.5
4
15
Terminal 8 East (CT8E)
HIT/COSCO
15.5
2
640
9
300,000
1,800
Terminal 8 West (CT8W)
ACT
15.5
2
740
8
285,000
>2,000
Terminal 9 North (CT9N)
HIT
15.5
2
700
9
190,000
>2,600 (N&S)
Terminal 9 South (CT9S)
MTL
15.5
4
1,240
13
490,000
River Trade Terminal at Tuen Mun
The River Trade Terminal at Tuen Mun involves the consolidation of containers, break bulk and bulk cargo shipped between the Hong Kong port and ports in the Pearl River Delta. The terminal is located near Pillar Point in Tuen Mun, New Territories, and is operated by River Trade Terminal Company Ltd. The 65-hectare terminal, completed in November 1999, has about 3,000 metres of quay, according to Hong Kong Port Development Council data.
Mid-stream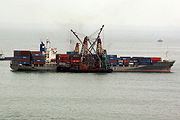 Mid-stream operation
Mid-stream operation
Mid-stream operation is the operation of loading and unloading cargo containers at the container ship while at sea, with barges or dumb steel lighters performing the transfer, distribution or landing of containers to piers nearby....
involves loading and unloading containers to and from ships while at sea, with barges or dumb steel
lighters
Lighter (barge)
A lighter is a type of flat-bottomed barge used to transfer goods and passengers to and from moored ships. Lighters were traditionally unpowered and were moved and steered using long oars called "sweeps," with their motive power provided by water currents...
performing the transfer, and then distributing or landing the containers to piers nearby. Due to high handling fees at the container terminals, Hong Kong has become the only place in the world with at-sea loading and unloading operations.
Currently, there are 11 different yard sites solely for mid-stream operations, occupying a total land area of 27.5 hectares and waterfrontage of 3,197 metres.
Ferry services
The Hong Kong-Macau Ferry Terminal between
Central
Central, Hong Kong
Central is the central business district of Hong Kong. It is located in Central and Western District, on the north shore of Hong Kong Island, across Victoria Harbour from Tsim Sha Tsui, the southernmost point of Kowloon Peninsula...
and
Sheung Wan
Sheung Wan
Sheung Wan is an area in Hong Kong, located in the north-west of Hong Kong Island, between Central and Sai Ying Pun. Administratively, it is part of the Central and Western District...
and the China Ferry Terminal in
Tsim Sha Tsui
Tsim Sha Tsui
Tsim Sha Tsui , often abbreviated as TST, is an urbanized area in southern Kowloon, Hong Kong. The area is administratively part of the Yau Tsim Mong District. Tsim Sha Tsui East is a piece of land reclaimed from the Hung Hom Bay now east of Tsim Sha Tsui...
provide centralised
ferry
Ferry
A ferry is a form of transportation, usually a boat, but sometimes a ship, used to carry primarily passengers, and sometimes vehicles and cargo as well, across a body of water. Most ferries operate on regular, frequent, return services...
services to
Macau
Macau
Macau , also spelled Macao , is, along with Hong Kong, one of the two special administrative regions of the People's Republic of China...
and 24 ports on
mainland China
Mainland China
Mainland China, the Chinese mainland or simply the mainland, is a geopolitical term that refers to the area under the jurisdiction of the People's Republic of China . According to the Taipei-based Mainland Affairs Council, the term excludes the PRC Special Administrative Regions of Hong Kong and...
. About 100 vessels, mostly high-speed passenger craft such as jetfoils, catamarans and
hoverferries
Hovercraft
A hovercraft is a craft capable of traveling over surfaces while supported by a cushion of slow moving, high-pressure air which is ejected against the surface below and contained within a "skirt." Although supported by air, a hovercraft is not considered an aircraft.Hovercraft are used throughout...
, operate from these terminals. In 2001, over 17 million passengers passed through the terminals, comprising approximately 11.2 million passenger trips to/from Macau and 6.5 million passenger trips to/from mainland ports.
Government fleet
There are over 600 vessels of different types and sizes in the government fleet. About 152 vessels are major mechanised vessels serving under 16 government departments such as the Marine Police, Customs and Excise, and
Fire Services
Fire Services
Fire Services is a Hong Kong football team. The majority of the players are working for the Fire Services Department in Hong Kong and playing for the club on an amateur basis.-Honours:* Hong Kong Viceroy Cup** Runners-up : 1969–70...
. Some user departments operate and man their purpose-built vessels. The Marine Department itself controls about 100 vessels, including patrol launches, personnel carriers,
pontoons
Pontoon (boat)
A pontoon is a flotation device with buoyancy sufficient to float itself as well as a heavy load. A pontoon boat is a flattish boat that relies on pontoons to float. Pontoons may be used on boats, rafts, barges, docks, floatplanes or seaplanes. Pontoons may support a platform, creating a raft. A...
, self-propelled barges and specialised vessels such as
hydrographic survey
Hydrographic survey
Hydrographic survey is the science of measurement and description of features which affect maritime navigation, marine construction, dredging, offshore oil exploration/drilling and related disciplines. Strong emphasis is placed on soundings, shorelines, tides, currents, sea floor and submerged...
launches and explosive carriers. These vessels provide support to the department's own port operations or serve other departments which do not have their own fleet. The
Government Dockyard
Government Dockyard
Government Dockyard is a dockyard of Hong Kong Government responsible for the design, procurement and maintenance of all vessels owned by the Government....
is responsible for the design, procurement and maintenance of all vessels owned by the Government. It occupies a site of 980,000 m² on Stonecutters Island and has an 83,000 m² protected water basin as an operational base for vessels operated by the Marine Department. The dockyard has a ship-lift system and three ship-hoists capable of drydocking vessels of up to 750 tonnes. An on-line computerised information system is employed to co-ordinate the maintenance activities and support services to maximise maintenance efficiency and vessel availability.
Drydocks and slipways
The port has extensive facilities for repairing, maintaining, drydocking and slipping of all types of vessels. Two floating drydocks are located off the west coast of Tsing Yi Island and two northeast of Lantau Island. The largest is capable of docking vessels up to . There is also a large number of smaller shipyards, which carry out repairs to vessels and build specialised craft, including sophisticated patrol craft and pleasure vessels for overseas markets.
Port facilities and services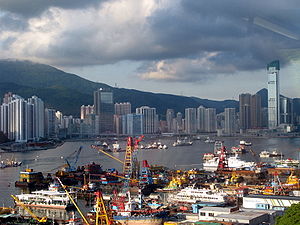 Moorings and anchorages
The Marine Department operates and maintains 58 mooring buoys for sea-going vessels. Of these 31 are suitable for ships up to 183 metres in length and 27 for ships up to 137 metres. There are 44 special typhoon mooring buoys to which ships can remain secured during typhoons. This improves efficiency and reduces operational costs of vessels through elimination of unnecessary movements. In addition to the three Immigration and Quarantine Anchorages designated for visiting vessels to complete port formalities, there are eight dangerous goods and eight general-purpose anchorages providing temporary berthing spaces for vessels.
The areas and water depths of the anchorages are diversified to accommodate different sizes and draughts of ships calling at Hong Kong. There are over 460 modern marine aids to navigation throughout Hong Kong waters to guide mariners to and from their berths.
Navigation safety
All fairway buoys are lit and fitted with radar reflectors. Traffic Separation Schemes operate in the
East Lamma Channel
East Lamma Channel
The East Lamma Channel is a sea channel in Hong Kong. It lies between the western shores of Hong Kong Island and Ap Lei Chau, and the east side of Lamma Island. To the north it leads into the Sulphur Channel and Victoria Harbour, to the south into the South China Sea...
and
Tathong Channel
Tathong Channel
Tathong Channel(大東門), also known as Nam Tong Hoi Hap , refers to the eastern sea waters in Hong Kong leading into Victoria Harbour through Lei Yue Mun, bounded by Junk Island and Tung Lung Chau in the east, and Hong Kong Island in the west....
. The Marine Department's
VHF radio
VHF radio
VHF radio refers to several communications services in the VHF frequency range, including:* Airband aircraft radio* Amateur radio in the 6, 2 and 1-1/4 meter bands* FM radio broadcasts* Marine VHF radio...
network provides comprehensive marine communication coverage throughout the harbour and its approaches. The department has direct communication links with other maritime authorities and users world-wide. Locally, the department's
Maritime Rescue Co-ordination Centre
Hong Kong Maritime Rescue Co-ordination Centre
The Hong Kong Maritime Rescue Co-ordination Centre is responsible for coordinating air-sea rescue in Hong Kong and an extensive area of the South China Sea...
(MRCC) maintains direct contact with emergency response services, which include the Government Flying Service, Marine Police and Fire Services. MRCC provides 24-hour maritime distress alert monitoring and co-ordinates all maritime
search and rescue
Search and rescue
Search and rescue is the search for and provision of aid to people who are in distress or imminent danger.The general field of search and rescue includes many specialty sub-fields, mostly based upon terrain considerations...
operations within the Hong Kong search and rescue region in the South China Sea.
A comprehensive
vessel traffic service
Vessel Traffic Service
A vessel traffic service is a marine traffic monitoring system established by harbour or port authorities, similar to air traffic control for aircraft...
is provided by the department's Vessel Traffic Centre (VTC), with radar surveillance and tracking capabilities as well as a fully integrated data handling sub-system, covers 95% of Hong Kong waters used by sea-going vessels and ferries. The VTC offers advice on the activities of other vessels and gives navigational information to mariners through a sectorised VHF network. This ensures the safety standard and traffic efficiency of the port. An upgraded vessel tracking system, which can track 4,000 moving vessels plus 1,000 stationary targets in real time, has been in operation since early 2002. It provides the latest technology such as
AIS
Automatic Identification System
The Automatic Identification System is an automatic tracking system used on ships and by Vessel traffic services for identifying and locating vessels by electronically exchanging data with other nearby ships and AIS Base stations...
, ECDIS, CCTV, new VHF-direction finders and modern communications systems to further improve navigation safety and operation efficiency. Marine Department patrol launches maintain a watch on shipping, traffic separation schemes, fairways, navigational channels,
typhoon shelter
Typhoon shelter
A typhoon shelter is a shelter for fishing boats during typhoons. These facilities are often found in Hong Kong.-Structure:In its usual form, a typhoon shelter is usually in the form of a bay or a cove, with a narrow opening for access, as most of the opening to the seas are blocked by a man-made...
and cargo-working areas. They provide on-scene support to the VTC, and are in continuous radio contact with the VTC and local marine traffic control stations located at
Ma Wan
Ma Wan
Ma Wan is an island of Hong Kong, located between Lantau Island and Tsing Yi Island, with an area of 0.97 km². Administratively, it is part of Tsuen Wan District....
and Kwai Chung Container Port. The VTC is thus able to promptly initiate and co-ordinate actions required to facilitate safe navigation in the port.
The Hydrographic Office of the Marine Department surveys Hong Kong waters and produces nautical charts to facilitate safe navigation within the port. It functions with reference to the standards laid down by the International Hydrographic Organisation (IHO). Notices to Mariners are promulgated fortnightly to update bilingual nautical charts. A Differential Global Positioning System correction signal is broadcast continuously on 289 kHz to assist mariners using GPS navigation to position-fix their vessels more accurately. Tidal height predictions and real-time tidal information are provided on the department's website. Pilotage is compulsory for ships of 3,000 gross tonnes and above and gas carriers of any tonnage. Quarantine and immigration facilities are available on a 24 hour basis. Advance immigration clearance and radio pratique may be obtained by certain vessels on application.
Dangerous goods
Dangerous goods are moved in the waters of Hong Kong strictly in accordance with the International Maritime Dangerous Goods Code. Their movements must be recorded in Marine Department's Dangerous Goods Information System. Fire-fighting vessels operated by the Fire Services Department are kept in a state of readiness at all times. The Marine Department's pollution control vessels are on 24-hour standby to deal with oil spills.
Other working facilities
To facilitate transfer of cargo between vessels and the shore, and cargo to and from
Pearl River
Pearl River (China)
The Pearl River or less commonly, the "Guangdong River" or "Canton River" etc., , is an extensive river system in southern China. The name Pearl River is usually used as a catchment term to refer to the watersheds of the Xi Jiang , the Bei Jiang , and the Dong Jiang...
ports, the Marine Department provides and manages 7,756 metres of public cargo-working sea frontage in various parts of Hong Kong. Bulk handling facilities for coal and oil are provided at the power generating stations at Tap Shek Kok in
Castle Peak
Castle Peak, Hong Kong
Castle Peak or Pui To Shan is a 583 m high peak in the western New Territories of Hong Kong.In contrast to its Chinese name, which means green hill, Castle Peak is notorious for its severe loss of vegetation and weathering of its Granite surface.The area to the west of the hill was also named...
and at Po Lo Tsui on
Lamma Island
Lamma Island
Lamma Island , also known as Pok Liu Chau or simply Pok Liu , is the third largest island in Hong Kong. Administratively, it is part of the Islands District.-Name:...
.
Hong Kong Shipping Register
Hong Kong is a major centre of ship ownership and management. Ships owned or managed in Hong Kong amount to 34 million gross tonnes. Hong Kong has been recognised by the international shipping sector as a first-rate ship registration centre, where registration of ships is entirely voluntary. At the end of 2001, 653 ships were registered in Hong Kong, with a total gross tonnage of 13.7 million tonnes – a 32 per cent growth over the previous year. The Hong Kong Shipping Register operates independently in its maritime policy and administration. The HKSAR Government issues related certificates under its own legislation in the name of 'Hong Kong, China'. As a quality shipping register, Hong Kong adopts all major international conventions promulgated by the International Maritime Organisation (IMO). As an associate member of the IMO, the Government ensures that ships registered in Hong Kong are maintained to the highest international safety and marine environmental protection standards.
A Flag State Quality Control (FSQC) System was introduced in 1999 to monitor the performance of authorised classification societies and to maintain the quality of ships on the Hong Kong shipping register. Any Hong Kong-registered ship whose quality standard is found to be declining or which is detained by a port state for serious deficiencies will be subject to FSQC inspections by Marine Department surveyors. The department regulates the safety standards of all locally licensed vessels, currently numbering over 10,000. Marine Department surveyors also carry out surveys of new vessels being built abroad for licensing in Hong Kong. Examinations are held regularly for the issuance of both foreign-going and river-trade certificates of competency for
masters
Master mariner
A Master Mariner or MM is the professional qualification required for someone to serve as the person in charge or person in command of a commercial vessel. In England, the term Master Mariner has been in use at least since the 13th century, reflecting the fact that in guild or livery company terms,...
, deck officers and engineers. In addition, local certificates of competency are issued to
coxswain
Coxswain
The coxswain is the person in charge of a boat, particularly its navigation and steering. The etymology of the word gives us a literal meaning of "boat servant" since it comes from cox, a coxboat or other small vessel kept aboard a ship, and swain, which can be rendered as boy, in authority. ...
s and engineers of locally licensed vessels, which operate within the waters of Hong Kong. An inspection and advice service is provided to promote safe working practices in ship-repairing, ship-breaking, cargo-handling on ships and safety afloat.
Seafarers
Hong Kong is a centre for employment of
seafarers
Seafarers
Seafarers can refer to ethnic groups living by the sea in Southeast Asia, and also other sea-living ethnic groups in the world. The ethnic group name refers to a large distribution area, reaching from the islands of Indonesia to Burma...
. 1,200 Hong Kong officers and ratings serve on board more than 420 sea-going ships of 12 different
maritime nation
Maritime nation
A maritime nation is any nation which borders the sea and uses it for any of the following: commerce and transport, war, to define a territorial boundary, or for any maritime activity ....
s. The mercantile marine office registers seafarers, regulates their employment on board ships of all flags and supervises the employment and discharge of seafarers on Hong Kong ships and foreign ships not represented in Hong Kong by a consulate office.
External links