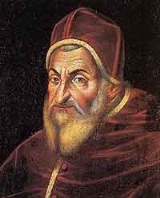 Pope Sixtus V
Pope Sixtus V
born
Felice Peretti di Montalto
, was
Pope
Pope
The Pope is the Bishop of Rome, a position that makes him the leader of the worldwide Catholic Church . In the Catholic Church, the Pope is regarded as the successor of Saint Peter, the Apostle...
from 1585 to 1590.
The chronicler
Andrija Zmajević
Andrija Zmajevic
Andrija Zmajević was a distinguished Serbian Baroque poet and contributor to the Roman Catholic Church from the Bay of Kotor...
states that Felice's family originated from modern-day
Montenegro
Montenegro
Montenegro Montenegrin: Crna Gora Црна Гора , meaning "Black Mountain") is a country located in Southeastern Europe. It has a coast on the Adriatic Sea to the south-west and is bordered by Croatia to the west, Bosnia and Herzegovina to the northwest, Serbia to the northeast and Albania to the...
. Felice's father, Piergentile di Giacomo, had been born in Bjelske Kruševice, a village near
Bijela
Bijela
Bijela is a coastal town within the municipality of Herceg Novi, Montenegro. It is located north of Herceg Novi, by the Verige strait of the Kotor Bay...
in the
Bay of Kotor
Bay of Kotor
The Bay of Kotor in south-western Montenegro is a winding bay on the Adriatic Sea. The bay, sometimes called Europe's southernmost fjord, is in fact a submerged river canyon of the disintegrated Bokelj River which used to run from the high mountain plateaus of Mount Orjen...
, into the
Dalmatian
Dalmatia
Dalmatia is a historical region on the eastern coast of the Adriatic Sea. It stretches from the island of Rab in the northwest to the Bay of Kotor in the southeast. The hinterland, the Dalmatian Zagora, ranges from fifty kilometers in width in the north to just a few kilometers in the south....
Šišić family; moving to Italy to escape the Turkish invasion, and settling in
Ancona
Ancona
Ancona is a city and a seaport in the Marche region, in central Italy, with a population of 101,909 . Ancona is the capital of the province of Ancona and of the region....
as a gardener and subsequently a swineherd.
Felice Peretti was born in December 1520 at
Grottammare
Grottammare
Grottammare is a town and comune on Italy's Adriatic coast, in the province of Ascoli Piceno, Marche region. It receives over 500,000 tourists a year....
, in the
Papal States
Papal States
The Papal State, State of the Church, or Pontifical States were among the major historical states of Italy from roughly the 6th century until the Italian peninsula was unified in 1861 by the Kingdom of Piedmont-Sardinia .The Papal States comprised territories under...
, to Piergentile, nicknamed "Peretto", and Marianna da Frontillo.
What a valiant woman! It is a pity that Elizabeth and I cannot marry. Our children would have ruled the world!

On Queen Elizabeth I of England|Elizabeth I of England