 Polikarpov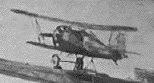 Polikarpov Design Bureau
was a
Soviet
Soviet Union
The Soviet Union , officially the Union of Soviet Socialist Republics , was a constitutionally socialist state that existed in Eurasia between 1922 and 1991....
OKB
OKB
OKB is a transliteration of the Russian acronym for "Опытное конструкторское бюро" - Opytnoe Konstructorskoe Byuro, meaning Experimental Design Bureau...
(design bureau) for aircraft, led by
Nikolai Nikolaevich Polikarpov
Nikolai Nikolaevich Polikarpov
Nikolai Nikolaevich Polikarpov was a Soviet aeronautical engineer and aircraft designer, known as "King of Fighters". He designed the I-15 series of fighters, and the I-16 Ishak "Little Donkey" fighter....
. After his death on 30 July 1944 at the age of 52, his OKB was absorbed into
Lavochkin
Lavochkin
NPO Lavochkin is a Russian aerospace company. It is a major player in the Russian space program, being the developer and manufacturer of the Fregat upper stage, as well as interplanetary probes such as Phobos Grunt...
, but with some of its engineers going to
Mikoyan-Gurevich
Mikoyan
Russian Aircraft Corporation MiG , or RSK MiG, is a Russian joint stock company. Formerly Mikoyan-and-Gurevich Design Bureau , then simply Mikoyan, it is a military aircraft design bureau, primarily designing fighter aircraft...
and its production facilities going to
Sukhoi
Sukhoi
Sukhoi Company is a major Russian aircraft manufacturer, headquartered in Begovoy District, Northern Administrative Okrug, Moscow, famous for its fighters...
. For long time the Polikarpov OKB headquarters were located at Aircraft plant #1 (formerly - Dux aircraft factory) in Moscow, where its specially built building still stands.
Designs
Polikarpov designs:
R-1 biplane reconnaissance aircraft based on the British Airco DH.9A

Airco DH.9A

The Airco DH.9A was a British light bomber designed and first used shortly before the end of the First World War. Colloquially known as the "Ninak" , it served on in large numbers for the Royal Air Force following the end of the war, both at home and overseas, where it was used for colonial...


bomber
R-2 biplane reconnaissance aircraft based on R-1
MR-1 floatplane version of R-1
PM-1 (P-2) biplane airliner
PM-2 (PM-2) floatplane
Po-2 "Mule" (U-2)

Polikarpov Po-2

The Polikarpov Po-2 served as a general-purpose Soviet biplane, nicknamed Kukuruznik for maize; thus, 'maize duster' or 'crop duster'), NATO reporting name "Mule"...


general purpose biplane
I-1 (IL-400)

Polikarpov I-1

|-See also:...


monoplane fighter prototype
DI-1 (2I-N1)

Polikarpov DI-1

-Bibliography:...


twin seat biplane fighter prototype
P-2 biplane trainer prototype
I-3

Polikarpov I-3

-Bibliography:...


biplane fighter
R-4 biplane reconnaissance aircraft (R-1 development)
DI-2 (D-2) twin seat biplane fighter
TB-2

Polikarpov TB-2

|-References:...


twin engined biplane bomber prototype
R-5

Polikarpov R-5

The Polikarpov R-5 was a Soviet reconnaissance bomber aircraft of the 1930s. It was the standard light bomber and reconnaissance aircraft with the Soviet Air Force for much of the 1930s, while also being used heavily as a civilian light transport, in the order of 7,000 being built in...


biplane reconnaissance aircraft
P-5

Polikarpov R-5

The Polikarpov R-5 was a Soviet reconnaissance bomber aircraft of the 1930s. It was the standard light bomber and reconnaissance aircraft with the Soviet Air Force for much of the 1930s, while also being used heavily as a civilian light transport, in the order of 7,000 being built in...


light transport version of R-5
SSS

Polikarpov R-5

The Polikarpov R-5 was a Soviet reconnaissance bomber aircraft of the 1930s. It was the standard light bomber and reconnaissance aircraft with the Soviet Air Force for much of the 1930s, while also being used heavily as a civilian light transport, in the order of 7,000 being built in...


Light bomber development of R-5
R-Z

Polikarpov R-Z

|-See also:-External links:* * *...


ground attack development of R-5
PR-5

Polikarpov R-5

The Polikarpov R-5 was a Soviet reconnaissance bomber aircraft of the 1930s. It was the standard light bomber and reconnaissance aircraft with the Soviet Air Force for much of the 1930s, while also being used heavily as a civilian light transport, in the order of 7,000 being built in...


airliner development of R-5
I-5

Polikarpov I-5

The Polikarpov I-5 was a single-seat biplane which became the primary Soviet fighter between its introduction in 1931 through 1936, after which it became the standard advanced trainer...


biplane fighter
I-6

Polikarpov I-6

|-See also:-Bibliography:...


biplane fighter
I-15 Chaika

Polikarpov I-15

The Polikarpov I-15 was a Soviet biplane fighter aircraft of the 1930s. Nicknamed Chaika because of its gulled upper wings, it was operated in large numbers by the Soviet Air Force, and together with the Polikarpov I-16 monoplane, was one of the standard fighters of the Spanish Republicans during...


biplane fighter
I-16

Polikarpov I-16

The Polikarpov I-16 was a Soviet fighter aircraft of revolutionary design; it was the world's first cantilever-winged monoplane fighter with retractable landing gear. The I-16 was introduced in the mid-1930s and formed the backbone of the Soviet Air Force at the beginning of World War II...


fighter
I-15-2 or I-152 (I-15bis)

Polikarpov I-15

The Polikarpov I-15 was a Soviet biplane fighter aircraft of the 1930s. Nicknamed Chaika because of its gulled upper wings, it was operated in large numbers by the Soviet Air Force, and together with the Polikarpov I-16 monoplane, was one of the standard fighters of the Spanish Republicans during...


biplane fighter
I-15-3 or I-153 Chaika

Polikarpov I-153

The Russian Polikarpov I-153 Chaika was a late 1930s Soviet biplane fighter. Developed as an advanced version of the I-15 with a retractable undercarriage, the I-153 fought in the Soviet-Japanese combats in Mongolia and was one of the Soviet's major fighter types in the early years of the Second...


biplane fighter
Polikarpov I-17

Polikarpov I-17

-External links:*...


fighter
I-180

Polikarpov I-180

The Polikarpov I-180 was a 1938 Soviet fighter aircraft prototype. It was the last attempt to extract performance from the basic Polikarpov I-16 design...


prototype fighter
I-185

Polikarpov I-185

|-See also:-Bibliography:* Abanshin, Michael E. and Gut, Nina. Fighting Polikarpov, Eagles of the East No. 2. Lynnwood, WA: Aviation International, 1994. ISBN 1-884909-01-9....


prototype fighter
Ivanov ground attack aircraft
VIT-1

Polikarpov VIT-1

|-Bibliography:* Gordon, Yefim. Soviet Airpower in World War 2. Hinckley, England: Midland Publishing, 2008 ISBN 978-1-85780-304-4* Gunston, Bill. The Osprey Encyclopaedia of Russian Aircraft 1875–1995. London, Osprey, 1995 ISBN 1-85532-405-9...


twin engined attack aircraft
VIT-2

Polikarpov VIT-2

|-Bibliography:* Gordon, Yefim. Soviet Airpower in World War 2. Hinckley, England: Midland Publishing, 2008 ISBN 978-1-85780-304-4* Gunston, Bill. The Osprey Encyclopaedia of Russian Aircraft 1875–1995. London, Osprey, 1995 ISBN 1-85532-405-9...


development of VIT-1
PR-12 monoplane airliner development from R-5
SPB twin engined dive bomber developed from VIT types
I-190

Polikarpov I-153

The Russian Polikarpov I-153 Chaika was a late 1930s Soviet biplane fighter. Developed as an advanced version of the I-15 with a retractable undercarriage, the I-153 fought in the Soviet-Japanese combats in Mongolia and was one of the Soviet's major fighter types in the early years of the Second...


biplane fighter prototype developed from I-153
TIS (MA)

Polikarpov TIS

|-See also:-References:NotesBibliography* Gordon, Yefim. Soviet Airpower in World War 2. Hinckley, UK: Midland Publishing, 2008. ISBN 978-1-85780-304-4....


twin engined fighter prototype
ITP (M)

Polikarpov ITP

-See also:-External links:* *...


fighter prototype
NB (T)

Polikarpov NB

-References:NotesBibliography* Gordon, Yefim. Soviet Airpower in World War 2. Hinckley, England: Midland Publishing, 2008. ISBN 978-1-85780-304-4....


medium bomber prototype
BDP (S) transport glider
MP powered version of the BDP
Malyutka rocket-powered fighter abandoned incomplete upon Polikarpov's death
Limozin (D) light transport aircraft abandoned incomplete upon Polikarpov's death
I-200

Mig-1

Mig-1 may refer to:* Middle Investment Grade 1, A credit rating for municipal bonds issued by Moody's or Standard and Poor's bond rating agencies* Mikoyan-Gurevich MiG-1 airplane, a fighter aircraft manufactured by Russia...


(MiG-1) fighter