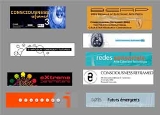 Planetary Collegium
The
Planetary Collegium
is an international platform for research in art, technology and consciousness, with its hub based in the
University of Plymouth
University of Plymouth
Plymouth University is the largest university in the South West of England, with over 30,000 students and is 9th largest in the United Kingdom by total number of students . It has almost 3,000 staff...
, with linked centers ("nodes") in Zurich and Milan. Its president is
Roy Ascott
Roy Ascott
Roy Ascott is a British artist and theorist, who works with cybernetics and telematics. He is President of the Planetary Collegium.- Biography :...
.
The Collegium consists of artists, theoreticians and scholars who meet online, and periodically face-to-face in many parts of the world, to develop their research in the practice and theory of
new media art
New media art
New media art is a genre that encompasses artworks created with new media technologies, including digital art, computer graphics, computer animation, virtual art, Internet art, interactive art, computer robotics, and art as biotechnology...
with a special interest in
telematics
Telematics
Telematics typically is any integrated use of telecommunications and informatics, also known as ICT...
and technoetics. Their doctoral research leads to the award of the
University of Plymouth PhD
. Post-doctoral research is also pursued. Within the context of
transdisciplinarity
Transdisciplinarity
Transdisciplinarity connotes a research strategy that crosses many disciplinary boundaries to create a holistic approach. It applies to research efforts focused on problems that cross the boundaries of two or more disciplines, such as research on effective information systems for biomedical...
and
syncretism
Syncretism
Syncretism is the combining of different beliefs, often while melding practices of various schools of thought. The term means "combining", but see below for the origin of the word...
, the Collegium promotes the integration of art, science, technology, and consciousness research within a post-biological culture. In addition to doctoral candidates and graduates, supervisors and honorary members, its constituency also includes general members, who share the aims and interests of the Collegium, and are invited to participate in its development. It was founded in 1994 at the University of Wales College, Newport as the
Centre for Advanced Inquiry in the Interactive Arts
(
CAiiA
) by
Roy Ascott
Roy Ascott
Roy Ascott is a British artist and theorist, who works with cybernetics and telematics. He is President of the Planetary Collegium.- Biography :...
, who three years later established
STAR
(Science Technology and Art Research) in the School of Computing, University of Plymouth.
CAiiA-STAR
constituted a joint research platform, with access to supervisory and technical resources of both universities. In 2003, Ascott relocated the platform as a whole to the University of Plymouth, renaming it the
Planetary Collegium
. It has attracted an impressive number of internationally well-established artists, musicians, performers, designers, architects, theorists and scholars involved in doctoral and post-doctoral research. With its geographically dispersed members and frequent research sessions and public conferences in Asia, Australia, the Americas and Europe, it constitutes a worldwide research community. The hub of the Collegium,
CAiiA-Hub
(the Centre for Advanced Inquiry in Integrative Arts) is situated in the School of Art and Media, Faculty of Arts, , University of Plymouth. Its Nodes are
M-Node
in Milan and
Z-Node
in Zurich. Since 1997, the Collegium has given over twenty five conferences and symposia in Europe, North and South America, Japan, China and Australia.
Aims
The Planetary Collegium aims to produce new knowledge in the context of the arts , through transdisciplinary inquiry and critical discourse, with special reference to
technoetic
Technoetic
The term technoetic was created by Roy Ascott during his career as an artist and theorist in the fields of cybernetics and telematics. Ascott coined the term from a compound of the Greek words Techne and noetikos, and defined it as the quest to understand the effects of technology on...
research and to advances in science and technology. It seeks:
to reflect social, technological and spiritual aspirations of the emerging planetary society, while sustaining a critical awareness of the retrograde forces and fields that inhibit social and cultural development.
to combine the face-to-face association of individuals with the nomadic, trans-cultural interactions of telematic communities
to develop a network of research nodes strategically located across the planet, each reflecting a distinctive cultural ethos, and each embodied eventually in an architecture of unique distinction.
to develop a syncretic strategy towards art, science, technology, and consciousness research.
The Collegium seeks outcomes that will involve new language, systems, structures, and behaviours, and insights into the nature of mind, matter and human identity.
Collegium Advisory Board
Chair
Roy Ascott

Roy Ascott

Roy Ascott is a British artist and theorist, who works with cybernetics and telematics. He is President of the Planetary Collegium.- Biography :...


, President of the Collegium
Honorary Members of the Collegium
Marco Bischof
James Gimzewski

James Gimzewski

James Kazimierz Gimzewski is a Scottish physicist of Polish descent who pioneered research on electrical contacts with single atoms and molecules and light emission using scanning tunneling microscopy.-Background:...



Pierre Lévy
Luis Eduardo Luna

Luis Eduardo Luna

Luis Eduardo Luna, anthropologist and noted ayahuasca researcher. Dr. Luna was born in 1947, in Florencia, Colombia. He received his doctorate in 1989 from the Institute of Comparative Religion at Stockholm University, as well as an honorary doctorate in 2000 from Saint Lawrence University, New...



Roger Malina
Ryohei Nakatsu
Louise Poissant
Thomas S. Ray

Thomas S. Ray

Thomas S. Ray is an ecologist who created and developed the Tierra project, a computer simulation of artificial life.In 1975, he and Donald R...



Marilyn Schlitz

Marilyn Schlitz

Marilyn Schlitz, Ph.D. is a research scientist, medical anthropologist, and writer on the subjects of consciousness, healing, and consciousness-based healthcare. She is the current President and CEO of the Institute of Noetic Sciences, Senior Scientist at the Research Institute of California...



Barbara Maria Stafford

Barbara Maria Stafford

Barbara Maria Stafford Ph.D. is the William B. Ogden Distinguished Service Professor at the University of Chicago. Her research pursues the multiple means of spatial presentation from the early modern period up to today's digital media. She works at the intersection of the imaging arts, the...



Academic Members of the Collegium
Jane Grant, Principal Supervisor, CAiiA-Node
Francesco Monico

Francesco Monico

Francesco Monico is an artist, educator, broadcaster, and writer in Italy.-Previous activities:Monico worked for ten years as a director, screenwriter and program chief in Italian broadcast, sperimentale and interactive TV, is both a Technoetic researcher and artist...


, Director of M-Node
Mike Phillips, Principal Supervisor, CAiiA-Node
Jill Scott, Director of Z-Node
Planning and Development
Advisory Board
Victoria Vesna (Doctoral Graduate)
Advisory Board
Elif Ayiter (Doctoral Candidate)
The PhD research programme
All part-time doctoral research candidates attend three mandatory ten-day face-to-face Composite Sessions each year over a continuous three year period. Typically, each session involves three days of individual research updates presented for discussion by the group; a three stage critique by all members of the group in respect of each others work; individual supervisory tutorials; a two-day public symposium; and a one-day cultural visit.
Full-time research doctoral candidates are required to be resident in the University of Plymouth or at a Node (Zurich or Milan) for a continuous three year period.
Research Reporting Procedures
Doctoral candidates are required to submit progress reports to the University of Plymouth Research Committee at regular intervals.
At the conclusion of each Composite Session, candidates submit their Research Update (ppt) and Critical Response (Word).
The Transfer Report (5,000 words), accompanied by independent expert commentator's report, is submitted to support the transfer from MPhil to full PhD status.
After a minimum of four year's research, a candidate is eligible to submit a thesis for Final Examination, which includes a viva voce examination. The final submission may consist in either a written thesis of 80,000 words, or a thesis consisting in two parts: a digital portfolio of practical work which has been initiated, researched and developed exclusively within the candidate's registered research period, and a linked narrative of no less than 35, 000 words.
The Consciousness Reframed Conferences
Instituted by Roy Ascott, the international research conference series
Consciousness Reframed: art and consciousness in the post-biological era
brings together each year between 60 and 100 presenters from up to 25 countries
1997, 1998, and 2000. University of Wales College, Newport

1998. University of Plymouth, England. Conference workshop The Architecture of Consciousness
2002. Perth, Western Australia. Hosted by Curtin University
2003. University of Wales College ,Newport.
2004. Beijing, China. Qi and Complexity Digital Media Studio, Central Academy of Fine Arts; China Electronic Music Center, Central Conservatory of Music; Department of Digital Art and Design, School of Software, Peking University

Peking University

Peking University , colloquially known in Chinese as Beida , is a major research university located in Beijing, China, and a member of the C9 League. It is the first established modern national university of China. It was founded as Imperial University of Peking in 1898 as a replacement of the...


; Institute of Digital Media, Beijing Normal University.
2005. University of Plymouth, England. Altered States: Transformations of Perception, Place & Performance.
2006. University of Plymouth, England. Altered States: Immatereality.
2008. Vienna, Austria. New Realities : Being Syncretic Hosted by Universität für Angewandte Kunst Wien.
2009. Munich, Germany. Macromedia Hochschule für Medien und Kommunikation. Experiencing Design, Behaving Media .
2010. Trondheim, Norway. TEKS - Trondheim Electronic Arts Center. Making Reality Really Real .
2011. Shanghai, China. Institute of Visual Art, Fudan University. Transcultural Tendencies | Transmedial Tendencies.
2011. Centro Cultural Belem and Artshare. Lisbon, Portugal. Presence in the Mindfield: Art, Identity and the Technology of Transformation .
2012. Ionion Center for the Arts and Culture. Kefalonia, Greece. Technoetic Telos: Art, Myth and Media
Research Sessions and Public Conferences
Sessions and conferences have been hosted by:
Artspace Media Centre, Dublin (1997)

La Beneficia Cultural Centre, Valencia (1998)
CYPRES

Cypres

CYPRES is an acronym for Cybernetic Parachute Release System. It refers to a specific make and model of an automatic activation device , a device that automatically opens a parachute under certain circumstances. A CYPRES will usually open at a preset altitude if the rate of descent is over a...


, Marseilles (1999)
Federal University, Rio de Janeiro

Rio de Janeiro

Rio de Janeiro , commonly referred to simply as Rio, is the capital city of the State of Rio de Janeiro, the second largest city of Brazil, and the third largest metropolitan area and agglomeration in South America, boasting approximately 6.3 million people within the city proper, making it the 6th...


(1999)
University of Arizona

University of Arizona

The University of Arizona is a land-grant and space-grant public institution of higher education and research located in Tucson, Arizona, United States. The University of Arizona was the first university in the state of Arizona, founded in 1885...


, Tucson (2000)
École Nationale Supérieure des Beaux-Arts

École Nationale Supérieure des Beaux-Arts

The École Nationale Supérieure des Beaux-arts is the distinguished National School of Fine Arts in Paris, France.The École des Beaux-arts is made up of a vast complex of buildings located at 14 rue Bonaparte, between the quai Malaquais and the rue Bonaparte, in the heart of Saint-Germain-des-Près,...


, Paris

Paris

Paris is the capital and largest city in France, situated on the river Seine, in northern France, at the heart of the Île-de-France region...


(2000)
Fondazione Fitzcaraldo, Turin (2001)
Universitat Oberta de Catalunya

Universitat Oberta de Catalunya

The Open University of Catalonia is a private Internet-centered open university based in Barcelona, Spain.The UOC offers graduate and postgraduate programs in Catalan and Spanish in fields such as Psychology, Computer Science, Sciences of Education, Information and Knowledge Society and Economics...


, Barcelona

Barcelona

Barcelona is the second largest city in Spain after Madrid, and the capital of Catalonia, with a population of 1,621,537 within its administrative limits on a land area of...


(2001)
University of California DARNet, Santa Cruz

Santa Cruz, California

Santa Cruz is the county seat and largest city of Santa Cruz County, California in the US. As of the 2010 U.S. Census, Santa Cruz had a total population of 59,946...


and Los Angeles

Los Ángeles

Los Ángeles is the capital of the province of Biobío, in the commune of the same name, in Region VIII , in the center-south of Chile. It is located between the Laja and Biobío rivers. The population is 123,445 inhabitants...


(2001)
University of Arizona, Tucson (2002)
Curtin University, Perth, Western Australia (2002)
IAMAS, Ogaki, Japan

Japan

Japan is an island nation in East Asia. Located in the Pacific Ocean, it lies to the east of the Sea of Japan, China, North Korea, South Korea and Russia, stretching from the Sea of Okhotsk in the north to the East China Sea and Taiwan in the south...


(2002)
The Hochschule fuer Gestaltung und Kunst, Zurich (2003)
Image Technology Center, Universidade Federal do Rio de Janeiro

Universidade Federal do Rio de Janeiro

The Federal University of Rio de Janeiro is one of the largest federal universities of Brazil, where public universities comprise the majority of the best and most qualified institutions...


, Paraciutu and Fortaleza

Fortaleza

Fortaleza is the state capital of Ceará, located in Northeastern Brazil. With a population close to 2.5 million , Fortaleza is the 5th largest city in Brazil. It has an area of and one of the highest demographic densities in the country...


(2003)
Ciberart, Bilbao

Bilbao

Bilbao ) is a Spanish municipality, capital of the province of Biscay, in the autonomous community of the Basque Country. With a population of 353,187 , it is the largest city of its autonomous community and the tenth largest in Spain...


(2004)
School of Software, Peking University

Peking University

Peking University , colloquially known in Chinese as Beida , is a major research university located in Beijing, China, and a member of the C9 League. It is the first established modern national university of China. It was founded as Imperial University of Peking in 1898 as a replacement of the...


, Beijing (2004)
Texas Woman's University

Texas Woman's University

Texas Woman's University is a co-educational university in Denton, Texas, United States with two health science center branches in Dallas, Texas and Houston, Texas...


, Dallas

Dallas, Texas

Dallas is the third-largest city in Texas and the ninth-largest in the United States. The Dallas-Fort Worth Metroplex is the largest metropolitan area in the South and fourth-largest metropolitan area in the United States...


(2005)
University of Plymouth

University of Plymouth

Plymouth University is the largest university in the South West of England, with over 30,000 students and is 9th largest in the United Kingdom by total number of students . It has almost 3,000 staff...


, Plymouth (2005)
Sabanci University

Sabanci University

Sabancı University is a private research institution located in Istanbul, Turkey. Founded in 1996. SU is a small and highly focused university with 2861 undergraduates and 624 graduates, maintaining a strong emphasis on social and natural sciences...


, Istanbul

Istanbul

Istanbul , historically known as Byzantium and Constantinople , is the largest city of Turkey. Istanbul metropolitan province had 13.26 million people living in it as of December, 2010, which is 18% of Turkey's population and the 3rd largest metropolitan area in Europe after London and...


(2005)
University of Arizona, Tucson (2006)
University of Plymouth

University of Plymouth

Plymouth University is the largest university in the South West of England, with over 30,000 students and is 9th largest in the United Kingdom by total number of students . It has almost 3,000 staff...


, (2006)
SESC http://www.sescsp.org.br/sesc/, São Paulo, Brazil (2006)
Hexagram http://www.hexagram.org/spip.php?page=home&lang=en&sid=0, Montreal (2007)
University of Plymouth

University of Plymouth

Plymouth University is the largest university in the South West of England, with over 30,000 students and is 9th largest in the United Kingdom by total number of students . It has almost 3,000 staff...


, (2007)
Nuova Accademia di Belle Arti Milano - NABA

Nuova Accademia di Belle Arti Milano - NABA

The New Academy of Fine Arts of Milan, is a private academy that was founded in Milan in 1980 on the initiatives of Ausonio Zappa, Guido Ballo, and Tito Varisco. In 1981 it was officially recognised by the Italian Ministry of Public Education...


(2007)
LABoral Centro de Arte y Creación Industrial

LABoral Centro de Arte y Creación Industrial

LABoral Centro de Arte y Creación Industrial is an exhibition centre in Gijón, Spain, for art, science, technology and advanced visual industries...


, Gijon, Asturias, Spain (2008)
Universität für Angewandte Kunst Wien (2007) http://www.dieangewandte.at/stories/storyReader$1157 Vienna, Austria (2008)
SESC http://www.sescsp.org.br/sesc/, São Paulo, Brazil (2008)
La Sala Parpallo http://www.salaparpallo.es/la_sala.html Valencia, Spain (2009)
TBA, Venice, Italy
macromedia hochschule für medien und kommunikation Munich, Germany (2009)