 Pit toilet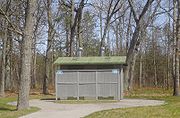 A
pit toilet
is a dry
toilet
Toilet
A toilet is a sanitation fixture used primarily for the disposal of human excrement, often found in a small room referred to as a toilet/bathroom/lavatory...
system which collects human excrement in a large container and range from a simple slit trench to more elaborate systems with ventilation. They are more often used in
rural
Rural
Rural areas or the country or countryside are areas that are not urbanized, though when large areas are described, country towns and smaller cities will be included. They have a low population density, and typically much of the land is devoted to agriculture...
and
wilderness
Wilderness
Wilderness or wildland is a natural environment on Earth that has not been significantly modified by human activity. It may also be defined as: "The most intact, undisturbed wild natural areas left on our planet—those last truly wild places that humans do not control and have not developed with...
areas as well as in much of the developing world. The waste pit, in some cases, will be large enough that the reduction in mass of the contained waste products by the ongoing process of
decomposition
Decomposition
Decomposition is the process by which organic material is broken down into simpler forms of matter. The process is essential for recycling the finite matter that occupies physical space in the biome. Bodies of living organisms begin to decompose shortly after death...
allows the pit to be more or less permanent. In other cases, when the pit becomes too full, it may be emptied or the hole made be covered with soil and the associated structure moved or rebuilt over a new pit.
The pit toilet shares some characteristics with a
composting toilet
Composting toilet
A composting toilet is a dry toilet that using a predominantly aerobic processing system that treats excreta, typically with no water or small volumes of flush water, via composting or managed aerobic decomposition...
, but the later combines the waste with
sawdust
Sawdust
Sawdust is a by-product of cutting lumber with a saw, composed of fine particles of wood. It can present a hazard in manufacturing industries, especially in terms of its flammability....
,
coconut
Coconut
The coconut palm, Cocos nucifera, is a member of the family Arecaceae . It is the only accepted species in the genus Cocos. The term coconut can refer to the entire coconut palm, the seed, or the fruit, which is not a botanical nut. The spelling cocoanut is an old-fashioned form of the word...
coir, peat moss or similar to support aerobic processing in a more controlled manner.
Types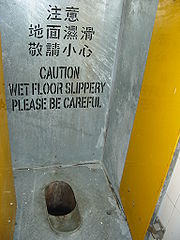 The slit-trench
latrine
Latrine
A latrine is a communal facility containing one or more commonly many toilets which may be simple pit toilets or in the case of the United States Armed Forces any toilet including modern flush toilets...
is the simplest type of pit toilet, consisting of a relatively shallow (3-6 feet/1-2 metres in depth) trench narrow enough to stand with one leg on either side. This type is used either by squatting, with the users' legs straddling the pit, or by various arrangements for sitting or leaning against a support structure. Such support may vary from the simplest forms such as a log, plank, branch or similar arrangement placed at right angles to the long axis of the pit.
A
cathole
Cathole
A cathole or cat hole is a pit for human feces. Catholes are frequently used for the purpose of disposing of bowel movements or waste water by hikers and others engaging in outdoor recreation....
is a one-time use pit toilet often utilized by
camper
Camper
Camper can be one of several things:* a person who engages in camping.** in online games, a player who stays in one area of the game world, see camping ....
s, hikers and other outdoor recreationalists. In Australia and New Zealand a rudimentary toilet consisting of a small
outhouse
Outhouse
An outhouse is a small structure separate from a main building which often contained a simple toilet and may possibly also be used for housing animals and storage.- Terminology :...
over a pit is called a "long drop."
In some former
Soviet Union
Soviet Union
The Soviet Union , officially the Union of Soviet Socialist Republics , was a constitutionally socialist state that existed in Eurasia between 1922 and 1991....
regions, particularly in Asia, pit toilets were called
Stalin's footprints
, after the characteristic platform — mass-produced in Soviet times — with a hole and recognisable pits for feet on each side.
Advanced designs
While an "advanced pit toilet" might sound like an
oxymoron
Oxymoron
An oxymoron is a figure of speech that combines contradictory terms...
, in its more complex forms, or higher capacity forms - commonly associated with outhouses though sometimes used underneath a house, or as a central collection area for several outhouses or other
waste collection
Waste collection
Waste collection is the component of waste management which results in the passage of a waste material from the source of production to either the point of treatment or final disposal...
arrangements - the pit will be larger, and covered with a supporting structure. This structure may be simply a metal plate, or board floor - with a hole over which the user positions themselves during use. A provision for seating is often placed above a pit toilet, this may be a simple hole, or several holes, in a board surface at sitting height. In bitter cold Arctic climates,
honey bucket
Honey bucket
A honey bucket is a bucket that is used as a toilet in communities that lack a water-borne sewage system. The honey bucket sits under a wooden frame affixed with a toilet seat lid and may be lined with a plastic bag...
s are used inside the home and carried to such covered pits outside.
A more "inviting" structure may also be built. Many of the more elaborate
outhouse

Outhouse

An outhouse is a small structure separate from a main building which often contained a simple toilet and may possibly also be used for housing animals and storage.- Terminology :...


s
provide not only a roof for shelter, but also one or more private rooms in which the users may find a comfortable seat with a hole in it, and perhaps access to water for washing.
Ventilated improved pit latrine (VIP)
The ventilated improved pit latrine, or VIP, is a pit toilet with a black pipe (vent pipe) fitted to the pit, and a screen (flyscreen) at the top outlet of the pipe. VIP latrines are an improvement to overcome the disadvantages of simple pit latrines,i.e. fly and mosquito nuisance and unpleasant odors. The smell is carried upwards by the chimney effect and flies are prevented from leaving the pit and spreading disease.
Odor and Insect Control Mechanism
The principal mechanism of ventilation in VIP latrines is the action of wind blowing across the top of the vent pipe. The wind creates a strong circulation of air through the superstructure, down through the squat hole,across the pit and up and out of the vent pipe. Unpleasant faecal odors from the pit contents are thus sucked up and exhausted out of vent pipe, leaving the superstructure odor-free. In some cases solar-powered fans are added giving a constant outwards flow from the vent pipe.
Flies, searching for an egg-laying site are attracted by faecal odors coming from the vent pipe, but they are prevented from entering by the flyscreen at the outlet of the vent pipe. Some flies may enter into the pit via the squat hole and lay their eggs there. When new adult flies emerge they instinctively fly towards light. However, if the latrine is dark inside the only light they can see is at the top of the vent pipe. Since the vent pipe is provided with a fly screen at the top, flies will not be able to escape and eventually they will die and fall back into the pit.
To ensure that there is a flow of air through the latrine there must be adequate ventilation of the superstructure. This is usually achieved by leaving openings above and below the door, or by constructing a spiral wall without a door.
Permanent pits
Some pit toilets, which are used by a great number of people -- such as a public restroom in rural areas, or in a woodland park or busy lay-by, rest stop or other similarly busy location -- are built with a
concrete
Concrete
Concrete is a composite construction material, composed of cement and other cementitious materials such as fly ash and slag cement, aggregate , water and chemical admixtures.The word concrete comes from the Latin word...
lining for permanence. In this type, the pit is periodically emptied, usually by a pump mounted on a large truck which also carries a tank for storage. The waste is transported by road to a
sewage treatment
Sewage treatment
Sewage treatment, or domestic wastewater treatment, is the process of removing contaminants from wastewater and household sewage, both runoff and domestic. It includes physical, chemical, and biological processes to remove physical, chemical and biological contaminants...
facility, or to be composted elsewhere. There are numerous
Licensed waste hauling
companies providing such service in areas where it is needed.
Dry pits
This concrete-lined waste pit is one type of
dry pit
design. A dry pit does not penetrate the
water table
Water table
The water table is the level at which the submarine pressure is far from atmospheric pressure. It may be conveniently visualized as the 'surface' of the subsurface materials that are saturated with groundwater in a given vicinity. However, saturated conditions may extend above the water table as...
, while a wet pit does. In locations near streams or where undue seepage may occur, such as on a slope, the dry pit design may be preferred, even in "low traffic" use.
Hygienic use
Covering the deposit prevents smells and discourages some fly species which might see it as a place to feed or reproduce. Earth, sand or sawdust (six inches) can be added to simple types pit toilet after each use. Ashes and lime (one inch) are also effective.
Hazards/gas collection
Due to the possible danger caused by containing potentially explosive
methane
Methane
Methane is a chemical compound with the chemical formula . It is the simplest alkane, the principal component of natural gas, and probably the most abundant organic compound on earth. The relative abundance of methane makes it an attractive fuel...
or other gases created by the decomposition of human waste, as well as to provide a more pleasant-smelling outhouse, a ventilation pipe or other arrangement is used to allow the gas to escape. In some cases, the methane may be collected for later use as fuel. see: Methane recovery (gasification)
Further reading