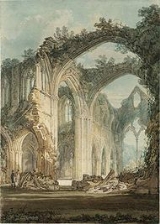 Picturesque
Picturesque
is an aesthetic ideal introduced into English cultural debate in 1782 by
William Gilpin
William Gilpin (clergyman)
The Reverend William Gilpin was an English artist, clergyman, schoolmaster, and author, best known as one of the originators of the idea of the picturesque.-Early life:...
in
Observations on the River Wye, and Several Parts of South Wales, etc. Relative Chiefly to Picturesque Beauty; made in the Summer of the Year 1770
, a practical book which instructed England's leisured travelers to examine "the face of a country by the rules of picturesque beauty". Picturesque, along with the aesthetic and cultural strands of Gothic and
Celticism
Celticism
Celticism may refer to:*a word or linguistic property adapted from a Celtic language **List of English words of Celtic origin**List of English words of Scottish Gaelic origin**Irish words used in the English language...
, was a part of the emerging
Romantic
Romanticism
Romanticism was an artistic, literary and intellectual movement that originated in the second half of the 18th century in Europe, and gained strength in reaction to the Industrial Revolution...
sensibility of the 18th century.
The term "picturesque" needs to be explained in terms of its relationship to two other aesthetic ideals: those of the
beautiful
Beauty
Beauty is a characteristic of a person, animal, place, object, or idea that provides a perceptual experience of pleasure, meaning, or satisfaction. Beauty is studied as part of aesthetics, sociology, social psychology, and culture...
and the
sublime
Sublime (philosophy)
In aesthetics, the sublime is the quality of greatness, whether physical, moral, intellectual, metaphysical, aesthetic, spiritual or artistic...
. By the last third of the 18th century,
Enlightenment
Age of Enlightenment
The Age of Enlightenment was an elite cultural movement of intellectuals in 18th century Europe that sought to mobilize the power of reason in order to reform society and advance knowledge. It promoted intellectual interchange and opposed intolerance and abuses in church and state...
rationalist ideas about aestheticism were being challenged by looking at the experiences of beauty and sublimity as being non-rational (instinctual).
Aesthetic experience
Aesthetics
Aesthetics is a branch of philosophy dealing with the nature of beauty, art, and taste, and with the creation and appreciation of beauty. It is more scientifically defined as the study of sensory or sensori-emotional values, sometimes called judgments of sentiment and taste...
was not just a rational decision - one did not look at a pleasing curved form and decide it was beautiful - rather it was a matter of basic human instinct and came naturally.
Edmund Burke
Edmund Burke
Edmund Burke PC was an Irish statesman, author, orator, political theorist and philosopher who, after moving to England, served for many years in the House of Commons of Great Britain as a member of the Whig party....
in his 1757
Philosophical Enquiry into the Origin of Our Ideas of the Sublime and the Beautiful
said the soft gentle curves appealed, he thought, to the male sexual desire, while the sublime horrors appealed to our desires for self-preservation. Picturesque arose as a mediator between the opposed ideals of beauty and the sublime, showing the possibilities that existed in between these two rationally idealized states. As
Thomas Gray
Thomas Gray
Thomas Gray was a poet, letter-writer, classical scholar and professor at Cambridge University.-Early life and education:...
wrote in 1765 of the Scottish Highlands "The mountains are ecstatic.. None but.. God know how to join so much beauty with so much horror." See also Gilpin and the picturesque.
Background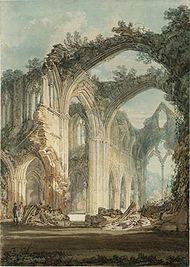 During the mid 18th century the idea of purely scenic pleasure touring began to take hold among the English leisured class. Gilpin's work was a direct challenge to the ideology of the well established
Grand Tour
Grand Tour
The Grand Tour was the traditional trip of Europe undertaken by mainly upper-class European young men of means. The custom flourished from about 1660 until the advent of large-scale rail transit in the 1840s, and was associated with a standard itinerary. It served as an educational rite of passage...
, showing how an exploration of rural Britain could compete with classically oriented tours of the Continent. The irregular, anti-classical, ruins and even ruined people - the ragged poor (viewed from a safe distance of course) - became sought after themes.
Picturesque-hunters began crowding the
Lake District
Lake District
The Lake District, also commonly known as The Lakes or Lakeland, is a mountainous region in North West England. A popular holiday destination, it is famous not only for its lakes and its mountains but also for its associations with the early 19th century poetry and writings of William Wordsworth...
to make sketches using '
Claude Glass
Claude glass
A Claude glass is a small mirror, slightly convex in shape, with its surface tinted a dark colour. Bound up like a pocket-book or in a carrying case, black mirrors were used by artists, travellers and connoisseurs of landscape and landscape painting...
es' - tinted portable mirrors to frame and darken the view, and named after the 17th century landscape painter
Claude Lorrain
Claude Lorrain
Claude Lorrain, , traditionally just Claude in English Claude Lorrain, , traditionally just Claude in English (also Claude Gellée, his real name, or in French Claude Gellée, , dit le Lorrain) Claude Lorrain, , traditionally just Claude in English (also Claude Gellée, his real name, or in French...
, whose work Gilpin saw as synonymous with the picturesque and worthy of emulation. As Malcolm Andrews remarks, there is "something of the big-game hunter in these tourists, boasting of their encounters with savage landscapes, "capturing" wild scenes, and "fixing" them as pictorial trophies in order to sell them or hang them up in frames on their drawing room walls". Gilpin himself asked, "shall we suppose it a greater pleasure to the sportsman to pursue a trivial animal, than it is to the man of taste to pursue the beauties of nature?" After 1815 when Europe was available to travel again after the wars, new fields for picturesque-hunters opened up in Italy. Anna James wrote in 1820 "Had I never visited Italy, I think I should never have understood the word
picturesque
".
Henry James
Henry James
Henry James, OM was an American-born writer, regarded as one of the key figures of 19th-century literary realism. He was the son of Henry James, Sr., a clergyman, and the brother of philosopher and psychologist William James and diarist Alice James....
exclaimed in
Albano
Albano
Albano may refer to:geography*Albano di Lucania, comune in the province of Potenza, Italy*Albano Laziale, comune in the province of Rome, Italy*Lake Albano, lake in Italy*Albano Sant'Alessandro, comune in the province of Bergamo, Italy...
in the 1870s "I have talked of the picturesque all my life; now at last.. I see it".
Picturesque tourists were also encouraged to reshape the landscapes as settings for
English country house
English country house
The English country house is a large house or mansion in the English countryside. Such houses were often owned by individuals who also owned a London house. This allowed to them to spend time in the country and in the city—hence, for these people, the term distinguished between town and country...
s, exemplified by
Lancelot 'Capability' Brown
Capability Brown
Lancelot Brown , more commonly known as Capability Brown, was an English landscape architect. He is remembered as "the last of the great English eighteenth-century artists to be accorded his due", and "England's greatest gardener". He designed over 170 parks, many of which still endure...
. Following Gilpin's advice, many landowners began designing gardens with irregular sight lines and prefabricated ruins of 'classical' structures.
Picturesque meaning literally "in the manner of a picture; fit to be made into a picture" was a word used as early as 1703 (
Oxford English Dictionary
), and derived from an Italian term
pittoresco
, meaning, "in the manner of a painter," William Gilpin's
Essay on Prints
(1768) defined picturesque as " ... a term expressive of that peculiar kind of beauty, which is agreeable in a picture" (xii).
Notable works
Gilpin's Three Essays: On Picturesque Beauty; On Picturesque Travel; and on Sketching Landscape: to which is Added a Poem, On Landscape Painting was published in London, 1792.
Richard Payne Knight

Richard Payne Knight

Richard Payne Knight was a classical scholar and connoisseur best known for his theories of picturesque beauty and for his interest in ancient phallic imagery.-Biography:...


, An Analytical Inquiry into the Principles of Taste, soon followed, and went into several editions that the author revised and expanded.
A third great essay on the Picturesque was Uvedale Price

Uvedale Price

Sir Uvedale Price, 1st Baronet , author of the Essay on the Picturesque, As Compared With The Sublime and The Beautiful , was a Herefordshire landowner who was at the heart of the 'Picturesque debate' of the 1790s...


, An Essay on the Picturesque, as Compared with the Sublime and the Beautiful; and on the Use of Studying Pictures, for the Purpose of Improving Real Landscape, revised. edition London, 1796.
Dorothy Wordsworth

Dorothy Wordsworth

Dorothy Mae Ann Wordsworth was an English author, poet and diarist. She was the sister of the Romantic poet William Wordsworth, and the two were close for all of their lives...


wrote Recollections of a Tour Made in Scotland, A. D. 1803

Recollections of a Tour Made in Scotland, A. D. 1803

Recollections of a Tour Made in Scotland, A. D. 1803 is a travel memoir by Dorothy Wordsworth about a six-week, 663-mile journey through the Scottish Highlands in August–September 1803 with her brother William Wordsworth and mutual friend Samuel Taylor Coleridge...


(1874) considered a classic of picturesque travel writing.
William Combe

William Combe

William Combe was a British miscellaneous writer. His early life was that of an adventurer, his later was passed chiefly within the "rules" of the King's Bench Prison. He is chiefly remembered as the author of The Three Tours of Dr. Syntax, a comic poem...


and Thomas Rowlandson

Thomas Rowlandson

Thomas Rowlandson was an English artist and caricaturist.- Biography :Rowlandson was born in Old Jewry, in the City of London. He was the son of a tradesman or city merchant. On leaving school he became a student at the Royal Academy...


published an 1809 poem with pictures called The Tour of Doctor Syntax in Search of the Picturesque which was a satire of the ideal and famously skewered Picturesque-hunters.
Humphry Repton

Humphry Repton

Humphry Repton was the last great English landscape designer of the eighteenth century, often regarded as the successor to Capability Brown; he also sowed the seeds of the more intricate and eclectic styles of the 19th century...


applied picturesque theory to the practice of landscape design. In conjunction with the work of Price and Knight, this led to the 'picturesque theory' that designed landscapes should be composed like landscape paintings with a foreground, a middle ground and a background. Repton believed that the foreground should be the realm of art (with formal geometry and ornamental planting), that the middleground should have a parkland character of the type created by Brown and that the background should have a wild and 'natural' character.
John Ruskin

John Ruskin

John Ruskin was the leading English art critic of the Victorian era, also an art patron, draughtsman, watercolourist, a prominent social thinker and philanthropist. He wrote on subjects ranging from geology to architecture, myth to ornithology, literature to education, and botany to political...


identified the "picturesque" as a genuinely modern aesthetic category, in The Seven Lamps of Architecture.
In modern times, the essay by the English architectural historian Christopher Hussey

Christopher Hussey

Christopher Edward Clive Hussey was one of the chief authorities on British domestic architecture of the generation that also included Dorothy Stroud and Sir John Summerson.- Career :...


, The Picturesque: Studies in a Point of View, 1927 focused modern thinking on the development of this approach. The picturesque idea continues to have a profound influence on garden design

Garden design

Garden design is the art and process of designing and creating plans for layout and planting of gardens and landscapes. Garden design may be done by the garden owner themselves, or by professionals of varying levels of experience and expertise...


and planting design.
See also
Borrowed scenery
Context theory

Context theory

Context theory is the theory of how environmental design and planning of new development should relate to its context. When decisions have been taken they are implemented by means of Land Use Plans, Zoning Plans and Environmental Assessments...



Edinburgh

Edinburgh

Edinburgh is the capital city of Scotland, the second largest city in Scotland, and the eighth most populous in the United Kingdom. The City of Edinburgh Council governs one of Scotland's 32 local government council areas. The council area includes urban Edinburgh and a rural area...



Grand Tour

Grand Tour

The Grand Tour was the traditional trip of Europe undertaken by mainly upper-class European young men of means. The custom flourished from about 1660 until the advent of large-scale rail transit in the 1840s, and was associated with a standard itinerary. It served as an educational rite of passage...



John Dixon Hunt

John Dixon Hunt

John Dixon Hunt is an English-born landscape historian. His work particularly focuses on the time between the turn of the seventeenth through the end of the 18th centuries in France and England. Professor Hunt began his academic career teaching English literature...



Landscape painting
Pictoresque Gothic
Planting design
Wye Valley

Wye Valley

The Wye Valley Area of Outstanding Natural Beauty is an internationally important protected landscape straddling the border between England and Wales. It is one of the most dramatic and scenic landscape areas in southern Britain....



External links