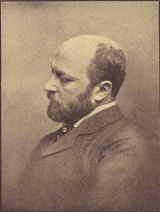 Henry James
Henry James,
OM
Order of Merit
The Order of Merit is a British dynastic order recognising distinguished service in the armed forces, science, art, literature, or for the promotion of culture...
(15 April 1843 – ) was an American-born writer, regarded as one of the key figures of 19th-century
literary realism
Literary realism
Literary realism most often refers to the trend, beginning with certain works of nineteenth-century French literature and extending to late-nineteenth- and early-twentieth-century authors in various countries, towards depictions of contemporary life and society "as they were." In the spirit of...
. He was the son of Henry James, Sr., a clergyman, and the brother of philosopher and psychologist
William James
William James
William James was a pioneering American psychologist and philosopher who was trained as a physician. He wrote influential books on the young science of psychology, educational psychology, psychology of religious experience and mysticism, and on the philosophy of pragmatism...
and diarist
Alice James
Alice James
Alice James was a U.S. diarist. The only daughter of Henry James, Sr. and sister of philosopher William James and novelist Henry James, she is known mainly for the posthumously published diary that she kept in her final years.-Life:Born into a wealthy and intellectually active family, Alice James...
.
James alternated between America and Europe for the first 20 years of his life, after which he settled in England, becoming a
British subject
British subject
In British nationality law, the term British subject has at different times had different meanings. The current definition of the term British subject is contained in the British Nationality Act 1981.- Prior to 1949 :...
in 1915, one year before his death.
Everything about Florence seems to be coloured with a mild violet, like diluted wine.

Letter to Henry James Sr.|Henry James Sr. (26 October 1869)
The face of nature and civilization in this our country is to a certain point a very sufficient literary field. But it will yield its secrets only to a really grasping imagination... To write well and worthily of American things one need even more than elsewhere to be a master.

Letter to Charles Eliot Norton|Charles Eliot Norton (1871-01-16)
It's a complex fate, being an American, and one of the responsibilities it entails is fighting against a superstitious valuation of Europe.

Letter to Charles Eliot Norton (1872-02-04)
One might enumerate the items of high civilization, as it exists in other countries, which are absent from the texture of American life, until it should become a wonder to know what was left.

Hawthorne, ch. II: Early Manhood
Whatever question there may be of his [Thoreau's] talent, there can be none, I think, of his genius. It was a slim and crooked one; but it was eminently personal. He was imperfect, unfinished, inartistic; he was worse than provincial — he was parochial; it is only at his best that he is readable.

Hawthorne, ch. IV: Brook Farm and Concord
He would agree that life is a little worth living — or worth living a little; but would remark that, unfortunately, to live little enough, we have to live a great deal.

Hawthorne, ch. V: The Three American Novels
It is, I think, an indisputable fact that Americans are, as Americans, the most self-conscious people in the world, and the most addicted to the belief that the other nations of the earth are in a conspiracy to undervalue them.

Hawthorne, ch. VI: England and Italy