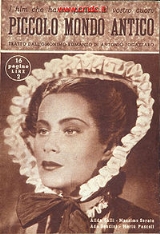 Piccolo mondo antico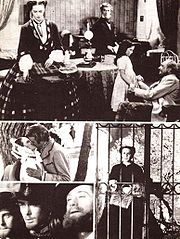 Piccolo mondo antico
also known as
Old-Fashioned World
, is a
1941
1941 in film
The year 1941 in film involved some significant events.-Events:Citizen Kane, consistently rated as one of the greatest films of all time, was released in 1941.-Top grossing films :-Academy Awards:...
Italian
Italy
Italy , officially the Italian Republic languages]] under the European Charter for Regional or Minority Languages. In each of these, Italy's official name is as follows:;;;;;;;;), is a unitary parliamentary republic in South-Central Europe. To the north it borders France, Switzerland, Austria and...
drama film
Drama film
A drama film is a film genre that depends mostly on in-depth development of realistic characters dealing with emotional themes. Dramatic themes such as alcoholism, drug addiction, infidelity, moral dilemmas, racial prejudice, religious intolerance, poverty, class divisions, violence against women...
directed by
Mario Soldati
Mario Soldati
Mario Soldati was an Italian writer and film director.-Biography:Soldati studied Humanities in his native city, Turin, and History of Art in Rome. He started publishing novels in 1929 although his fame came with America primo amore, published in 1935, a diary about the time he spent teaching at...
and based on the 1895 novel by
Antonio Fogazzaro
Antonio Fogazzaro
Antonio Fogazzaro was an Italian novelist.-Biography:Fogazzaro was born in Vicenza to a rich family.In 1864 he got a law degree in Turin...
. Was one of the first colossal of Italian cinema (this movie was important for the relatively young Italian cinema like
Gone With The Wind
Gone with the Wind (film)
Gone with the Wind is a 1939 American historical epic film adapted from Margaret Mitchell's Pulitzer-winning 1936 novel of the same name. It was produced by David O. Selznick and directed by Victor Fleming from a screenplay by Sidney Howard...
was for the American one) and it was also a great success, starting the career of Alida Valli as movie star.
Plot summary
During the Italian Risorgimento (mid-nineteenth century), in the
Lombardy
Lombardy
Lombardy is one of the 20 regions of Italy. The capital is Milan. One-sixth of Italy's population lives in Lombardy and about one fifth of Italy's GDP is produced in this region, making it the most populous and richest region in the country and one of the richest in the whole of Europe...
occupied by Austrian, Franco Maironi (
Massimo Serato
Massimo Serato
Massimo Serato, born Giuseppe Segato, was an Italian film actor with a career spanning over 40 years.Serato was born in Oderzo, Veneto, Italy and started appearing in films in 1938. He played leading roles in several historical dramas and sword and sandal epics, mainly Italian, as well as roles in...
), a young man of noble descent, decides to marry Luisa (
Alida Valli
Alida Valli
Alida Valli , sometimes simply credited as Valli, was an Italian actress who appeared in more than 100 films, including Mario Soldati's Piccolo mondo antico, Alfred Hitchcock's The Paradine Case, Carol Reed's The Third Man, Michelangelo Antonioni's Il Grido, Luchino Visconti's Senso, Bernardo...
), a humble clerk's daughter, against his grandmother, the Marquess Orsola Maironi's wishes. The old lady makes the life of the newly married couple miserable (she destroys the will which would grant Franco his wealth, and causes Luisa's uncle to lose his job, as he was helping them). In the meantime, Luisa gives birth to little Maria. Franco is forced to go to
Turin
Turin
Turin is a city and major business and cultural centre in northern Italy, capital of the Piedmont region, located mainly on the left bank of the Po River and surrounded by the Alpine arch. The population of the city proper is 909,193 while the population of the urban area is estimated by Eurostat...
in search of a job. During his absence, a terrible tragedy upsets Luisa's life: her daughter drowns in Lake Como and the woman is driven to the brink of madness. Franco returns home for a short time but Luisa reacts coldly towards him. During the
Second Italian War of Independence
Second Italian War of Independence
The Second War of Italian Independence, Franco-Austrian War, Austro-Sardinian War, or Austro-Piedmontese War , was fought by Napoleon III of France and the Kingdom of Piedmont-Sardinia against the Austrian Empire in 1859...
Franco becomes a volunteer soldier in the fight against Austrian and again meets his wife by Lake Maggiore. Despite Luisa's coldness, Franco is sure she still loves him. Aware that he might die in the war, he makes love to her one last time, leaving her pregnant.
Cast
Actor
Role
Alida Valli

Alida Valli

Alida Valli , sometimes simply credited as Valli, was an Italian actress who appeared in more than 100 films, including Mario Soldati's Piccolo mondo antico, Alfred Hitchcock's The Paradine Case, Carol Reed's The Third Man, Michelangelo Antonioni's Il Grido, Luchino Visconti's Senso, Bernardo...



Luisa Rigey Maironi
Massimo Serato

Massimo Serato

Massimo Serato, born Giuseppe Segato, was an Italian film actor with a career spanning over 40 years.Serato was born in Oderzo, Veneto, Italy and started appearing in films in 1938. He played leading roles in several historical dramas and sword and sandal epics, mainly Italian, as well as roles in...



Franco Maironi
Ada Dondini

Ada Dondini

Ada Dondini was an Italian film actress. She appeared in 48 films between 1916 and 1954. She was born in Cosenza, Italy and died in Chieti, Italy.-Selected filmography:* Mr...



La marchesa Orsola Maironi
Annibale Betrone
Zio Piero
Mariù Pascoli
Maria Maironi
Giacinto Molteni
Il professore Beniamino Gilardoni
Elvira Bonecchi
La signora Barborin Pasotti
Enzo Biliotti

Enzo Biliotti

Enzo Biliotti was an Italian film actor. He appeared in 80 films between 1916 and 1958.He was born in Livorno, Italy and died in Bologna, Italy.-Selected filmography:* I Love You Only...



Il signor Pasotti
Renato Cialente

Renato Cialente

Renato Cialente was an Italian film actor. He appeared in 40 films between 1920 and 1943.He was born in Treviglio, Lombardy and died in Rome.-Selected filmography:* Beauty of the World...



Von Greisberg
Adele Garavaglia
La signora Teresa Rigey
Carlo Tamberlani

Carlo Tamberlani

Carlo Tamberlani was an Italian film actor. He appeared in 127 films between 1931 and 1976.He was born in Salice Salentino, Italy and died in Subiaco, Italy.-Selected filmography:* La Damigella di Bard...



Don Costa
Giovanni Barrella
Il curato di Puria
Nino Marchetti

Nino Marchetti

Nino Marchetti was an Italian film actor. He appeared in 66 films between 1934 and 1973. He was married to the actress Celeste Almieri.-Selected filmography:* Latin Lovers...



Pedraglio, il cospiratore
Giorgio Constantini
L'avvocato di Varenna
Jone Morino

Jone Morino

Jone Morino was an Italian film actress. She appeared in 45 films between 1920 and 1956.She was born and died in Rome, Italy.-Selected filmography:* Piccolo mondo antico * C'e sempre un ma!...



Donna Eugenia
Anna Carena
Carlotta, la cameriera della marchesa
Dino
External links