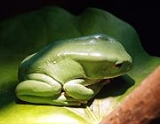 Phyllomedusa boliviana
Phyllomedusa boliviana
is a
species
Species
In biology, a species is one of the basic units of biological classification and a taxonomic rank. A species is often defined as a group of organisms capable of interbreeding and producing fertile offspring. While in many cases this definition is adequate, more precise or differing measures are...
of
frog
Frog
Frogs are amphibians in the order Anura , formerly referred to as Salientia . Most frogs are characterized by a short body, webbed digits , protruding eyes and the absence of a tail...
in the Hylidae family.
It is found in
Argentina
Argentina
Argentina , officially the Argentine Republic , is the second largest country in South America by land area, after Brazil. It is constituted as a federation of 23 provinces and an autonomous city, Buenos Aires...
,
Bolivia
Bolivia
Bolivia officially known as Plurinational State of Bolivia , is a landlocked country in central South America. It is the poorest country in South America...
, and
Brazil
Brazil
Brazil , officially the Federative Republic of Brazil , is the largest country in South America. It is the world's fifth largest country, both by geographical area and by population with over 192 million people...
.
Its natural
habitat
Habitat
* Habitat , a place where a species lives and grows*Human habitat, a place where humans live, work or play** Space habitat, a space station intended as a permanent settlement...
s are subtropical or tropical moist lowland
forest
Forest
A forest, also referred to as a wood or the woods, is an area with a high density of trees. As with cities, depending where you are in the world, what is considered a forest may vary significantly in size and have various classification according to how and what of the forest is composed...
s, subtropical or tropical moist
montane
Montane
In biogeography, montane is the highland area located below the subalpine zone. Montane regions generally have cooler temperatures and often have higher rainfall than the adjacent lowland regions, and are frequently home to distinct communities of plants and animals.The term "montane" means "of the...
s, intermittent freshwater
marsh
Marsh
In geography, a marsh, or morass, is a type of wetland that is subject to frequent or continuous flood. Typically the water is shallow and features grasses, rushes, reeds, typhas, sedges, other herbaceous plants, and moss....
es, and
pond
Pond
A pond is a body of standing water, either natural or man-made, that is usually smaller than a lake. A wide variety of man-made bodies of water are classified as ponds, including water gardens, water features and koi ponds; all designed for aesthetic ornamentation as landscape or architectural...
s.
It is threatened by habitat loss.
Sources