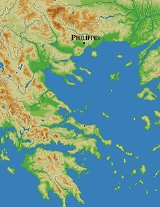 Philippi
Philippi
was a city in eastern
Macedonia
Macedonia (region)
Macedonia is a geographical and historical region of the Balkan peninsula in southeastern Europe. Its boundaries have changed considerably over time, but nowadays the region is considered to include parts of five Balkan countries: Greece, the Republic of Macedonia, Bulgaria, Albania, Serbia, as...
, established by
Philip II
Philip II of Macedon
Philip II of Macedon "friend" + ἵππος "horse" — transliterated ; 382 – 336 BC), was a king of Macedon from 359 BC until his assassination in 336 BC. He was the father of Alexander the Great and Philip III.-Biography:...
in 356 BC and abandoned in the 14th century after the
Ottoman
Ottoman Empire
The Ottoman EmpireIt was usually referred to as the "Ottoman Empire", the "Turkish Empire", the "Ottoman Caliphate" or more commonly "Turkey" by its contemporaries...
conquest. The present municipality
Filippoi
Filippoi
Filippoi , is a village and a former municipality in the Kavala peripheral unit, East Macedonia and Thrace, Greece. Since the 2011 local government reform it is part of the municipality Kavala, of which it is a municipal unit. The 2001 census reported a population of 10,827 for the municipal unit...
is located near the ruins of the ancient city and it is part of the periphery of
East Macedonia
East Macedonia and Thrace
East Macedonia and Thrace is one of the thirteen regions of Greece. It consists of the northeastern parts of the country, comprising the eastern part of the region of Macedonia along with the region of Thrace, and the islands of Thasos and Samothrace....
in
Greece
Greece
Greece , officially the Hellenic Republic , and historically Hellas or the Republic of Greece in English, is a country in southeastern Europe....
.
Philippi was established by the king of Macedon, Philip II, on the site of the
Thasian
Thasos
Thasos or Thassos is a Greek island in the northern Aegean Sea, close to the coast of Thrace and the plain of the river Nestos but geographically part of Macedonia. It is the northernmost Greek island, and 12th largest by area...
colony of Krinides or Crenides , near the head of the
Aegean Sea
Aegean Sea
The Aegean Sea[p] is an elongated embayment of the Mediterranean Sea located between the southern Balkan and Anatolian peninsulas, i.e., between the mainlands of Greece and Turkey. In the north, it is connected to the Marmara Sea and Black Sea by the Dardanelles and Bosporus...
at the foot of Mt.