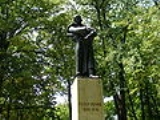 Petar Kocic
Petar Kočić
was a Serb prose writer and politician from
Bosnia and Herzegovina
Bosnia and Herzegovina
Bosnia and Herzegovina , sometimes called Bosnia-Herzegovina or simply Bosnia, is a country in Southern Europe, on the Balkan Peninsula. Bordered by Croatia to the north, west and south, Serbia to the east, and Montenegro to the southeast, Bosnia and Herzegovina is almost landlocked, except for the...
. He was active in the Serbian National Organization with ties to the Mlada Bosna revolutionaries, after which he seceded with his closest supporters leading a wing under his leadership.
Like both
Borisav Stanković
Borisav Stankovic
Borisav "Bora" Stanković was a Serbian writer belonging to the school of realism. His novels and short stories depict the life of people from South Serbia...
, who was self-made and successful storyteller of South Serbia, and Ivo Ćipiko, who gave us a picture of our Adriatic seacoast -- Kočić is a classical representative of
Bosnia
Bosnia and Herzegovina
Bosnia and Herzegovina , sometimes called Bosnia-Herzegovina or simply Bosnia, is a country in Southern Europe, on the Balkan Peninsula. Bordered by Croatia to the north, west and south, Serbia to the east, and Montenegro to the southeast, Bosnia and Herzegovina is almost landlocked, except for the...
n mountains and fresh life of his area.
Biography
Petar Kočić was born in
Stričići
Stričići
Stričići is a village in the municipality of Banja Luka, Republika Srpska, Bosnia and Herzegovina.-References:...
, a village near
Banja Luka
Banja Luka
-History:The name "Banja Luka" was first mentioned in a document dated February 6, 1494, but Banja Luka's history dates back to ancient times. There is a substantial evidence of the Roman presence in the region during the first few centuries A.D., including an old fort "Kastel" in the centre of...
. He attended primary school in Gomjenica Monastery, during which time his mother died and his father became a priest. He started his
gymnasium
Gymnasium (school)
A gymnasium is a type of school providing secondary education in some parts of Europe, comparable to English grammar schools or sixth form colleges and U.S. college preparatory high schools. The word γυμνάσιον was used in Ancient Greece, meaning a locality for both physical and intellectual...
(high-school) education in
Sarajevo
Sarajevo
Sarajevo |Bosnia]], surrounded by the Dinaric Alps and situated along the Miljacka River in the heart of Southeastern Europe and the Balkans....
, but because of his pronounced nationalism, he was expelled from the school and had to finish his secondary education in
Belgrade
Belgrade
Belgrade is the capital and largest city of Serbia. It is located at the confluence of the Sava and Danube rivers, where the Pannonian Plain meets the Balkans. According to official results of Census 2011, the city has a population of 1,639,121. It is one of the 15 largest cities in Europe...
. He studied Slavic Studies under the mentorship of famous Professor
Vatroslav Jagić
Vatroslav Jagic
Vatroslav Jagić was a Croatian language researcher and a famous expert in Slavic languages in the second half of the 19th century.-Life:...
in Vienna. He graduated from the
University of Vienna
University of Vienna
The University of Vienna is a public university located in Vienna, Austria. It was founded by Duke Rudolph IV in 1365 and is the oldest university in the German-speaking world...
and returned to his native region to teach but soon realized that his liberal, nationalistic views were incompatible with the entrenched foreign authority. There he joined a circle of Bosnian students and writers interested in South Slavic literature and national liberation. From then on the rest of his life was devoted to politics. In 1904 he moved back to
Serbia
Kingdom of Serbia
The Kingdom of Serbia was created when Prince Milan Obrenović, ruler of the Principality of Serbia, was crowned King in 1882. The Principality of Serbia was ruled by the Karađorđevic dynasty from 1817 onwards . The Principality, suzerain to the Porte, had expelled all Ottoman troops by 1867, de...
, and for a short while earned his living as a teacher in
Skopje
Skopje
Skopje is the capital and largest city of the Republic of Macedonia with about a third of the total population. It is the country's political, cultural, economic, and academic centre...
. Two years later, already a well-known writer and publicist, he returned to Sarajevo, this time as a clerk of publishing company
Prosveta
, but after a while he was fired for taking a part in a worker's strike, and banished to Banja Luka, where he was persecuted and jailed for his patriotic stance.

There he founded a magazine
Otadžbina
(
Fatherland
), and formed a political group, which advocated a fight against the Austro-Hungarian occupation, and especially a fierce struggle against the remains of feudal slavery. As a national and social revolutionary Kočić was favoured among peasants and progressive youth, and as such he was elected as a member of
Bosanski sabor
(Bosnian parliament) in Sarajevo. Austria recognized Petar Kočić as a serious enemy, continuously persecuting and repeatedly arresting him between 1907 and 1909 for his activities. On the eve of
World War I
World War I
World War I , which was predominantly called the World War or the Great War from its occurrence until 1939, and the First World War or World War I thereafter, was a major war centred in Europe that began on 28 July 1914 and lasted until 11 November 1918...
and the subsequent South Slavic unification, he started to show signs of a
nervous breakdown
Nervous breakdown
Mental breakdown is a non-medical term used to describe an acute, time-limited phase of a specific disorder that presents primarily with features of depression or anxiety.-Definition:...
, and was taken to Belgrade for treatment. He died in a Belgrade mental hospital, not having lived to see the liberation and unification of
South Slavs
South Slavs
The South Slavs are the southern branch of the Slavic peoples and speak South Slavic languages. Geographically, the South Slavs are native to the Balkan peninsula, the southern Pannonian Plain and the eastern Alps...
.
Kočić enriched Serbian literature with three, popular collections of tales, namely
From the Top and Bottom of a Mountain
(
С планине и испод планине
, 1902-1905),
Howls from Zmijanje
(
Јауци са Змијања
, 1910). His two short stories --
Badger on Tribunal
(
Јазавац пред судом
) and
Trials
(
Суданија
), first in a form of play, and second in a form of dialogue -- are excellent satires on the political and social life of the Serbs in Bosnia and Herzegovina.
External links
Petar Kočić: works I-IV (Project Rastko

Project Rastko

Project Rastko — Internet Library of Serb Culture is a non-profit and non-governmental publishing, cultural and educational project dedicated to Serb and Serb-related arts and humanities...


)