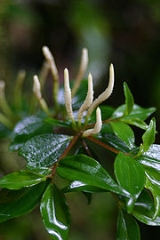 Peperomia
Peperomia
is one of the 2 large
genera
Genus
In biology, a genus is a low-level taxonomic rank used in the biological classification of living and fossil organisms, which is an example of definition by genus and differentia...
of the
Piperaceae
Piperaceae
The Piperaceae, also known as the pepper family, is a large family of flowering plants. The group contains roughly 3,610 currently accepted species in five genera. The vast majority of peppers can be found within the two main genera: Piper and Peperomia .Members of the Piperaceae may be small...
family
Family (biology)
In biological classification, family is* a taxonomic rank. Other well-known ranks are life, domain, kingdom, phylum, class, order, genus, and species, with family fitting between order and genus. As for the other well-known ranks, there is the option of an immediately lower rank, indicated by the...
, with more than 1000 recorded species. Most of them are compact, small
perennial
Perennial plant
A perennial plant or simply perennial is a plant that lives for more than two years. The term is often used to differentiate a plant from shorter lived annuals and biennials. The term is sometimes misused by commercial gardeners or horticulturalists to describe only herbaceous perennials...
epiphyte
Epiphyte
An epiphyte is a plant that grows upon another plant non-parasitically or sometimes upon some other object , derives its moisture and nutrients from the air and rain and sometimes from debris accumulating around it, and is found in the temperate zone and in the...
s growing on rotten wood. More than 1500
species
Species
In biology, a species is one of the basic units of biological classification and a taxonomic rank. A species is often defined as a group of organisms capable of interbreeding and producing fertile offspring. While in many cases this definition is adequate, more precise or differing measures are...
have been recorded, occurring in all
tropical
Tropics
The tropics is a region of the Earth surrounding the Equator. It is limited in latitude by the Tropic of Cancer in the northern hemisphere at approximately N and the Tropic of Capricorn in the southern hemisphere at S; these latitudes correspond to the axial tilt of the Earth...
and subtropical regions of the world, though concentrated to
Central America
Central America
Central America is the central geographic region of the Americas. It is the southernmost, isthmian portion of the North American continent, which connects with South America on the southeast. When considered part of the unified continental model, it is considered a subcontinent...
and northern
South America
South America
South America is a continent situated in the Western Hemisphere, mostly in the Southern Hemisphere, with a relatively small portion in the Northern Hemisphere. The continent is also considered a subcontinent of the Americas. It is bordered on the west by the Pacific Ocean and on the north and east...
. A limited number of species (around 17) are found in
Africa
Africa
Africa is the world's second largest and second most populous continent, after Asia. At about 30.2 million km² including adjacent islands, it covers 6% of the Earth's total surface area and 20.4% of the total land area...
.
Description
Though varying considerably in appearance (see gallery below), these species generally have thick, stout stems and fleshy leaves, sometimes with leaf windows.
Peperomia
flowers typically come in yellow to brown conical
spike
Raceme
A raceme is a type of inflorescence that is unbranched and indeterminate and bears pedicellate flowers — flowers having short floral stalks called pedicels — along the axis. In botany, axis means a shoot, in this case one bearing the flowers. In a raceme, the oldest flowers are borne...
s. Research indicates that Peperomia species contain poisonous elements associated with alkaloid leaves and the stems.
These tropical perennials are grown for their ornamental foliage.They are mostly natives of tropical America. They are compact and usually do not exceed 12 inches (30.5 cm) in height. They vary considerably in appearance. Some have threadlike, trailing stems and some have fleshy, stout stems. The leaves are smooth and fleshy and may be oval with the leafstalk at or near the center of the leaf blade, or they may be heart-shaped or lance-shaped; their size may vary from 1–4 in (2.5–10.2 cm) long. They may be green or striped, marbled or bordered with pale green, red or gray, and the petioles of some kinds are red. The tiny flowers are unnoticeable and they grow in the form of cordlike spikes
Horticulture
Peperomias
are grown for their ornamental foliage and sometimes for their attractive flowers (
Peperomia fraseri
). Except for the succulent species, they are generally easy to grow in a
greenhouse
Greenhouse
A greenhouse is a building in which plants are grown. These structures range in size from small sheds to very large buildings...
. Different species (e.g.
Peperomia caperata
Peperomia caperata
Peperomia caperata is a species of plant in the Piperaceae family....
) and
cultivar
Cultivar
A cultivar'Cultivar has two meanings as explained under Formal definition. When used in reference to a taxon, the word does not apply to an individual plant but to all those plants sharing the unique characteristics that define the cultivar. is a plant or group of plants selected for desirable...
s are found in the trade.
Propagation
These plants are usually propagated by
seed
Seed
A seed is a small embryonic plant enclosed in a covering called the seed coat, usually with some stored food. It is the product of the ripened ovule of gymnosperm and angiosperm plants which occurs after fertilization and some growth within the mother plant...
s. They are also commercially propagated by cuttings.
Peperomia
cuttings root easily.
Plants can be divided at potting time. They are removed and separated into smaller pieces, each with a few roots attached. Leaf or stem cuttings can also be taken in the spring or summer. The lower leaves of the shoots are removed and a cut is made below the bottom node (joint). They are then laid on a bench for an hour or two to allow a protective corky skin to form over the cuts. They are then inserted in a propagating case with bottom heat of 70-75 degrees F. It is best not to seal the top completely, as the plants are semi-succulent in nature and excessive humidity is detrimental. When enough roots have formed, cuttings can be planted in 3-inch pots or in hanging baskets.
External links