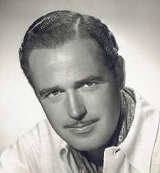 Patric Knowles
Reginald Lawrence Knowles
(11 November 1911 – 23 December 1995) was an English film
actor
Actor
An actor is a person who acts in a dramatic production and who works in film, television, theatre, or radio in that capacity...
who renamed himself
Patric Knowles
, a name which reflects his
Irish
Irish people
The Irish people are an ethnic group who originate in Ireland, an island in northwestern Europe. Ireland has been populated for around 9,000 years , with the Irish people's earliest ancestors recorded having legends of being descended from groups such as the Nemedians, Fomorians, Fir Bolg, Tuatha...
descent. He appeared in films of the 1930s through the 1970s. He made his film debut in 1933, and played either first or second film leads throughout his career.
In his first
American
United States
The United States of America is a federal constitutional republic comprising fifty states and a federal district...
film,
Give Me Your Heart
(1936), released in
Great Britain
Great Britain
Great Britain or Britain is an island situated to the northwest of Continental Europe. It is the ninth largest island in the world, and the largest European island, as well as the largest of the British Isles...
as
Sweet Aloes
, Knowles was cast as a titled Englishman of means.
While making
The Charge of the Light Brigade
The Charge of the Light Brigade (1936 film)
The Charge of the Light Brigade is a 1936 historical film made by Warner Bros. It was directed by Michael Curtiz and produced by Samuel Bischoff, with Hal B. Wallis as executive producer, from a screenplay by Michael Jacoby and Rowland Leigh, from a story by Michael Jacoby based on the poem The...
(1936) at
Lone Pine, California
Lone Pine, California
Lone Pine is a census-designated place in Inyo County, California, United States. Lone Pine is located south-southeast of Independence, at an elevation of 3727 feet . The population was 2,035 at the 2010 census, up from 1,655 at the 2000 census. The town is located in the Owens Valley, near the...
, he befriended
Errol Flynn
Errol Flynn
Errol Leslie Flynn was an Australian-born actor. He was known for his romantic swashbuckler roles in Hollywood films, being a legend and his flamboyant lifestyle.-Early life:...
, whose acquaintance he had made when both were under contract to
Warner Bros.
Warner Bros.
Warner Bros. Entertainment, Inc., also known as Warner Bros. Pictures or simply Warner Bros. , is an American producer of film and television entertainment.One of the major film studios, it is a subsidiary of Time Warner, with its headquarters in Burbank,...
in
England
England
England is a country that is part of the United Kingdom. It shares land borders with Scotland to the north and Wales to the west; the Irish Sea is to the north west, the Celtic Sea to the south west, with the North Sea to the east and the English Channel to the south separating it from continental...
. Since that film, in which Knowles played the part of Capt. Perry Vickers, the brother of Flynn's Maj. Geoffrey Vickers, he was cast more frequently as straitlaced characters alongside Flynn's flamboyant ones, notably as
Will Scarlet
Will Scarlet
Will Scarlet was a prominent member of Robin Hood's Merry Men. He was present in the earliest ballads along with Little John and Much the Miller's Son....
in
The Adventures of Robin Hood
The Adventures of Robin Hood (film)
The Adventures of Robin Hood is a 1938 American swashbuckler film directed by Michael Curtiz and William Keighley. Filmed in Technicolor, the picture stars Errol Flynn, Olivia de Havilland, Basil Rathbone, and Claude Rains.-Plot:...
(1938). Both actors starred as well in
Four's A Crowd
, also in 1938.
More than two decades after Flynn's death, biographer
Charles Higham
Charles Higham (biographer)
Charles Higham is an author, editor and poet. Higham is a recipient of the Prix des Créateurs of the Académie Française and the Poetry Society of London Prize.-Biography:...
sullied Flynn's memory by accusing him of having been a fascist sympathizer and Nazi
spy
SPY
SPY is a three-letter acronym that may refer to:* SPY , ticker symbol for Standard & Poor's Depositary Receipts* SPY , a satirical monthly, trademarked all-caps* SPY , airport code for San Pédro, Côte d'Ivoire...
. Knowles, who had served in
World War II
World War II
World War II, or the Second World War , was a global conflict lasting from 1939 to 1945, involving most of the world's nations—including all of the great powers—eventually forming two opposing military alliances: the Allies and the Axis...
as a flying instructor in the RCAF, came to Flynn's defense, writing
Rebuttal for a Friend
as an
epilogue
Epilogue
An epilogue, epilog or afterword is a piece of writing at the end of a work of literature or drama, usually used to bring closure to the work...
to Tony Thomas'
Errol Flynn: The Spy Who Never Was
(Citadel Press, 1990) ISBN 080651180X.
Knowles was a freelance film actor from 1939 until his last film appearance in 1973. In the 1940s, he was known for playing protagonists in a number of horror films, including
The Wolf Man
(1941) and
Frankenstein Meets the Wolfman
(1943).
Knowles was also cast as comic foils in a number of comedies such as
Abbott and Costello
Abbott and Costello
William "Bud" Abbott and Lou Costello performed together as Abbott and Costello, an American comedy duo whose work on stage, radio, film and television made them the most popular comedy team during the 1940s and 1950s...
's
Who Done It?
(1942) and
Hit The Ice
Hit the Ice (film)
Hit the Ice is a 1943 film starring the comedy team of Abbott and Costello and directed by Charles Lamont, who took over after the original director, Erle C. Kenton, was fired.-Plot:...
(1943). He also appeared opposite
Jack Kelly
Jack Kelly (actor)
Jack Kelly was an American film and television actor most noted for the role of "Bart Maverick" in the TV series Maverick, which ran on ABC from 1957 to 1962...
in a 1957 episode of the television series
Maverick
Maverick (TV series)
Maverick is a western television series with comedic overtones created by Roy Huggins. The show ran from September 22, 1957 to July 8, 1962 on ABC and stars James Garner as Bret Maverick, a cagey, articulate cardsharp. Eight episodes into the first season, he was joined by Jack Kelly as his brother...
called "The Wrecker", which was based on a
Robert Louis Stevenson
Robert Louis Stevenson
Robert Louis Balfour Stevenson was a Scottish novelist, poet, essayist and travel writer. His best-known books include Treasure Island, Kidnapped, and Strange Case of Dr Jekyll and Mr Hyde....
adventure and co-starred
James Garner
James Garner
James Garner is an American film and television actor, one of the first Hollywood actors to excel in both media. He has starred in several television series spanning a career of more than five decades...
.
Knowles was inducted into the Hollywood Walk of Fame and wrote a novel called
Even Steven
(Vantage Press, 1960)
ASIN
Asín
Asín is a municipality located in the Cinco Villas comarca of the province of Zaragoza, Aragon, Spain, located a few kilometers west of Orés. According to the 2004 census , the municipality has a population of 106 inhabitants....
B0006RMC2G. He was cremated. His ashes were either given to a friend or family.
Partial filmography
The Guv'nor

The Guv'nor (film)

The Guv'nor is a 1935 British comedy film starring George Arliss as a tramp who rides a series of misunderstandings and becomes the president of a bank.-Plot:...


(1935)
The Girl in the Crowd

The Girl in the Crowd

The Girl in the Crowd is a 1935 British comedy film directed by Michael Powell starring Barry Clifton, Patricia Hilliard and Googie Withers.The film has been declared "Missing, Believed Lost" by the British Film Institute.-Plot:...


(1935)
Honours Easy

Honours Easy

Honours Easy is a 1935 British drama film directed by Herbert Brenon and starring Greta Nissen, Patric Knowles and Margaret Lockwood. A man tries to take revenge on a rival for a slight seventeen years before, by framing his son for theft...


(1935)
The Brown Wallet

The Brown Wallet

The Brown Wallet is a 1936 British crime film, directed by Michael Powell and starring Patric Knowles. The Brown Wallet, adapted from a short story by Stacy Aumonier, was one of over 20 quota quickies directed by Powell between 1931 and 1936...


(1936)
Crown v. Stevens (1936)
The Charge of the Light Brigade

The Charge of the Light Brigade (1936 film)

The Charge of the Light Brigade is a 1936 historical film made by Warner Bros. It was directed by Michael Curtiz and produced by Samuel Bischoff, with Hal B. Wallis as executive producer, from a screenplay by Michael Jacoby and Rowland Leigh, from a story by Michael Jacoby based on the poem The...


(1936)
It's Love I'm After

It's Love I'm After

It's Love I'm After is a 1937 American comedy film directed by Archie Mayo. The screenplay by Casey Robinson is based on the story Gentlemen After Midnight by Maurice Hanline...


(1937)
The Sisters

The Sisters (1938 film)

The Sisters is a 1938 American drama film produced and directed by Anatole Litvak. The screenplay by Milton Krims is based on the 1937 novel of the same title by Myron Brinig.-Plot:...


(1938)
The Adventures of Robin Hood

The Adventures of Robin Hood (film)

The Adventures of Robin Hood is a 1938 American swashbuckler film directed by Michael Curtiz and William Keighley. Filmed in Technicolor, the picture stars Errol Flynn, Olivia de Havilland, Basil Rathbone, and Claude Rains.-Plot:...


(1938)
Four's a Crowd

Four's a Crowd

Four's a Crowd is a romantic comedy directed by Michael Curtiz and released by Warner Brothers.-Cast:* Errol Flynn .... Robert Kensington 'Bob' Lansford* Olivia de Havilland.... Lorri Dillingwell* Rosalind Russell .... Jean Christy...


(1938)
Beauty for the Asking

Beauty for the Asking

Beauty for the Asking is a 1939 film drama produced by RKO Pictures, and starring Lucille Ball and Patrick Knowles.It tells the story of Jean Russell , who becomes romantically involved with a wealthy married man who later spurns her...


(1939)
Five Came Back

Five Came Back

Five Came Back is a 1939 melodrama and a precursor of the disaster film genre. The film was directed by John Farrow, photographed by renowned film noir cinematographer Nicholas Musuraca, and written by Jerry Cady, Dalton Trumbo and Nathanael West....


(1939)
Another Thin Man

Another Thin Man

Another Thin Man is a 1939 American film that is the third film in the six-volume series, The Thin Man. It again stars William Powell and Myrna Loy as Nick and Nora Charles, and is based on the writings of Dashiell Hammett. Their son, Nicky Jr., is also introduced in the film. The cast includes...


(1939)
How Green Was My Valley

How Green Was My Valley (film)

How Green Was My Valley is a 1941 drama film directed by John Ford. The film, based on the 1939 Richard Llewellyn novel, was produced by Darryl F. Zanuck and written by Philip Dunne. The film stars Walter Pidgeon, Maureen O'Hara, Anna Lee, Donald Crisp, and Roddy McDowall...


(1941)
The Wolf Man (1941)
Who Done It? (1942)
Forever and a Day (1943)
Frankenstein Meets the Wolf Man

Frankenstein Meets the Wolf Man

Frankenstein Meets the Wolf Man, released in 1943, is an American monster horror film produced by Universal Studios starring Lon Chaney, Jr. as the Wolf Man and Bela Lugosi as Frankenstein's monster. This was the first of a series of "ensemble" monster films combining characters from several film...


(1943)
Hit the Ice

Hit the Ice (film)

Hit the Ice is a 1943 film starring the comedy team of Abbott and Costello and directed by Charles Lamont, who took over after the original director, Erle C. Kenton, was fired.-Plot:...


(1943)
Crazy House (1943)
Pardon My Rhythm

Pardon My Rhythm

Pardon My Rhythm is a 1944 movie starring Gloria Jean, Patric Knowles, and Evelyn Ankers, featuring Mel Tormé and Bob Crosby, and directed by Felix E...


(1944)
Kitty

Kitty (1945 film)

Kitty is a 1945 film, a fictional costume drama set in London during the 1780s, directed by Mitchell Leisen, based on the novel of the same name by Rosamond Marshall , with a screenplay by Karl Tunberg. It stars Paulette Goddard, Ray Milland, Constance Collier, Patric Knowles, Reginald Owen, and...


(1945)
Of Human Bondage

Of Human Bondage (1946 film)

Of Human Bondage is a 1946 American drama filmdirected by Edmund Goulding. The second screen adaptation of W. Somerset Maugham's 1915 novel, the Warner Bros. release was written by Catherine Turney...


(1946)
Monsieur Beaucaire

Monsieur Beaucaire (1946 film)

Monsieur Beaucaire is a 1946 comedy film starring Bob Hope as the title character, the barber of King Louis XV of France. It is loosely based on the novel of the same name by Booth Tarkington.-Cast:*Bob Hope as Monsieur Beaucaire*Joan Caulfield as Mimi...


(1946)
Ivy

Ivy (film)

Ivy is an American crime film noir directed by Sam Wood and written by Charles Bennett, based on The Story of Ivy, the novel written by Marie Belloc Lowndes. The drama features Joan Fontaine, Patric Knowles, Herbert Marshall, among others. The film was entered into the 1947 Cannes Film...


(1947)
The Big Steal

The Big Steal

The Big Steal is a 1949 black-and-white film noir/comedy reteaming Out of the Past stars Robert Mitchum and Jane Greer. The film was directed by Don Siegel, based on the short story "The Road to Carmichael's" by Richard Wormser.-Plot:...


(1949)
Three Came Home

Three Came Home

Three Came Home is a post-war film made by Twentieth Century-Fox, based on the memoirs of the same name by writer Agnes Newton Keith. It depicts Keith's life in North Borneo in the period immediately before the Japanese invasion in 1942, and her subsequent internment and suffering, separated from...


(1950)
Quebec

Quebec (1951 film)

Quebec is a 1951 American historical drama film directed by George Templeton and written by Alan Le May set in 1837. It stars John Drew Barrymore and centers on a fictional account of the Patriotes Rebellion...


(1951)
Tarzan's Savage Fury

Tarzan's Savage Fury

Tarzan's Savage Fury is a 1952 film starring Lex Barker as Tarzan, Dorothy Hart as Jane, and Patric Knowles. The movie was directed by Cy Endfield. While most Tarzan films of the 1930s, '40s and '50s presented Tarzan as a very different character from the one in Edgar Rice Burroughs' novels, this...


(1952)
World for Ransom

World for Ransom

World for Ransom is an American film directed by Robert Aldrich, who was uncredited for his work.Many of the actors and sets used in the film were from the Dan Duryea television show China Smith. Duryea, Patric Knowles, Gene Lockhart, Reginald Denny, and Nigel Bruce starred in the film...


(1954)
Band of Angels

Band of Angels

Band of Angels is a 1957 romantic drama film set in the American South before and during the American Civil War, based on the novel of the same name by Robert Penn Warren. It starred Clark Gable, Yvonne De Carlo, and Sidney Poitier. The movie was directed by Raoul Walsh.-Plot:Amantha Starr is the...


(1957)
Auntie Mame

Auntie Mame (film)

Auntie Mame is a 1958 film based on the novel by Patrick Dennis and its theatrical adaptation by Jerome Lawrence and Robert Edwin Lee. This film version stars Rosalind Russell and was directed by Morton DaCosta...


(1958)
The Devil's Brigade

The Devil's Brigade

Devil's Brigade is the joint Canadian-U.S. First Special Service Force.Devil's Brigade can refer to:* The Devil's Brigade , a 1968 war film based on the exploits of the brigade starring William Holden* Devils Brigade,an American rock band...


(1968)
Chisum

Chisum

Chisum is a 1970 Warner Bros. Technicolor western motion picture starring John Wayne, Forrest Tucker, Christopher George, Ben Johnson, Glenn Corbett, Geoffrey Deuel, Andrew Prine, Bruce Cabot, Patric Knowles, and Richard Jaeckel....


(1970)
The Man

The Man (1972 film)

The Man is a 1972 political drama directed by Joseph Sargent and starring James Earl Jones. Jones plays Douglass Dilman, the President pro tempore of the United States Senate, who succeeds to the presidency through a series of unforeseeable events, thereby becoming the first African American...


(1972)
External links