 Passion bearer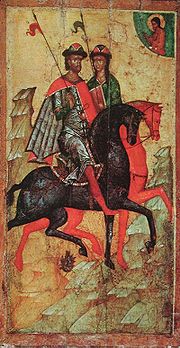 In
Orthodox Christianity
Eastern Orthodox Church
The Orthodox Church, officially called the Orthodox Catholic Church and commonly referred to as the Eastern Orthodox Church, is the second largest Christian denomination in the world, with an estimated 300 million adherents mainly in the countries of Belarus, Bulgaria, Cyprus, Georgia, Greece,...
, a
passion bearer
is a person who faces his or her
death
Death
Death is the permanent termination of the biological functions that sustain a living organism. Phenomena which commonly bring about death include old age, predation, malnutrition, disease, and accidents or trauma resulting in terminal injury....
in a
Christ
Jesus
Jesus of Nazareth , commonly referred to as Jesus Christ or simply as Jesus or Christ, is the central figure of Christianity...
-like manner. Unlike
martyr
Martyr
A martyr is somebody who suffers persecution and death for refusing to renounce, or accept, a belief or cause, usually religious.-Meaning:...
s, passion-bearers are not explicitly killed for their
faith
Faith
Faith is confidence or trust in a person or thing, or a belief that is not based on proof. In religion, faith is a belief in a transcendent reality, a religious teacher, a set of teachings or a Supreme Being. Generally speaking, it is offered as a means by which the truth of the proposition,...
, though they hold to that faith with
piety
Piety
In spiritual terminology, piety is a virtue that can mean religious devotion, spirituality, or a combination of both. A common element in most conceptions of piety is humility.- Etymology :...
and true love of
God
God
God is the English name given to a singular being in theistic and deistic religions who is either the sole deity in monotheism, or a single deity in polytheism....
. Thus all martyrs are passion bearers, but not all passion bearers are martyrs.
Famous passion bearers include the entire Imperial Family of Russia who were executed by the Bolsheviks in 1918.