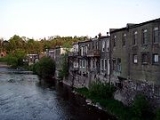 Paris, Ontario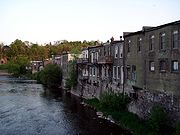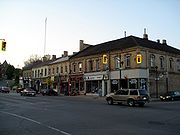 Paris, Ontario
is a community on the
Grand River
Grand River (Ontario)
The Grand River is a large river in southwestern Ontario, Canada. From its source, it flows south through Grand Valley, Fergus, Elora, Waterloo, Kitchener, Cambridge, Paris, Brantford, Caledonia, and Cayuga before emptying into the north shore of Lake Erie south of Dunnville at Port Maitland...
in
Ontario
Ontario
Ontario is a province of Canada, located in east-central Canada. It is Canada's most populous province and second largest in total area. It is home to the nation's most populous city, Toronto, and the nation's capital, Ottawa....
,
Canada
Canada
Canada is a North American country consisting of ten provinces and three territories. Located in the northern part of the continent, it extends from the Atlantic Ocean in the east to the Pacific Ocean in the west, and northward into the Arctic Ocean...
. The town was established in 1850. In 1999, its town government was amalgamated into that of the
County of Brant, Ontario
Brant, Ontario
The County of Brant is a single-tier municipality and a census division in the Canadian province of Ontario. Despite its name, it is not a county by the standard definition, as all municipal services are handled by a single level of government. The county has service offices in Burford, Paris...
, thus ending about 149 years as a separate incorporated municipality.
History
Census
Population
1841
1,000
1871
2,640
1881
3,173
1891
3,094
1901
3,229
1911
4,098
1921
4,368
1931
4,137
1941
4,637
1951
5,249
1961
5,820
1971
6,483
1981
7,485
1991
8,600
2001
9,881
2006
11,177
The town was first settled in 1829, when its founder,
Hiram Capron
Hiram Capron
Hiram Capron was the founder of the town of Paris in Ontario, Canada, which was incorporated in 1849. An immigrant from the United States, he purchased large plots of land by the Grand River and Nith River which he settled and developed.- Early life :Capron was born and raised in the town of...
, bought the land and built a mill on the present townsite. The town of Paris was officially established in 1850. Since the late 1990s, Paris has experienced substantial population growth, which may be in part attributed to the rising popularity of rural communities among
GTA
Greater Toronto Area
The Greater Toronto Area is the largest metropolitan area in Canada, with a 2006 census population of 5.5 million. The Greater Toronto Area is usually defined as the central city of Toronto, along with four regional municipalities surrounding it: Durham, Halton, Peel, and York...
bound commuters (see bedroom community) and the completion of
Highway 403
Highway 403 (Ontario)
King's Highway 403, also known as Highway 403, is a 400-series highway in the Canadian province of Ontario that travels between Woodstock and Mississauga, branching off from and reuniting with Highway 401 at both ends and travelling south of it through Hamilton and Mississauga. It is concurrent...
between Hamilton and Woodstock.
Paris was named for the nearby deposits of
gypsum
Gypsum
Gypsum is a very soft sulfate mineral composed of calcium sulfate dihydrate, with the chemical formula CaSO4·2H2O. It is found in alabaster, a decorative stone used in Ancient Egypt. It is the second softest mineral on the Mohs Hardness Scale...
, used to make plaster of Paris. Paris is referred to as "the cobblestone capital of Canada" (in reference to a number of aged cobblestone houses). Paris, Ontario is located at 43°12′N 80°23′W.
Paris is also the transmitter site for a number of broadcast radio and TV stations serving the Brantford and
Kitchener-Waterloo
Regional Municipality of Waterloo
The Regional Municipality of Waterloo is a regional municipality located in Southern Ontario, Canada. It consists of the cities of Kitchener, Cambridge, and Waterloo, and the townships of Wellesley, Woolwich, Wilmot, and North Dumfries. It is often referred to as the Region of Waterloo or just...
areas. The actual tower site is 475 Ayr Road, just south of
Ayr, Ontario
Ayr, Ontario
The village of Ayr, Ontario, Canada is a settlement located within the Township of North Dumfries in the Regional Municipality of Waterloo in Southwestern Ontario...
, and it was erected and owned by
Global Television Network
Global Television Network
Global Television Network is an English language privately owned television network in Canada, owned by Calgary-based Shaw Communications, as part of its Shaw Media division...
in
1973
for
CIII-TV
CIII-TV
CIII-DT-41 is a television station owned by Shaw Communications that serves much of the population of the Canadian province of Ontario. It is a flagship station of the Global Television Network...
; it was the main transmitter for the southern Ontario Global network until 2009, when a Toronto rebroadcaster was redesignated as the main transmitter. Global leases space on the Ayr tower for broadcast clients including
Conestoga College
Conestoga College
The Conestoga College Institute of Technology and Advanced Learning is a public college based in Kitchener, Ontario in Canada.-History:The College was founded in 1967 as the Conestoga College of Applied Arts and Technology, one of many such institutions established in that time by the Ontario...
's
campus radio
Campus radio
Campus radio is a type of radio station that is run by the students of a college, university or other educational institution. Programming may be exclusively by students, or may include programmers from the wider community in which the radio station is based...
station
CJIQ-FM
CJIQ-FM
CJIQ-FM, is a Canadian radio station based in Kitchener, Ontario. It is the campus radio station of the city's Conestoga College.-History:The station was granted an instructional license from the Canadian Radio-television and Telecommunications Commission in 1999, and signed on for testing in...
as well as local rebroadcasters of
CBLA-FM
CBLA-FM
CBLA-FM is a Canadian radio station. It is the flagship station of the CBC Radio One network, broadcasting at 99.1 FM in Toronto, Ontario.- History :...
,
CBL-FM
CBL-FM
CBL-FM is the CBC Radio 2 station in Toronto, Ontario, Canada. It broadcasts at 94.1 on the FM dial, and also serves Huntsville , Orillia , Peterborough and other locations in Ontario....
,
CJBC-FM
CJBC-FM
CJBC-FM is a Canadian radio station, broadcasting at 90.3 FM in Toronto, Ontario. A French language station, it airs the programming of Radio-Canada's Espace musique network.The station launched in 1992...
and CBLT.
The town hosts an annual "Fall Fair", a carnival which takes place over the
Labour Day
Labour Day
Labour Day or Labor Day is an annual holiday to celebrate the economic and social achievements of workers. Labour Day has its origins in the labour union movement, specifically the eight-hour day movement, which advocated eight hours for work, eight hours for recreation, and eight hours for...
weekend. The Fall Fair features several rural lifestyle exhibits, as well as a midway which is complete with carnival games, rides, demolition derbies, Armchair Quarterback, and the Gravitron.
Education
Paris Central Public School is an elementary school

Elementary school

An elementary school or primary school is an institution where children receive the first stage of compulsory education known as elementary or primary education. Elementary school is the preferred term in some countries, particularly those in North America, where the terms grade school and grammar...


that is located near the center or downtown, with over 300 students. Children are close to major town attractions. It is a part of the Grand Erie District School Board

Grand Erie District School Board

The Grand Erie District School Board is a school board that has legal jurisdiction over Norfolk County, Haldimand County, and Brant County in the province of Ontario, Canada...


.
Paris District High School

Paris District High School

Paris District High School is a regional high school in Paris, Ontario, Canada. The school itself was built in 1923, replacing the previous Grammar School which had been built in 1858, and was known officially as Paris High School until a large addition was constructed in the late 1960s.In 2004,...


(PDHS), founded 1923, is a regional high school in the town, with over 1000 students.
Movies shot in Paris
Away from Her

Away From Her

Away from Her is a 2006 Canadian film which debuted at the Toronto International Film Festival and also played in the Premier category at the 2007 Sundance Film Festival...


(2006)
The Prize Winner of Defiance, Ohio

The Prize Winner of Defiance, Ohio

The Prize Winner of Defiance, Ohio is a 2005 film written and directed by Jane Anderson, based on the book by Terry "Tuff" Ryan. The DVD was released on March 14, 2006.-Plot:...


(2005)
Phil the Alien

Phil the Alien

Phil the Alien is a Canadian comedy film, released in 2004. It was written and directed by Rob Stefaniuk, who also starred as the titular Phil.Phil is an extraterrestrial who crash-lands in a small town in Northern Ontario...


(exteriors) (2005)
Shadow Builder

Shadow Builder

Shadow Builder is a 1998 film directed by Jamie Dixon. It is based on the story "The Shadow Builder" by Bram Stoker. An evil Archbishop and his followers summon a demon to destroy the world, but the demon's first act is to kill its summoners...


(1998)
Spenser: Pale Kings and Princes (1994) (Television)
Ordinary Magic

Ordinary Magic

Ordinary Magic is a 1993 Canadian film about a boy who is raised in India by his father. The story is based on a novel by Malcolm Bosse.-Plot:...


(1993)
Blood & Guts (1978)
The Hard Part Begins (1973)
Famous people
(ordered by last names)
Service Clubs
The Lions Club of Paris
The Kiwanis Club of Paris
The Optimist Club of Paris
Kinsmen Club of Brantford

Kin Canada

Kin Canada is a secular Canadian non-profit service organization that promotes service, fellowship, positive values, and national pride....


(Serving Brantford and Brant County)
Buildings and Structures
CIII Television Tower
The Historic Arlington Hotel
The Canadian Tavern
Paris Branch of the County of Brant Public Library

County of Brant Public Library

The County of Brant Public Library is the public library system serving the communities in the County of Brant, Ontario, Canada. It has five branches located in Paris, Burford, Scotland, St. George, and Glen Morris. In 2007 the library system circulated over 218,000 items and hosted over 107,000...


(a Carnegie Library

Carnegie library

A Carnegie library is a library built with money donated by Scottish-American businessman and philanthropist Andrew Carnegie. 2,509 Carnegie libraries were built between 1883 and 1929, including some belonging to public and university library systems...


)
The Cedar House 12 Broadway St. W (formerly the old mill that ran the raceway from the Nith River to the Grand River)
Festivals and Events
External links